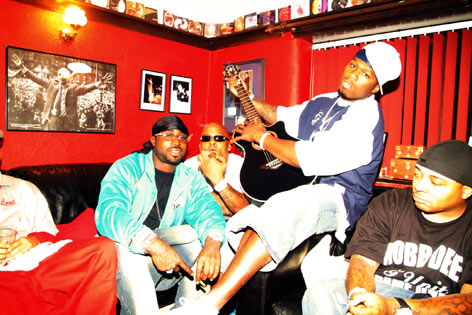 NEWS: 50 Cent records his new album in Wigan!!!!


Just an hour after his legendary MEN Arena show in Manchester, which saw England stars Wayne Rooney and Rio Ferdinand join Fiddy and G Unit on stage, 50 Cent sped down the motorway to record his new album in Wigan. A town previously known for bringing Northern Soul at the Wigan Casino and legendary guitar band The Verve, it's forays into hip-hop have been limited to Mercury Records recent signing Dear Eskiimo
It wasn't until the guys were heading down the motorway that Red Cat Studios owner and producer Allan Murrell realised exactly what was happening

"I thought the initial email was a wind-up and the fact that it had a US telephone number on there asking me to call it made me a bit suspicious. I didn't call the number but I did reply to the email and asked that they call me to firm up the time etc.

I pretty much forgot about the whole thing through the day, which I spent with my little girl at the swimming baths and the park, but at 6.00 that evening I receive a phone call. At the end of the phone is Manny Smith, the guy from Interscope Records in the states that had sent the email. He asked if we were still ok for that evening. Again, I was still suspicious so I asked for a contact in the UK so I could arrange things with him. He gave me the mobile number of 50 Cent's Manager, Barry Williams.
I called Barry to arrange things and he asked me a few of questions about the studio and to get directions.

Still not entirely convinced, I called Karen McBride to ask her (if indeed it was true) if she'd like to come over and take some photographs. Obviously she jumped at the chance and also came up with the idea of meeting Barry and the G Unit at the Lowry Hotel where they were staying so they could follow her to the studio.

When Karen arrived at the Lowry she called me to let me know she was there and that all the 50 Cent team were there. It was becoming more and more real. A few phone calls followed to tell me that they were delayed but eventually, around 11.30, Karen called from her car to say they were on their way. That's when I knew it was for real"

Designer Magazine's photographer Karen McBride was there at Red Cat Studios to watch it all happen. "I had known that the last time they played Manchester, they went back to another Northwest Studio… I'm quite secure about people wanting me to be there - I've had calls from big artists before, but that's not to say it's not exciting when it happens. However, this was just totally on another level" explained Karen "It was amazing, all very calm very professional… I met the manager who told me Fiddy was downloading some tracks. Had a chat with the drivers and security, they told me how they were going to shake of the fans who, as it turns out were all waiting in cars along the streets ready to follow the band. Security also wanted to shake off the paparazzi... an hour and half later we set off… as planned I slip between the 2 Merc vans and the Chrysler follows too... Fiddy was in the first Merc, then there was me in my little Honda Civic then a Merc behind me… It got a little scary on the motorway when the four cars packed full of fans were driving bumper to bumper...

When we got closer to the studio, I slipped out and over took the Vans, then led them to Red Cat Studios.
Bizarrely enough it was a track by up and coming Manchester band Omerta that convinced 50 Cent that Red Cat Studios was the only studio they could work with

" Barry Williams had asked me to email him a couple of MP3's of my work so I sent him a Hip Hop song I'd recorded about 12 months ago and a recent recording by a great Manchester band, Omerta, called "One Chance". 50 Cent himself listened to the tracks and said he liked what he heard. When 50 arrived at the studio he commented on a picture I have on the wall of Bill Shankley (Liverpool FC Manager from the 60's) with his arms stretched out wide. A speech bubble coming out of Shankley's mouth says, "I want those drums sounding this big". 50 Cent said "we want these tracks sounding this big too", stretching out his arms, "can you do that?". Of course I said I could.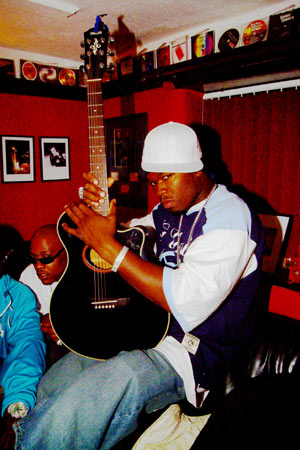 By the end of the night Allan had produced 6 tracks for 50 Cent and G Units next album (Get Money; Emotional; People Talking; Check Clear; She Got A Habit; Pimp That Bitch)

"I can't say that I had heard much of his previous work and in a way that was good because it meant I could work with an open mind. What I did with the vocals was more directed by what I heard on the backing track. For example, the backing track to Emotional had that scratched record feel to it and sounded like it had been recorded to analogue tape, if not it certainly had that analogue feel. So, to match the vocal to it, I drove the pre-amp a little harder and used a sweet Universal Audio compressor. It gave the vocal a warm, full and crisp feel that Young Buck said he really liked.

Its hard to say what I bring to his sound, but like with all the bands and artist that record with me, I like to have an empathy with them so I can interpret their needs and turn that into a sound that they are happy with. Obviously, these guys had an absolutely clear and definite idea of how they wanted to sound, I just had to make it happen.

As one of the guys was in the vocal booth, the others might give direction via the talkback to the guy recording his part. However, there were one or two moments where I thought the double tracking could have been tighter, so I would just ask him to go again. They did say that they were glad I took a close interest and 50 said, "call it as you hear it man". If I didn't give input, I would not have been doing my job properly.

The tracks will be mixed somewhere else, so the sound you would hear at my studio today will change slightly to what you hear on the released album."

50 Cent' s tale is often repeated. The product of a broken home in the rough Jamaica neighbourhood of Queens and, in turn, the storied hood's hustling streets themselves, 50 lived everything most rappers write rhymes about but not all actually experience: drugs, crimes, imprisonments, stabbings, and most infamously of all, shootings -- all of this before he even released his debut album. But how was he in the studio?

"50 was such a gent, I'm not actually aware of what the media says… So had no real idea about what he was supposed to be like" explains Karen "Of course I know he's a big RAP star and has sold millions of Albums, and I also know he's been shot 9 times. But given all that, the guy was really down to earth, very friendly, very funny and loves his sweeties. We actually didn't know he was going to record newly written songs at the studio. We just thought he was going to lay down some vocals and have some pictures taken...

And G Unit?

"They all piled out of the Vans, walked into Red Cats cute country kitchen and just seemed to trust us, there was no sense of any issues at all… but then we weren't looking for them, it was like one big happy family for the night - everybody eating pizza, chicken and sweeties. They loved the mood of the place, love the homely 'very English studio setting, Olivia loved it too... She learnt the words to the new songs sat in the kitchen drinking tea.

To be honest, I hadn't given the G Unit much thought, because to us they were all in it together as a band."
And with the cross-Atlantic connection a great success it looks as if there could be future collaborations between Red Cat Studios and G Unit "One of the G Unit guys did say he has 3 recording studios in the States and said that if Id like to go over there when they track the rest of the album, they'd be happy to fly me over. I'm not sure if or when this will happen, but I remain hopeful. I will be speaking with 50's manager soon to talk about an on-going working relationship"
Likewise Designer Magazine's photographer Karen McBride is set to do future work with them" It just didn't seem right to snap away, it's a delicate situation and the whole thing was very personable. Now they trust me and want me to do more pictures for them. That makes me very happy and I have no doubt it will happen. They had seen my Alec Empire picture before, but couldn't remember where they'd seen it… one of the band members lives in New Jersey; it could be that he'd seen it on the billboards out there. "

The future for Red Cat studios looks assured, but true to his character he's down to earth and looking for what 50 Cent's visit can do for music in the Northwest

"It will certainly stretch across the North West and I expect pretty soon, most people who are fans of 50 Cent and G Unit will know they recorded here in the North West. If that brings a positive surge of creativity to young songwriters - then that's fantastic"
Word: Alex McCann
Photos: Karen McBride www.karenmcbride.com


*******************
For more info on 50 Cent - www.50cent.com
For more info on Red Cat Studios - www.redcatstudios.co.uk or call Allan on 01257 421357
For more info on Karen McBride - www.karenmcbride.com
*******************