A1 On The New Direction
A1 and our friends at Columbia Records have gave us lots of A1 goodies for you lot to read, watch and listen to. Whether its the latest "Caught In The Middle" video or and exclusive A1 interview you can get it all here.

Click the picture above to watch the video for
"Caught In The Middle"
The A1 Inquisition
(Simply read the Interview below or watch the video clips)
Question: Why a new musical direction?
Ben: I think we wanted to change the direction because we've all grown up, well, it's three or four years since we've started. It's just a natural progression to where we want to be. Now we've been in the business a little bit longer we can be a bit more experimental and do the type of music we've been wanting to do all along.
Mark: It's not a drastic change either. I don't know what people are expecting, but it's still good pop, so I don't think it's going shock anybody. We're not turning into a nu-metal band or anything!
Ben: Although we did try it out for a week!
Question: Do you worry about what else is going on in pop music?
Mark: We don't feel any threats from any other bands as I'm sure no other bands feel any threat from us. It's just all about making good music, enjoying it and we're aware of what's happening in the pop music scene because otherwise we'd be out of touch with our fans and we'd be out of touch with what's going on. So we always know what's Number One and we always know what the latest songs are, just because we're music fans anyway, we're quite into what's happening on the scene. But we don't think, "Ooh, that band's done that, so we should do this." We don't think that, it's not really important, we just focus on what we've got and what we do, and hopefully our fans will like it and I think they will.
Question: What percentage of the new sound is a1 as we know it?
Christian: We've written all the songs…
Paul: With a few co-writers, so it's all us. There have been songs written in that kind of vein before but they've never made it onto our albums because we've wanted to stay really fresh pop, so now we've started using songs that never quite made the second album because it might have been a bit too grown up or too acoustic or rock-based, but we've used those kind of songs now.
Christian: I think we've really relaxed into the project. I think that this is the most 'us' that we have ever been.
Ben: We've pretty much played every single instrument on the album, apart from the drums and the strings, of course, apart from me getting on my violin. It's a very 'real' album.
Question: How have your performances changed over the past couple of years?
Ben: As far as performances go, we've got a lot better as time's moved on because we're constantly learning – learning how to be better performers, better singers, better songwriters and better artists in general, so if you actually compare our first gig to our last gig I think we're a lot more relaxed, and we have a lot more fun on-stage, we feel a lot more confident. We've done so many gigs it's almost like second nature to do what we do now. We put a lot of personality into what we do and how we perform. I think touring and performing is why we're actually in this business, and it's surprising how little performing you actually get to do, so when do get to perform we love it.
Question: What advice would you give to a new band starting out?
Mark: There's a lot of advice that we'd like to give people who are just starting out in the business now. There's believe in what you do, be prepared to do a lot of hard work because it certainly doesn't happen overnight. It's always important to listen to what people around you say, but then again it's also important to not necessarily take too much of it on board because there's going to be a lot of people saying things from different areas, so go with what you believe in and remember your friends and family on the way up of course, and just be really, really positive – it helps to be really positive in this business.
DOWNLOAD THE A1 ECARD
(Includes the video / exclusive competition / latest news)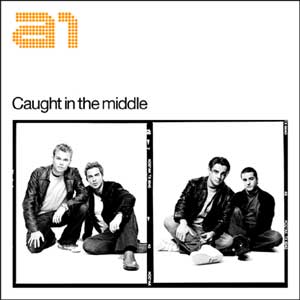 For all the latest A1 news check out the official site:
www.a1-online.com