A-Teens
"Upside Down" is the fantastic new single from Swedish pop act the A-Teens. After breaking everywhere from Germany to the States they hit the UK with a batch of original songs which form the poptastic album "Teen Spirit". While still keeping it fun and exciting its a distance from the debut album which as you may recall covered the classic songs of Abba. We caught up with Sara and Dhani to find out what its like to be international stars at such an early age.
Q: How does it feel to be back in the UK then?
Dhani: It was a real long time ago so it was really nice to see London again.
Sara: It feels really good. We've been here a lot of times especially 2 summers ago we were here the most. But now its really good to come back.

Q: We've got the new single "Upside Down" out now. Was it always the plan to sing your own songs?
Sara: No, but its really really cool. It felt really good for us to make that decision to sing our own songs. We were afraid of getting fans saying "Why aren't you singing Abba songs" and all that, but we knew that in some countries like here it would go better if we sung our own music.
I don't think we'll be doing cover versions again but you should never say never. Maybe some tribute to something but I don't think so.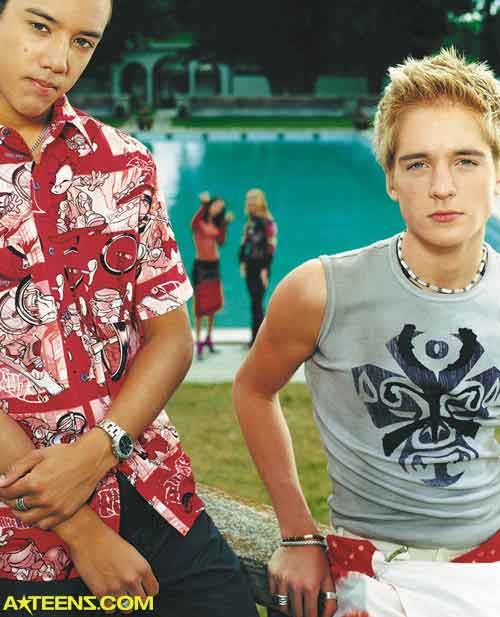 Q: You've been compared to Steps and S Club 7. Are you fans of that type of music?
Dhani: They are doing those happy songs too, but I don't know if people can compare us. Were actually trying to find the A-Teens style and sound - were trying to do our thing!!!!
Sara: I like these teenage groups like Backstreet Boys, N'Sync and Britney and all that. But I think everybody's kind of bored of that music style cos' R&B pop, musicals, soundtracks and classical music is really different. The boys really like R&B so maybe the next album could be a hip hop / R&B album.
We have a special style of music and we really want to sound different. As in "Teen Spirit" its really coming out that we just want to have fun cos the songs are about love but its still really positive.

Q: Aren't you touring over in the States soon?
Dhani: We haven't actually done a tour over here in Europe because we were suppossed to that in the beginning of June last year - but I injured myself so thanks to me we couldn't do it!!!
Sara: Were going out on a USA tour over the summer with Aaron Carter. We met him on the Britney tour and he was supporting her. And now were on the same co-headline show and that's really cool.
Britney was cool. We didn't really hang out with her and become best friends but we met her and talked to her. She was cool and really nice but she had a lot of things to do - she was real busy.
Dhani: Sometimes it feels really weird to go from that normal life to the A-Teens. Its kind of a big physical change. Spain and Germany are like the craziest places here in Europe, but then we have places like Argentina that are totally crazy. Its really strange when you see people crying and its like "you're crying for what, us, were just normal".
Its crazy, but we like life a little crazy!!!!!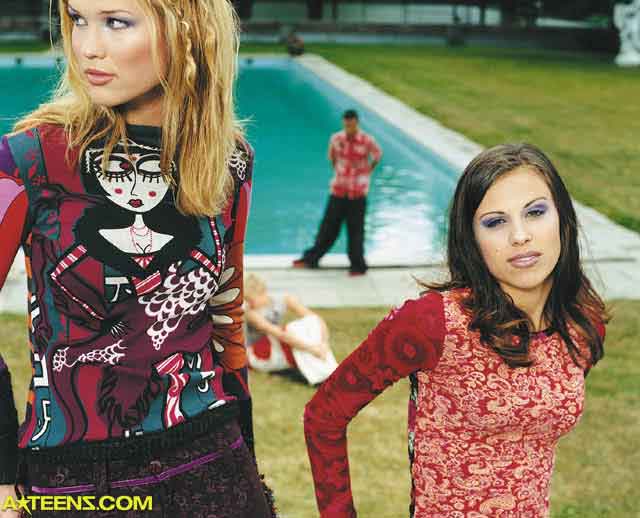 Q: What's it like when you guys go home and have a rest?
Sara: It feels really good because we all want to see our parents and our friends and all that. Its really fun when you go home because you get the chance to be a normal teenager again all over again. Its a total reality check.
Were all in relationships. For me its really hard to have a boyfriend because were out and travelling so much. Its really difficult, you don't know just how, but hopefully my boyfriend will come and visit me while were out in America. Were so not together in the band though - so there's no chance of it ending in a divorce!!!!
Dhani: The video's are so fun to do though. We just here to have fun and fool about basically.

Q: I've heard a rumour you've already started work on the 3rd album. Whats the story?
Sara: We haven't done it yet, but were talking about it. We have a tour in the summer and it will keep on going until the 9th of September. And then we have a month vacation and then there's the Germany tour hopefully. Were really hoping to take some time out though and write some new songs.
Dhani: We've started trying to write the lyrics and stuff. We actually hope that we can have 2 or 3 songs on the album that we've actually written. I play a bit of guitar and Amit plays the piano so when we go out on tour with Aaron Carter this summer I will actually take my guitar so we can write some music.
Maybe I won't be a rockstar but i'm just trying to do some pop songs that are cool.
*************
"Upside Down" is out now
"Teen Spirit" is out 28th May
www.a-teens.com
*************