ABOUT DESIGNER MAGAZINE
Designer Magazine was set up over 5 years ago in Manchester as an alternative to the music press at the time. Sticking to the true mix and match culture of the noughties it's policy crossed boundaries including interviews with the likes of Bill Wyman from the Rolling Stones, Run DMC and The Temptations. We also interview contemporary talent such as Scissor Sisters, Keane, The Darkness and Muse.
At the tail end of 2001 we also moved into the world of Television and Entertainment and have featured various interviews from comedy talent such as The Office, Bo Selecta, League Of Gentlemen and Phoenix Knights amongst others.
It's a formula that obviously worked as Designer Magazine is currently Manchester's 3rd largest independent source of entertainment news following the Manchester Evening News and City Life and attracts over 10,000 hits a week.
FAQ
Q: Why is a music website called Designer Magazine?
A: The magazine was named Designer Magazine after the Manic Street Preachers "Design For Life". The idea being that we design our readers life's by selecting the musical and entertainment highlights.
Q: If it's called Designer Magazine shouldn't you have spent millions on the image?
A: No. Many of our readers access the website through low spec computers at university, work or school and hence we wanted a design that was functional and would load quicker than other music websites available. Also, personal experience of browsing the web means we skip through many unnecessary flash animation's etc .
Q: Who is the target market of Designer Magazine?
A: Even though we have a broad coverage policy we tend to find most readers are aged between 18-30 and are more likely to be male than female. Naturally on a week to week basis the demographic will change ever so slightly dependent on which interviews we have online.
Q: How many people read Designer Magazine each week?
A: We have 10,000 unique IPs browsing the site each week. Or in normal speak 10,000 readers.

Q: Do you have a set music policy?
A: No. We can cover everything from pure pop to underground hip hop, from indie and rock to urban and all that lies in between. The only policy being that if it's good it's good. If we like an artist we feel there must be other people out there that feel the same way.
Q: I work for a label / PR company or am in a a band. How do I go about submitting music for potential coverage in Designer Magazine?
A: Because of the huge amount of requests we get to listen to MP3s or Streams we don't have the time to do so. If you wish the team at Designer Magazine to consider featuring your band / artists etc please send CDs to the address below along with accompanying biog / photos / contact details etc.
Q: Do any of the staff at Designer Magazine work for other publications?
A: Many of the staff work / freelance for other publications and are available to work on professional biog / press releases, features and press shots. Use the contact details below to contact us about opportunities .
Q: I wish to run a ad on the website. How do I go about it?
A: Both banner and pop up opportunities are available. Use the contact details below to ask about individual enquiries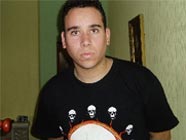 Alex McCann - Editor

Our Editor Alex McCann set up Designer Magazine in June 1999 after growing bored of the music press at the time. Probably the only music fan who can claim to like The Smiths, Manic Street Preachers and Public Enemy as well as frivolous pop such as McFly, Sean Paul and S Club. Alex also writes for several publications in the UK including the BBC as well as various music and entertainments magazines in the States.


Nick Godkin - Reviewer

Details coming soon

Karen McBride - Photographer

Karen is one of the most highly regarded photographers in the music business. Her distinctive style combined with over 20 years experience has meant that her work; whether it be with high profile artists or the up and coming bands in her native Manchester, is always viewed with the upmost respect.

Shirlaine Forrest - Photographer

Shirlaine combines an eclectic personal style with an ability to uniquely tailor her work to each subject. Whether shooting music, portrait or fashion her down to earth approach and experience in photographing all types of images, from the dark to the irreverent, results in beautiful, often challenging work. To view more of Shirlaine's work, or to commission pieces, please visit her website - www.shirlainephotos.co.uk.


Mark Winstanley - Logos / Graphics

Details coming soon

Other contributors include:

Ged Camera, David Adair, Katherine Tomlinson



Postal Address:
Alex McCann
C/o Designer Magazine
8 Northway
Altrincham
Cheshire
UNITED KINGDOM
WA14 1NN

Email: designermagazine@hotmail.com / alexmccann@ntlworld.com

Tel: Email in the first instance for a contact telephone number

© 2000-2005
Designer Magazine unless otherwise stated
NB: Please seek permission before using any articles within this site