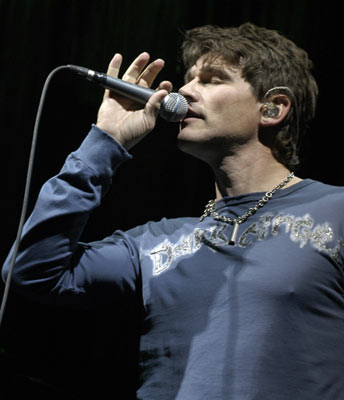 AHA / ANE BRUN - MEN ARENA - 6.11.05
Aha create modern pop records that have influenced everyone from Coldplay to the Killers, even that old curmudgeon Leonard Cohen has been struck by the wonderment of the band, and tonight with a set that mixed up classic singles with compelling new material from the "Analogue" album they proved why they are more relevant than ever.
The choice of support act seemed like the sort of bizarre stroke of political voting that you might encounter in Eurovision. In the cold brutal surroundings of the MEN Arena Ane Brun provided a heart that was still beating, but for many her emotional outpourings were lost amongst the chatter. "I'm here to make you warm" she announced in a tone that was half elfin-like Bjork and part Cery's Catatonia before adding, "You are making me feel very warm". Back home in her native Sweden she's shared stages with Pj Harvey and Mary Gautier and sung with Abba's Benny in Stockholm. With her second album "A Temporary Drive" set for release early next year on V2 records she delivered a set that drew heavily from it. At times dark, others twee, she offered introspective sparsely arranged songs that fell between Eva Cassidy and PJ Harvey and with just an acoustic and fragile vocal these are songs that should be listened to alone rather than with a combined audience well over 10,000. "To Let Myself Go", "This Voice" and "The Fight Song" will have won over some fans tonight, but maybe she belongs to a cult audience rather than the masses ala KT Tunstall and and Katie Melua.
Aha walk onstage with the minimum of fuss, but when you've got a back catalogue like Aha's you can afford to be relaxed. Whereas Duran Duran have always had an air of desperation about them, a constant desire to please, Aha have always had an effortless cool and even now 20 years after "Take On Me" first came out they've been soaked in the fountain of youth and the cheekbones are still intact. When you consider that Morton Harkett is now aged 46, the fact that he has the grace and style of a Greek god are even more commendable (and for those too young to remember the band in their heyday simply think Christiano Ronaldo in 20 years time and you're pretty close to the perfection of the Harket)
All living separate lives the recent album "Analogue" was not so much a collaborate effort, but the works of 3 separate writers bound together by the impressive vocals of Harket. Starting off with recent single "Celice" proves that the songs they write still tower effortlessly above the bands they went on to inspire. Rushing along with a sense of urgency with the melodies and vocals heaven sent it sets them up for a double whammy of "Move To Memphis" and "Stay On These Roads" before a semi-acoustic "Hunting High and Low". If Aha prove anything with it's that a 3-minute pop song can contain the emotional resonance of a classical concerto.


"Take On Me", which we should be sick of by now, is taken back and rescued from the aural abomination that was the A1 cover a few years back. It could be the most perfect pop song ever written and live Harket manages to reach and hold that note without the help of autotuning. His ability to switch between a deep baritone and soprano has still not been matched since for pure vocal supremacy.
"The Living Daylights", easily the best Bond theme, features a call and response with the crowd for Manchester and George Best before taking us to the encore. On their return they deliver their new single "Analogue (All I Want)", a song which Chris Martin could only try to write, and the classic "The Sun Always Shines On TV".
After 2 hours our fill of classic pop has been more than satisfied. It was a live show with the cheekbones being the biggest stage prop of all on a virtually bare backdrop, but Aha's songs have stood the test of time and will do for a long time to come. While much of tonight's middle aged audience was here for nostalgia, the ironic thing is that Aha fit in with the current music scene much more than they did first time round.
Words: Alex McCann
Photos: Shirlaine Forrest - www.shirlainephotos.co.uk

*****************
Click here to leave your Aha comments on the Message Board
(NB: The message board opens in a new window so please disable your pop-up blocker to view)
*****************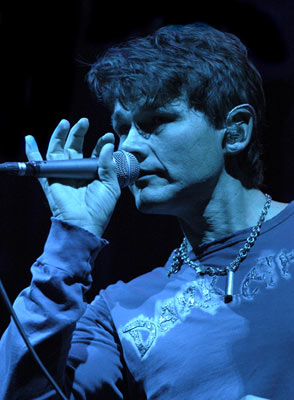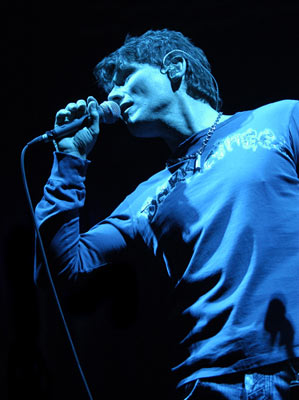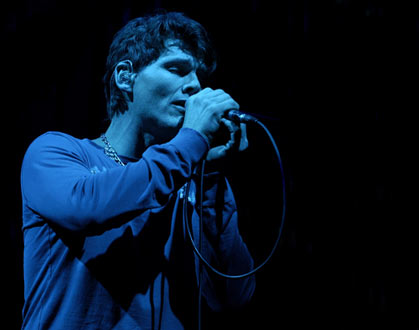 Words: Alex McCann
Photos: Shirlaine Forrest - www.shirlainephotos.co.uk

*****************
Click here to leave your Prodigy comments on the Message Board
(NB: The message board opens in a new window so please disable your pop-up blocker to view)
*****************