Aigo MP3 Players
For those old enough to remember the days of vinyl it must seems strange to hear the younger generation talk about MP3 players, but sure enough it seems that the MP3 is here to stay and while CD's certainly won't be out of date for the foreseeable future it's not hard to imagine a time and a place where we simply download our music rather than pop into HMV.
The Aigo range of MP3 players are made by Huagi, a leading player China's IT industry and whereas the I-Pod may be perhaps the most well known of the MP3 Players in the markets Aigo go one step further and offer a range of players to suit the individual from basic level models suitable for school children or those on a budget through to the creme to the crem of MP3 Players which offer any function you would care to mention.
Designer Magazine road tested the Aigo F186 and found that this user friendly player was one of the best value products on the market.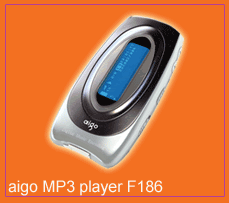 THE BASICS
The F186 comes in three models, 128 MB, 256 MB and 512 MB Essentially what this means to the average user is that with the average MP3 being approximately between 2-3MB each model will be able to store approximately 50 / 100 / 200 Songs respectfully. The player also supports both MP3 and WMA formats which is a standard across most players

The model is lightweight and comes in smaller than the size of your average mobile phone. While it's a small criticism we do feel that the unit would have been more user friendly if it would have been a tad heavier as it could quite easily slip out of a jacket pocket without noticing.

Coming with a built in battery that we found to be more than sufficient for our needs. At the time of writing this article we've used the player for at least 5 hours and it still hasn't used up half the battery power. The unit comes with a recharger and you can also recharge using your USB port to connect to your PC.


FM RADIO
One of the most useful features of the player is the FM Radio Facility. As well as being a quality radio which offers similar reception to most personal radios, the main selling point is the ability to record straight from radio to MP3. Within the first hour of receiving the product we took it out on our lunch hour, tuned into the Jo Whiley Show on Radio 1 and recorded segments of an exclusive interview with U2 and first plays from the bands new album. Later on that day we tuned back to Radio 1 and managed to catch the last half of the new Babyshambles single. We duly recorded it and we able to give it repeated listens. With services like Shazam charging people for them to identify specific tracks, a simple feature like this allows you to identify tracks in your own time, store your own personal favourites and capture exclusive radio sessions and interviews on the move.


LINE IN FUNCTION
As well as transferring MP3's from your PC to the player, you may wish to record direct to MP3 from a hi-fi unit. The line in function allows you to do this with ease and the automatic stop start function on record allows you to simply record whole albums remotely without sitting and pressing stop start at the end of each track.

For us though the great benefit of the line-in function is as an aid to home recording for bands and solo musicians. Over the years i've been dabbling in home recordings on a old 4-Track Recorder system and apart from using a program such as Cubase there was no easy way to transfer complete tracks into digital format. With the line-in function it's a simple 2 step process to go from the actual analogue recording to transferring it over to CD via the MP3 player.


VOICE FUNCTION
The voice function allows you record memos from the built in microphone. Again it's simple process of pressing the record button on the player and pressing play to finish recording. The quality of the microphone worked well in noisy conditions such a main road or bus and was perfect for just sitting on the desk / on the move to capture any ideas as and when they flow.


STORAGE
Although the F186 is marketed as an MP3 player it can also double up as another storage medium for transferring files and photos across from office to office through the use of a USB cable adapter


CONCLUSION
As a entry level MP3 player the F186 has enough features to please the technical experts amongst us and also the price range to suit us all. With a starting price of £69.99 for the 128 MB version and going up to £109.99 for the 512 MB version you can pick and choose in accordance with use and expendable income.

The player is easy to use, within 5 minutes we'd mastered the basics and that was without looking at the instruction leaflet enclosed. Aigo also offer an entry level MP3 player called the E808 which is priced between £39.99 - £89.99 for the varying memory sizes and a feature rich P7770 which comes complete with a games console included (Price between £169.99 - £199.99)

***********
The Aigo F186 is available in most high street retailers
For more information on the Aigo range of MP3 Players
www.aigo.co.uk
***********

*****************
Post your comments / reviews about the Aigo Range on the Message Board
(NB: The message board opens in a new window so please disable your pop-up blocker to view)
*****************