Alabama 3 - 53 Degrees Preston - 15.10.05
Alabama 3 have a new secret weapon in the form of Devlin Love - a petite singer with a voice so strong and powerful it will eventually make her a star in her own right. You'll have heard her already on Alabama 3's new album "Outlaw" which is a treasure trove of diversity, eclecticism, ingenuity and originality. Let's face it, you'll never see anyone quite like Alabama 3, a band from Brixton, who talk like Southern Americans who mix techno, country, blues and hip-hop to great acclaim from all concerned. Over the years they've accumulated a dedicated, almost religious following, disciples rather than fans which is in accordance with the bands spirituality, even if it is with a healthy dose of tongue in cheek preaching from Reverend D Wayne, a constant source of amusement.
Anyone familiar with the band will know they're an unusual concoction, all individuals in their own right but as a band working together, a winning combination. Sharp suits, cowboy hats (see the connection) adorn the assorted band members fronted by Larry Love, Rev D Wayne and the soul sensation that is Devlin Love. The image, music and ideology works like a dream live. The lights illuminate the characters on stage, the sound quality cannot be faulted and the fans reaction borders on fervent excitement.
Old favourite's like the bluesy, dance injected "Woke Up This Morning", or the Sopranos theme tune it's more commonly known as to the uninitiated, and the gentle humour of "U Don't Danse 2 Techno". A delightful addition, but of course this is no nostalgia fest. Alabama 3 have a new album to promote which is every bit, if not better than their previous releases. "Bulletproof" with Devlin Love sees and ever improving band, moving on, experimenting to a successful degree. There's a touch of gospel and dare I say it commercial savvy to the new material.
Mixing the older classic and new songs makes for an exciting show with "Ain't Goin To Goa", a blast from the past, but former single "Hello I'm Johnny Cash" is a fitting tribute to the legend that is the man in black. Finishing with "Tse Tung Said" which rattles along with 21st Century urgency Alabama 3 are undeniably an unmissable live act!!!
Words: Nicholas Paul Godkin
Photos: Karen McBride www.karenmcbride.com
*****************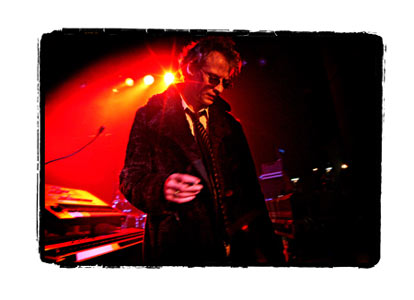 Click here to leave your Alabama 3 comments on the Message Board
(NB: The message board opens in a new window so please disable your pop-up blocker to view)
*****************