ALT-HIP-HOP - ALTERNATIVE HIP HOP NIGHT LAUNCHES IN MANCHESTER
Designer Magazine is proud to present Alt-Hip-Hop, a night of alternative hip hop featuring the finest talent from all over the UK.

Headiners Daywalkers are fronted by legendary drum & bass MC Tonn Piper and have played to sold out crowd at the MEN Arena, The Warehouse Project and toured with Pendulum and The Pharcyde

Old skool hip hop head will also welcome the return of Matty Hanson of Credit To The Nation with his new band Backup Radio. CTTN pioneered the indie / hip hop crossover in the early 90s and toured with the likes of Manic Street Preachers, Chumbawamba and The Levellers as well as sampling Nirvana and Radiohead on "Call It What You Want" and "Tacky Love Song" respectively.

Designer Magazine presents....Alt-Hip-Hop
Daywalkers ft Tonn Piper
The Unstoppable Team
Backup Radio (ft Matty Hanson of Credit To The Nation)
Clipshow
Ill Memba
Date: Saturday Feb 2nd
Venue: Bar Amp, 102 School Road, Sale, M33 7XB (2 mins from Sale Metrolink Station)
Doors: 7.30pm - first act on at 8pm - Resurrect DJs till 3am playing indie and crossover hip hop
Tickets: £5 - Available at Bar Amp (0161 962 3700) or online at http://www.wegottickets.com/event/24627

DAYWALKERS ft TONN PIPER
Daywalkers evolved from four separate musicians with the purpose of creating a live act, capable of writing exceptional, exciting new music with a definite philosophy of not being constricted by any preconceptions.
The idea for Daywalkers came from when Robin used to watch Tonn MC at various Drum and Bass nights across the Northwest, including his own, and thinking that if it was possible to get the right band together Tonn could prove to be more versatile & go beyond just being an MC.
The original plan was to put Tonn together with Phils rock/metal outfit Rinse to see if the idea would work; then Rinse were put on hold indefinitely. To good an opportunity to miss Robin and Phil decided to put the band together themselves. Needing a drummer, Dom, an accomplished scratch DJ, multi instrumentalist and arranger completed the lineup when they came across him playing at a live jam night Element in Manchester.
Late 2004 saw the band get together at legendary Manchester venue The Roadhouse to put the theory into practice. After several months of writing, recording & rehearsing, early 2005 saw Daywalkers following on from their celebrated debut gig at Sophonic Sessions (Boxing Day 2004), with a series of live dates across the Northwest including an appearance at Manchesters huge annual urban music festival D-Percussion, a storming set at the In The City music conference and a guest slot at the ASA LG Action Sports World Championship at the MEN arena.Daywalkers have also supported acts such as Pendulum,Skindred,Hed PE,The Pharcyde,and Dj Yoda. Daywalkers sound is rooted in the diversity of influences of its members, combining the intensity and aggression of hard rock/metal guitars with the ingenuity and energy of Drum and Bass. Daywalkers breathe life into two genres that have tended to become formulaic over the past few years. Throw in some original solid soul/funk grooves and original 50s film soundtrack samples they produce a unique sound more akin to coastal America than the indie strong-hold of Manchester.
www.myspace.com/daywalkersmusic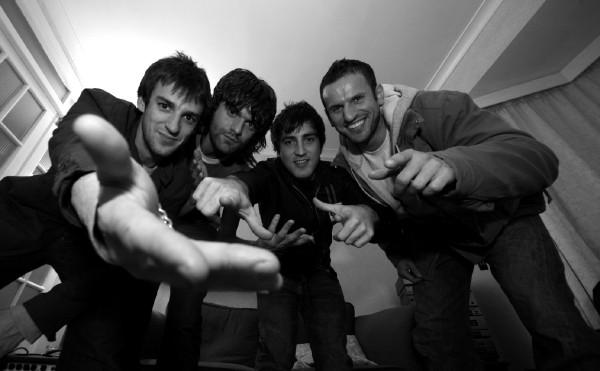 THE UNSTOPPABLE TEAM
The Unstoppable Team live up to their name, with live break beats providing the perfect bed for the lead singer's rapping. This is good time music and the floor is full of people who just want to dance. It's not all lightweight though, and there's elements of Rage Against The Machine or Plan B and The Stone Roses bubbling to the surface, all adding up to a heady mix of funky rhythms and saturated beats. - Peter Doherty - Ents 24
An explosion combining a back seat of indie and body shaking funk with a strong overtone of mancunian pizazzzz! - Buff Bang Pow!
The moment they took to the stage, the crowd came alive. Everyone was on their feet; dancing, laughing and singing along with the curious Mancunian accented rapping laid effortlessly on top of funk-rock grooves. Unstoppable was definitely the word. - Student Direct
www.myspace.com/theunstoppableteam

BACKUP RADIO
Backup Radio is a metal band with an MC and DJ, or a rapper with a live band, depending how you want to see it. Rock and rap crossing over isn't a new thing, they have been closely linked since raps conception back in the 80's. This is its latest and best incarnation with a distinctly British twang.
Backup Radio was originally formed by guitarist/vocalist Karl Morey of Crossflow Recordings and DJ Philly Blunt with the intention to blend rap, breakbeat and old skool breaks with heavy guitar driven song writing. After a few line-up changes, David McMillan and Tom Flinders joined on bass and drums respectively, finally providing a solid rhythm section. Last and by
no means least, MC and singer Matty Hanson completes the set. After great chart success in the nineties as MC Fusion with Credit to the Nation, Matty took time out to assume his role as father and bring up his son. Lyrically articulate and as passionate as ever, he is back in the alternative arena to continue his journey as front man with Backup Radio.
The debut single 'Ghost Town' will be available late February, along with a breaks remix by Keen Kutters, soon to be followed by the debut Album 'Blood in the Water'.
----------------------------------------
*CREDIT TO THE NATION*
Credit released their first single through Chumbawamba's' label in September 1991 'Pay the Price'. The following year they recorded 'Call It What You Want' through Rugabugger (local independent label), they printed 1000 7" singles and John Peel got hold of a copy and played it on his John Peel Session on Radio 1.
One Little Indian, the label of Bjork & The Shamen, heard the radio show and brought the rights from Ruggabugger and signed them to a 3 album deal within a week. On this label they sold over 80,000 albums world wide and toured with such artists as Manic Street Preachers, The Levellers, Therapy, Disposable Heroes of Hiphoprisy and Chumbawamba.
Credit To The Nation have played on:
*Glastonbury* NME stage in 1994,
*Phoenix Festival* in 1994 & 1995, *
Reading Festival* Melody Maker Stage in 1994 to name a few.
Their highest selling single was "Teenage Sensation" which reached number 22 in the UK charts in 1993 with strong support and backing from Mark Goodyear.
All Credits singles got to No 1 in the Melody Maker and NME independent label charts.
-----------------------------------------
CLIPSHOW (formerly known as Giddy)
"Giddy follow in the footsteps of The Tigerpicks and The Tings Tings as part of Nu-Manc-Pop. They're the sort of band that Smash Hits should start republishing for and have songs so good that Kylie will probably start making midnight calls asking for help on her new album. Centred around frontwoman Lou Giddy its impossible to tell this is their first gig but with members of Little Engine making up the cult-manchester supergroup they're a collective of the best musicians in the city.
Taking in everything from pure Motown pop to the sounds of Dubstar the music lives up to the name and looking around the venue they're bringing huge smiles. "She Doesn't Love You" and their signature tune "I Got Giddy" have hit written all over them while "Stainless Star" and "The Ground Zero" hint at something more inventive. Just when people were thinking pop was a dirty word, Manchester is fighting stronger than ever for the good ship pop"


ILL MEMBA
A unique live hip hop band from Manchester telling tales of sex, drugs and real life shit, every motherfucka can relate to. Takin no prisoners, this shits gonna rip it up!!
*********************
ADVANCE TICKETS AVAILABLE FROM - ONLY £5 EACH
http://www.wegottickets.com/event/24627
*********************
*****************
Click here to leave your comments on the Message Board
(NB: The message board opens in a new window so please disable your pop-up blocker to view)
*****************