ALTRINCHAM MYSPACE - BLOG ARCHIVES
---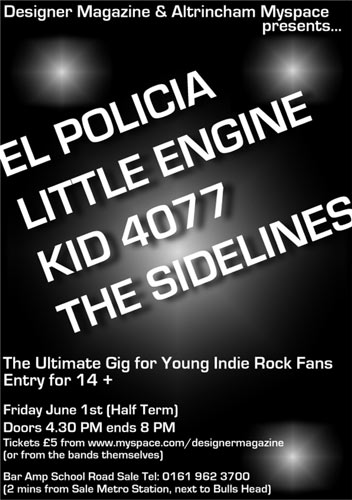 24TH APRIL - ALTRINCHAM MYSPACE / DESIGNER MAGAZINE ALL AGES GIG - 1ST JUNE @ BAR AMP -
TICKETS ON SALE NOW!
Very Limited advance tickets available from WeGotTickets for £5 plus small booking fee - buy early to avoid disapointment
http://www.wegottickets.com/event/18058
FRIDAY 1ST JUNE, 2007 4.30pm
Designer Magazine and Altrincham Myspace present the ultimate all ages (14+) gig in South Manchester for half term.
Doors open at 4.30pm with the first band on just after 5pm - so arrive early!!! The gig will finish by 8pm which allows anyone travelling to get home or continue on to a house party etc
El Policia - www.myspace.com/elpolicia
El Policia are the rock band that Manchester's been waiting for, a band where the music matches the image and the haircuts and are prepared to make a riotous noise rather than a emo slitting Black Parade
The bands last gig at Bar Amp was rammed to 400 capacity with 100 people queueing outside and A&R from Columbia Records and Epitaph Records coming up from London to witness the band. When the person who discovered Coldplay
travels up to South Manchester to witness you, you know you're onto something special.Their last gig was at Satans Hollow supporting The Boy Majors and My Passion
Little Engine - www.myspace.com/littleenginemusic
Cool as f**k band from Chorlton. Expect these guys to be one of the talking points of this years In The City showcases with huge radio support from Conrad Murray on Revolution Radio.
Kid 4077 - www.myspace.com/kid4077
Manchester's next generation fronted by Nile Marr on guitar vocals. Joined by Jamie Safiruddin on bass and Tom Abbott on drums. The band have only played a handful of gigs which has already gave them national airplay on Desert Island Discs and the band are currently recording their self-titled debut album.
Tom Abbot was listed as one of the Top 40 Young Drummers of the Year recently and made a major impression
"Brilliant! Nice one man! Great playing!" (Damon Minchella, Bassist - Paul Weller, Ocean Colour Scene, Players)
"You're sounding really great, man!" (Johnny Marr, Smiths)
From the city that brought you the Smiths and Shameless now comes one of Manchester's finest young bands, Kid 4077
The Sidelines - www.myspace.com/thesidelinesmcr
Previous gigs for the Sidelines include gigs with Shepherd's Pi (Jamie Baldwin from Corrie's old band) and hotly tipped Manchester band Carlis Star". Already building up a reputation in South Manchester where they play weekly gigs to growing audience this Manchester City Centre gig shows just how far they've come from a few months ago. Sure they may have obvious reference points such as The Kooks, Arctic Monkeys and Razorlight but so have a dozen bands such as The Holloways or Milburn and it hasn't stopped them having praise heaped upon them. What sets the Sidelines apart is the piano motifs that underpin the likes of "Our Life In Dreams" which gives each song a sprightly youthful energy. It cant be long before this band grow into a great band and develop their own sound" Designer Magazine
DESIGNER MAGAZINE
Designer Magazine has been running for 8 years in Manchester and tipped many of the larger bands early on from Scissor Sisters to My Chemical Romance and has been bringing gigs from the cream of Manchester for 2 years at venues such as Night & Day....now we do exactly the same thing for our younger readers in South Manchester premier music venue
WHERE IS BAR AMP?
Bar Amp is literally 2 minutes walk from Sale Metrolink Station. Turn left out of the station and walk through Sale Precinct and its at the end of their on the right. Its next to the Bulls Head - so ask your parents - 102 School Road Sale.
NO ALCOHOL WILL BE SERVED
As this is a 14+ event no alcohol will be served at all in the back room of the bar where the gig takes place. (Note: Those who can provide passport ID can drink in the main section of the bar but will not be allowed to take alcohol in the room where the gig takes place...each band has a 15 minute changeover so plenty of time to drink a bottle inbetween bands and get back in there)
Management reserve the right to remove any minors who appear to be drunk - so please do not under any circumstances drink before the gig startsSoft drinks, crisps and chocolate will be available from the bar however
MERCHANDISE
There may well be merchandise on sale during the event so if you wish to buy t-shirts etc please bring a little extra and support the bands who are playing this event
---
14TH APRIL: THE GRIFFIN: A review of the refurbished and new Griffin pub
THE GRIFFIN - RE-OPENED - ALTRINCHAMS FIRST IMPRESSIONS
Altrincham Myspace went in to the refurbished and brand spanking new Griffin on Easter Monday to check out how it had changed.Initial impressions were good, looked classy but it was obvious it was not the pub of old. With the smoking ban coming into place soon it was obvious they were going for what's now c*ntishly known as a Gastro-pub i.e its not a real pub, not a real restaurant but somewhere in between.
Atmosphere was soured when Original Hogg asked for crisps. No crisps sir. Nuts?? No nuts sir. We dont serve snacks or something similar was muttered. Now we know Altrincham's trying to shift into upmarket bars but this is taking the p*ss.
I went for just a light snack of Soup for my option. Carrot and Orange soup. Very nice but could taste a hint of orange in there...only problem was it was the smallest bowl of soup known to man. For £2.95 we could have got a much larger soup in Chisnalls in Shaws Road for the same price.Across on the next table the meat dishes seemed to be full size portions while a vegetarian diner's plate was nearly empty
Overall impressions are that we can see its try to differeniate itself from the Stamford next door which is now scallys paradise, but with Deckers across the road why would you want to eat there.
If you've been there what do you think?
---
5TH APRIL - MESSAGES FOR CAPTAIN CHRIS AIR - One of the hostages in Iran
Please leave your thoughts and comments for Capt Chris Air...one of the 15 hostages in Iran at the moment.
For those of you who don't know Chris is from nearby Timperley and one of our myspace friends requested a blog so that the people of Altrincham can leave messages of support
Thanks
Altrincham
---
1ST APRIL - Why do we all think Alty's the best town in Manchester?
Sale, Stretford, Wythenshawe, Old Trafford, Urmston, Knutsford, Mobberley....
...what is it about Altrincham that makes it better than all these towns South of Manchester?
So after the last few blogs questioning whether Tesco's has ruined Alty and mourning the loss of music zone we want to comments as to why we all love Altrincham so much - what are those little things that our town has that none of the other's above have
Thanks
Altrincham
---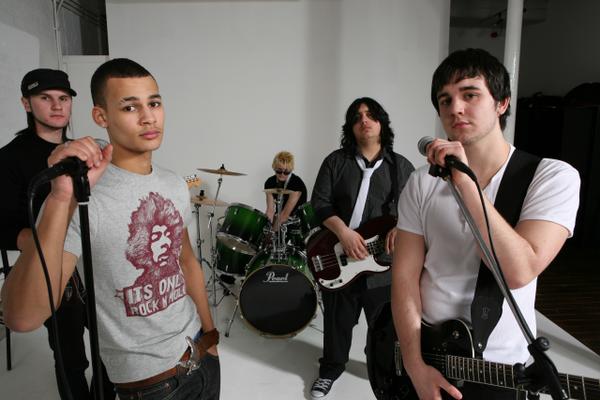 27TH MARCH - CONTEMPORARY BANDS WITH AN ALTRINCHAM / LOCAL CONNECTION
Altrincham has a longstanding connection with music whether its the Rolling Stones and The Who playing early gigs here; Manchester bands such as The Stone Roses and Doves forming here....or the likes of Morrissey, Johnny Marr and Bonehead from Oasis moving here after they made it.But enough of looking at the past...what will be the bands that put Altrincham back on the musical map.
We're going to list a few down here that we know of, but if you're in a band an have an Altrincham connection please post your Myspace link, a short description about your band and in brackets simply put Over 18 or Under 18 as Designer Magazine are going to be looking at this blog with the aim to start booking Altrincham bands at both their Bar Amp gigs in Sale and also
at venues such as Night & Day in Manchester
THE BOY MAJORS
www.myspace.com/theboymajors
Currently our profile tune as this blog goes live and playing 2 local gigs at Bar Amp on April 5th and then Altrincham at the end of April. Got a Clint Boon XFM Session after playing their first gig and with several London gigs planned set to break through nationally
KID 4077
www.myspace.com/kid4077
With only a handful of gigs these guys have been played on Desert Island Discs and their drummer is the son of Paul Abbott who wrote Shameless. There are other connections we could mention as well but the music speaks for itself
EL POLICIA
www.myspace.com/elpolicia
We only heard these a couple of weeks back and a few of the band members are in Altrinchams friend list. Primal punk rock with huge f**king hooks not seen since the likes of the Vines....there's 3 songs you wont stop singing on here
Now its over to you guys to tell us what you think about these bands and let us know other ones....and remember the age categories above if you want Designer Magazine to look at booking gigs for you
Thanks
Altrincham
---
20TH MARCH 2007 - HAS TESCO'S RUINED OUR TOWN CENTRE?
Controversial subject matter for many in Altrincham and one subject to TV Documentaries about Town Centre's in the UK, but has the arrival of Tesco's in Altrincham ruined our shopping centre.
We've been thinking this for a while but seems we're not the only ones as the Manchester Evening News review of Chisnalls (nice little delicatessen / cafe near Alty Market) on Friday 16th March summed it up quite smartly about the enormodome of tesco's "Useful, yes, massive, certainlym but friend to the small businesses, niche shops and overall health of the local high street. Perhaps not so much".So what do you think? Was Alty better before Tesco's and were Sainsbury and Kwik Save just enough for our needs but not too intrusive in the town centre...or were they just as bad.
Your thoughts please
Altrincham
PS. Check out a book called "Shopped" which we bought in Waterstones which really looks in detail at some of the practices of the large supermarkets
---
11TH MARCH 2007- ROLLING STONES RONNIE WOOD SAYS ALTRINCHAM WAS BEATLESMANIA!
IN THE LATEST ISSUE OF MOJO MAGAZINE - PAGE 42 - CHECK IT OUT IN WH SMITHS
OR A LOCAL NEWSAGENT
On the subject of his first band - the Birds (not the American band The Byrds)...
------------------------------
Q:Did The Birds have any success?
A: Beatlemania! But only in Salisbury and Altrincham (laughs). In those two towns they'd want a piece of you, pull your hair out in clomps, tear your clothes. Then we'd play a working men's club in Amersham or Redruth, all that way in the Transit for a fiver each and the audiences would be wallflowers, like this is f*cking boring!"
---------------------------------
Please ask your parents or grandparents if they were at one of these gigs at all and comment on here
Altrincham
---
25TH FEB 2007 - THE ICE RINK IS FINALLY OPEN (WE THINK)
It looks like the Altrincham Ice Rink is finally open now with all the whooping and hollering of what sounds like a match on in there.Now us peeps at Altrincham havent been there yet but we'd like to know what its like n there cos the outside looks worse than a factory down Atlantic Street
* How much is is? Value for money or what?
* What facilities in terms of bars / snacks do they have in there?
* how does it compare to the old one? And is it worth the wait?
* does it look like a temporary ice rink inside?
Thanks
Altrincham
---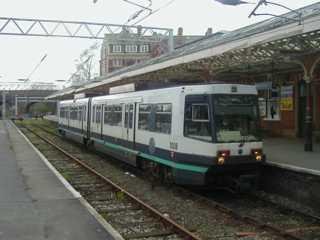 24TH FEB 2007 -ALTY METROLINK STATION - Do you feel safe and assorted metrolink questions?
WE RECENTLY GOT THIS MESSAGE SENT TO US ABOUT TROUBLE AT ALTRINCHAM METROLINK WHICH STARTED A SERIES OF COMMENTS ON OUR COMMENTS SECTION
"Have you heard anything else about trouble at Alty met? I go to town most weekends for gigs and such and recently felt quite threatend. Im not one for writing letters to authority but last weekend there must have been about 50 drunk youths there wanting trouble and then this weekend I actually saw a young lad get bottled! not pleasant :( my friends are mainly from north
manchester so travel on my own from Alty. Do you know who I can contact? and ask what is being done about it. Ive lived in Alty all my life nearly and never seen this sort of trouble!! "
Although we didnt see the bottling incident we have seen large groups of 16/17 years olds at both Altrincham / Navigation Road Tram stop intimidating travellers and with the summer drawing in soon this will be a regular occurence so we're asking the following questions regarding Metrolink
* What do you think of the Metrolink service in general?
* How much in percentage times would you say it's late?
* Do you think it's too expensive or just right?
* Do you feel safe if you have to get on or off a tram in Altrincham at weekend? What incidents have you seen recently?
* What would you do to make Altrincham Metrolink stop safer?
* Why if Metrolink at times can have about 12 inspectors and 5 policemen at one station to catch fare dodgers cant they have 2 permanement inspectors at each stop a number travelling the system to keep travellers safe
* Do you believe the service will get worse once the extended routes come in place in the next couple of years?
Let us know your thoughts regarding anything Metrolink or Altrincham Station related
Thanks
Altrincham
---
10TH FEB 2007 -VOTE: WHICH IS THE BEST CHIPPY IN ALTY (National Chip Week)
WHICH IS THE BEST CHIPPY IN ALTRINCHAM?
So how many of you knew it was National Chip Week this week (12-18th Feb)? At the Altrincham Myspace we found out about it approximately a month ago and have decided to find out which is the best Chippy in Altrincham.
It's part of our ongoing campaign to support local independent businesses in Altrincham so:
* For this week especially please avoid multinations fast food outlets such as Subway, McDonalds, Pizza Hut and support these local chippys.
* Each chippy below should be getting a poster this week so they can let regulars know where to vote so when you pop in tell them you saw them on Altrincham's myspace
* As well as going to your local chippy, why not try one of the other chippys below to see how they compare

Here's our selections in alphabetical order for the 5 Best Chippy's in Altrincham and then please read below of how to vote for your favourite: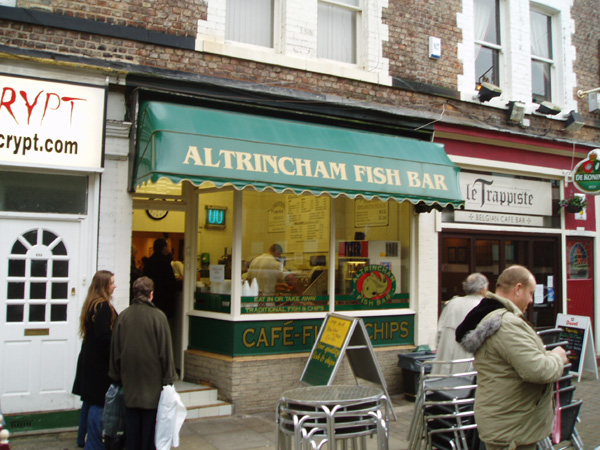 * Altrincham Fish Bar (aka Harry's Chippy)
42 Greenwood Street, Altrincham, Cheshire, WA14 1RZ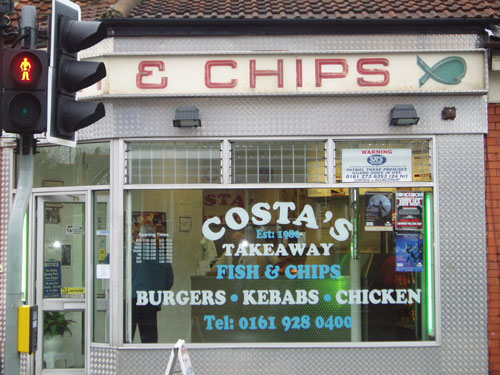 * Costas Fish & Chip Shop
35 Hale Road, Altrincham, Cheshire, WA14 2EY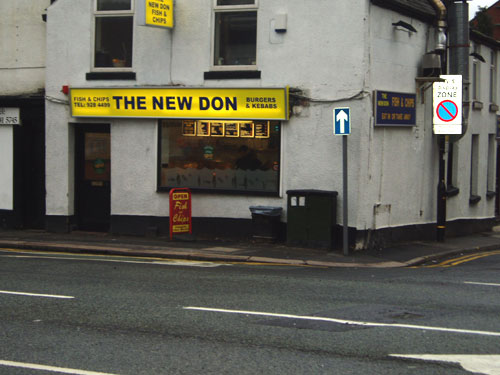 *The New Don
2 Church St, Altrincham, Cheshire, WA14 4DW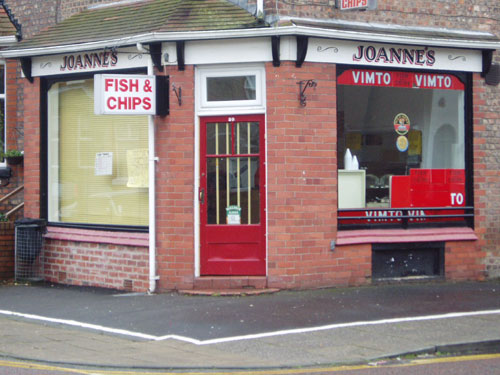 * Joannes
50 Borough Road, Altrincham, Cheshire, WA15 9RA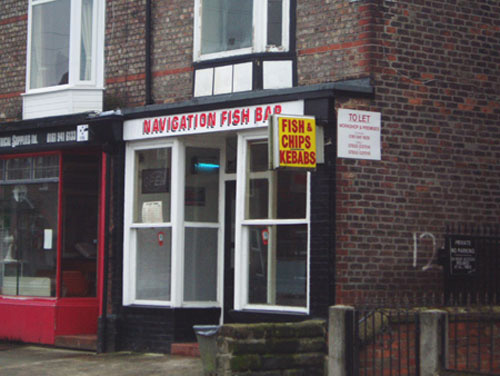 * The Navigation Fish Bar
10 Navigation Rd, Altrincham. Cheshire. WA14 1NF.
HOW TO VOTE:
1. Simply post a comment below with VOTE: (insert name of chippy)
2. Tell us why you think this is the Best Chippy in Altrincham
3. Make suggestions as to how certain chippys can be made better - range of food offered / not offered , portion sizes, prices etc

ALSO TRY AND ANSWER THE FOLLOWING QUESTIONS
* Do you have a weekly chippy night?
* If you dont go to a chippy but go to other take aways - why dont you go to chippys?

NOTE: VOTING FOR THIS BLOG WILL END AT MIDNIGHT ON SUNDAY 18TH FEBRUARY WHERE WE WILL TOTAL THINGS UP AND LET THE LOCAL PRESS / MEDIA KNOW WHICH CHIPPY YOU HAVE CHOSEN AS THE BEST IN ALTRINCHAM....feel free to leave comments after this time but only votes up to the date above will be counted in our poll.

THE WINNERS IS
1. Navigation Fish Bar - 35% of the vote
2. Altrincham Fish Bar - 23%
3. Costas Fish & Chip Shop - 13%
3. Joannes - 13%
5. The New Don - 8%
6. Misc votes - 8%