Athlete / Alfie - Academy 1 - 10.10.03
On the day that Athlete play their biggest headline show in Manchester to date the kids reel in shock that the Smash Hits and TOTP's Awards have been cancelled due to there being a lack of quality pop acts on the scene. We've said it before and we'll say it again just in case the media in their ivory towers haven't quite caught on yet - Athlete are the best pop act around and for that reason the Award shows should have gone and on and prospered with 24/7 Athlete broadcast to the nation with minimum interjections by June Sapong, Richard Bacon or whatever trashy TV presenter they care to drag along for the ride.
Before the main event of poptastic proportions it's time for local heroes Alfie who seem to be recapturing the spirit of the old days with some lo-fi pop gems of their own. Lee Gorton carries all the "don't give a f*ck" attitude we'd expect any self respecting Manc frontman to have, but at the same time he looks like the sort of urchin who'd take £10 and a bed for the night in return for a quick grope under the covers. Do you like our lamps?, he asks a bemused audience wondering why exactly there must be over dozen lamps of varying shapes and sizes, you can get yours from Cafe Pop for about £20. Oh the glorious days of Cafe Pop where you can imagine Gorton wasting his days away back when Twisted Nerve wouldn't even foot the bill for them to record an album properly or even tour the country. Now of course things are different with "Do You Imagine Things" being the first album to truly realize the bands potential. "People", "No Need" and "Chop Chop" are all thrown away without a care in the world, and the die hard Alfie fans dutifully lap them up while the rest of tonight's audience ponders on the question of whether they like Alfie or not. Don't worry, we've been there before and still return there with each and every gig. For now though Alfie are on top form and are the perfect warm up for Athlete.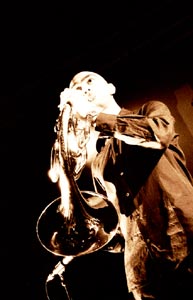 The summer festival season has done wonders in establishing Athlete as Britain's premier guitar pop band. Back in July we saw them at Move Festival and far from being the tired band which we'd seen on the bands previous headline tour they seemed reinvigorated and ready to take on the world. Tonight has seen them bypass the regular stint at the Academy 2 to take on the big one with an audience over four times larger than they played to last time. "Beautiful" and "El Salvador" are knocked off from the outset and you begin to think what other band in the world could throw away their 2 biggest hits to date and still carry on the show regardless. With such a carefree attitude which sees what were once obscure album tracks sung along word for word by a 2000 strong crowd, the only real surprises for someone whose seen this band countless times were the new songs. On initial listens "Tourist" and "Wires" don't seem to be to the high standards as any track on "Vehicles And Animals". They're just too pedestrian and while the latter seems to be one of those songs destined to truly establish them in the hearts of the nation I felt that I'd rather have seen them explore the more left field elements of their influences. "You've Got The Style" and "Westside" are predictably highlights, but for me "Out Of Nowhere" really signals the route that Athlete should head down. Perfect nursery rhyme pop with a hip hop beat and a football chant chorus. Absolute genius and the perfect Athlete song.
It seems that finally the rest of the world has caught onto to what we were talking about over 12 months ago. The pop revolution has just gone over ground.
Alex McCann
Photo's by Karen McBride - www.karenmcbride.com
**********
Post your Athlete reviews / comments on the Message Board
**********