Athlete - Manchester Academy - 5.03.05
It's hard to imagine looking at them now, but in the early days - the "Vehicles and Animals" period, Athlete used to come with a huge dollop of humour. Drummer boy Steve looked like Keith from the office and rubber face keyboard player Tim could challenge Jim Carey in the facial contortions stakes. When lead singer Joel Potts new born baby struggled for life and was hooked up to a life support machine, it marked a change not just for Potts as a person, but also the group dynamic. Rather than jam out the songs in the studio and end up with the free-forming breaks and synth freakouts, Joel reigned control in and took Athlete in a more serious direction as songwriters.
At tonight's show there's a subtle divide between the old school and new school fans weaned in on "Wires". The divide and gulf isn't as wide as old / new school Manics or pre / post "Urban Hymns" Verve, Athlete have never attracted such fevered passion, but it's a far cry from the communion and camp fire singalong atmosphere of their previous Manchester show just short of 18 months ago.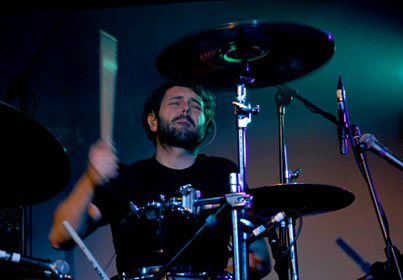 "Chance" starts off sounding like a mini-me version of Coldplay, an earnest soaring ballad that builds to a stirring string section. Like much of the newer material off "Tourist", it's the sort of music made for men who cry over football and display little emotion anywhere else in life. The genuine emotion is the unaffected joyous celebration of the older material. "Shake Those Windows" with it's hip hop reference points, the singalong of "Vehicles And Animals", the playful exuberance of "El Salvador" and "Westside". Then of course there's the closing "Beautiful", which has been turned into a torch song. Interspersing all this is "Wires", a song which has gone above and beyond being a personal song about Joel's new-born baby and has grown to a universal anthem which means so much for so many different reasons.
Athlete are a different band than the one we previously knew, but like Embrace they've actually made an album that fits in with the zeitgeist before unleashing the beast on the next album.
Words: Alex McCann
Photos: Shirlaine Forrest www.shirlainephotos.co.uk
*****************
Click here to leave your Athlete comments on the Message Board
(NB: The message board opens in a new window so please disable your pop-up blocker to view)
*****************