Avenue D
Avenue D have been described as the b*stard offspring of Shampoo & Peaches with more than a hint of Daphne & Celeste about them. A mix of electroclash meets hip hop, songs such as the debut UK single "Do I Look Like A Slut?" and "Too Drunk To F*ck" are fast becoming cult classics. Designer Magazine caught up with Daphne and Debbie when they played TV:OD, the legendary club night in Manchester where Scissor Sisters player their first UK show.
Q: TV:OD is the first place that Scissor Sisters played in the UK. How does it feel to be following in their footsteps?
Daphne: Awesome. We've been doing it all over for a while so this is the next step in world domination

Q: Are you used to England and the language barrier yet?
Debbie: I still can't really understand it

Q: So what's the strangest phrase you heard so far?
Daphne: Taking the piss. I asked David (UK label boss) if he took the pooh also. He was like you don't take the pooh, but you take the piss
Debbie: We moved from Miami to New York so there's totally different slang there...but not as different as it is here.

Q: For people who haven't experienced the Avenue D how would you describe yourselves?
Debbie: 2 nice girls trying to have some fun. I haven't got a guy in every town yet, but here's for trying
Daphne: We very political, none of our songs are about sex (giggles). It's a mix between boogie, rap, electro and punk rock. All the stuff we grew up listening to mashed into one. We've got to have a song for every genre so we're working on country and reggae songs

Q: People have described you as a more fun version of Peaches...
Debbie: Were more fun than everything
Daphne: It just us two girls f**king around for cash and getting our tits out...and we have outfits made out of macaroni - British Macaroni!!!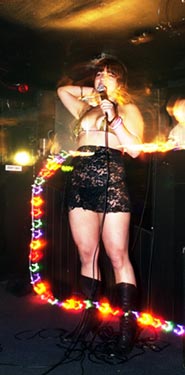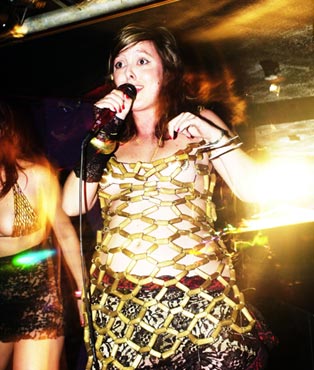 Q: Where are the best places to hang out in New York then?
Daphne: It just changes all the time cos we have like a 5 second attention span. The Bowery Bar is cool. We play there every week...
Debbie: Cos we first started playing there at this little cabaret thing they were doing. We did it as a joke on an off night when they auditioned for white female rappers for major record deal. When we went there it was like "Don't call us we'll call you" and then it turned into this whole thing.

Q: So it was like an amateur hip hop version of American Idol?
Debbie: Basically we were the original American Idol. Simon Cowell - could I have him? Like no way, he tried to hard to be an asshole. I like real assholes
Daphne: I like it when people do stuff to my asshole

Q: Can they do stuff to your asshole when they're "Too Drunk To F**k". Is that song based on personal experience then?
Debbie: I'm sure many women or men, many people can relate to. We do meet a lot of drunken coke heads who've had more than their fare share of none events
Daphne: People have this impression that you can't drink till you're 21. Well, maybe we've found a little corner of the earth you can but it don't stop us. And anyway it makes you a little fun, a little more crazy when you can't drink till you're 21.
Words: Alex McCann
Photo's by Karen McBride - www.karenmcbride.com
***********


"Do I Look Like A Slut?" Is Out Now
For more info, pics, downloads from Avenue D etc
www.avenued.com
************
**********
Post your Avenue D reviews / comments on the Message Board
**********