Babyshambles / Littl'uns - The Mill Preston - 6.10.05
Many thoughts permeate through my mind as I patiently queue up for a good part of an hour to gain access to the Mill. Will Tabloid fodder Pete Doherty actually turn up? If he does turn up will he be in a fit state to perform? And of course are Babyshambles just an overrated hype machine powered by rumour and gossip columns?
Before these questions can be answered Littl'uns perform a short support slot before the Pete Doherty Show. I know they're known as Babyshambles, but there's only one man the fans have come to see and it sure ain't the drummer. Anyway back to the Littl'uns a kind of fey, stripped down Belle & Sebastian type of band with Moz fixated singer and a rather eye catching young lady on guitar. They've even got a soppy looking lad who's there just to play tambourine. "Let Me Go", a sensitive yet cheery song which is just one of many little gems which these guys play tonight. An unexpected treat.
As you can imagine with Babyshambles playing a smaller than usual venue the place is heaving with fans who greet Pete Doherty like the Messiah and this is no exaggeration. It's a religious experience for the disciples who worship at the alter of Doherty. The Mill is more like a rock'n'roll church for the believers. Looking healthier and chubbier than the rakish figure of yore Pete still looks a tad bewildered, but he normally does, it's part of who he is. Babyshambles album isn't out until next month as the tracks played tonight of what's to come.
That said I can't see what all the fuss is about. Granted Pete has charisma and a certain mystique and his Babyshambles are adequately proficient, but to me they're nothing than an above average indie band. Unlike the Libertines who had better songs and ongoing friction between Pete and Carl, which made for an exciting experience live. With Babyshambles Pete's the star and his band are glorified, jobbing session musicians and has no-one noticed, but Pete can't sing, he slurs his words, stumbles around and looks gormlessly into the crowd who hand onto his every word. "Killamangiro" is a top tune, a truly wonderful song but the remainder of the short set, and I mean short at 50 minutes, is a raw deal. You can't differentiate songs from each other as they sound so similar and "F**k Forever" is a lousy single, a lazy retread of some of the less exceptional songs played tonight.
I don't dislike Babyshambles, I just can't believe how long they've got away with such a lack of talent and yet become stars in the process.
Nicholas Paul Godkin
*****************
Click here to leave your Babyshambles comments on the Message Board
(NB: The message board opens in a new window so please disable your pop-up blocker to view)
*****************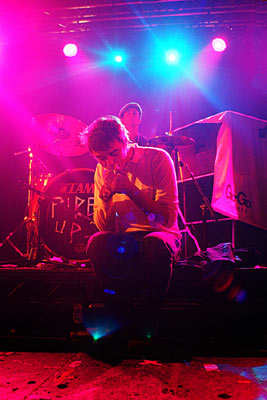 Why Pete Doherty may just prove us wrong....just wait a while?
The first time I saw the Libertines at Manchester Roadhouse a few years ago they played the sort of shambolic show which made Babyshambles look like a polished pop act ready made for TV. The simple fact is the Libertines were a terrible live band and however ever much you go on about that built up tension between Carl and Pete doesn't disguise from the fact if this band would have been around the Britpop era, the likes of Powder would have blown them off the stage (and that's not a compliment). It was the album "Up The Bracket" which drew me in yet again with it's brutal honesty, romantic vision of the Albion and poetic lyrics that Pete and Carl had. Again, this time on support slot to Supergrass at the Manchester Academy, they proved to be without doubt one of the worst live bands this country has ever witnessed.
You see it's easy to look back and be romantic about it, but the times when Pete and Carl have excelled is when they went their separate ways. At Leeds Festival 2004 Carl may have looked lost and bewildered, perhaps a little guilty even for going alone, but live they had an energy I hadn't seen previously from the Libertines. It was still raw and primal, but far from falling apart like they'd been previously. Similar Pete proved his worth at Jabez Clegg for a low-key show at the tail end of last year and although the show ended in a chaotic stage invasion which nearly saw the speaker stacks collapse and flatten half the crowd, Pete's songs with Babyshambles stood out as much as his previous work with the Libertines.
Tonight in Manchester (30th Sept 2005) Babyshambles delivered an unspectacular show. Pete didn't collapse on stage, which half the baying paparazzi were waiting for and indeed 75% of the audience were waiting to see at it was "one of those things you must witness before the end of 2005" according to bollocks magazine. At the same time the music didn't match up to the weight of expectation after spending the best part of the year in the studio. As Nick Godkin says above of the Preston show, "Killamangiro" is a spectacular song, but cod reggae and loose pschedelia do not a great album maketh.
The problem for Pete is he's now public property. Whereas before it was just the NME he spilled his heart to, it's now the Daily Mirror and the Sun and they won't let go. Even if or when he cleans up they'll splash him on the cover about "The End Of My Junkie Hell". The only way he can end the tabloid chatter is by releasing a mind-blowing album that puts the focus back on the music - this album isn't it, but anybody who has listened to the Libertines or the better Babyshambles moments know he's got it in him.
What we have to respect Pete for is the amount of bands that have sprung up around him since the Libertines came to prominence. Up here in Manchester we've got bands like the Pedestrians and Orphan Boy who are clearly influenced by Pete so it's clearly not just a London-centric span of influence that Pete has had. Arctic Monkey's recent success can be traced back to the birth of the Libertines and the influence they had on bands across the country. In fact when you consider that Oasis simply spurned Northern Uproar you realize that the Libertines are as equally culturally important as the Gallaghers, if not more so
Whether Pete goes down in history as a great songwriter and musician or celebrity is up to him. We'd personally like to see him get clean and release that great album we know he has in him
Alex McCann
*****************
Click here to leave your Babyshambles comments on the Message Board
(NB: The message board opens in a new window so please disable your pop-up blocker to view)
*****************