(Pic: Barfly)
Designer Magazine presents....Barfly / The Tides / The Hussy's / The Randoms
Manchester's Night & Day Cafe - 29.11.05
The Randoms hail from the same small village outside Wigan as Designer Magazine favourites Dear Eskiimo and come across as the Kaiser Chief's it's ok to like. Rather than predicting a riot, they might just take their "Best Mates Girl" to the pictures or party 24 hour's to "Bar Music". Just a couple of weeks after this gig they're heading off to Blackpool to strip naked for a Monkees style photoshoot and while most bands are taking themselves over-seriously, The Randoms prove that by relaxing and having a bit of fun you can reach out to a mass audience. With a full UK university tour planned for the New Year they're building their fanbase up from the grass routes and while they may never find favour as a critics bands, i'd put money on it that following this tour they'll have reached out to people who simply like music to soundtrack their weekend rather than w*nking over the next Sigur Ros record.
If one member of The Hussy's look familiar it might because James McColl happened to be in the Britpop band The Supernaturals who hand the enormo hits "Smile", "Day Before Yesterdays Man" and "I Wasn't Built To Get Up At This Time". Stepping away from frontman duties the focus is now on ex-folk vocalist FiFi who gives the glorious Hussy's pop songs the sort of harsh afterbite that Cery's Matthews used to give to Catatonia. After winning over the Scottish fans with residence's in Glasgow and Edinburgh and gaining fans such as Radio 2's Janice Long and Shane McGowans Butler (don't ask) this gig is their first on English soil. Each song the Hussy's play is pop-par-excellence dipping into whichever musical genre they feel like and wrapping it into a bonafide contemporary pop song ala Scissor Sisters. "Marty" starts off sounding like the best bits of every Xmas song ever written and then manages to put Elvis Costello, Madness and Chas and Dave into the mix. "Tiger" a 1930s style Charleston sounds like it could have come off the Grease soundtrack and "We Expected" is a romp through mid 90s indie. The Hussy's have got a bright future head of them and this won't be the last time they come to Manchester.

(Pic: The Tides)
The Tides come from the same stable as Puressence and have played with a who's who's list of bands past and present from the Fall and Chameleons through to newer bands like Kasabian and Omerta. The Tides aren't the sort of band to grab you immediately with the hooks, each song is a slow burner that creeps up on you and for those witnessing the band for the first time it's a far cry from the two earlier bands on tonight's bill. The likes of "You'll Never Change" and "One Amongst Equals" build up with Liam Pennington's vocals soaring over the top of what at times can cross from the anthemic to the shoegazing introspecting of Ride. The Tides are a band that are hard to take to on first listen, but once you listened a few times they start to really affect you.
Barfly don't often play gigs in Manchester, but when they do they're special occasion and this is their second gig in the space of the month. With the option of a major label deal in the offing and a independent single deal waiting to be inked you could say that Barfly have got it all mapped out, but it's not come without a major plan from the start. Rather than play endless gig after gig they set about recording their debut album and getting the songs perfected before they'd even played in public and when they did they get out to gig they played in the places where it mattered most, their hometown and then down the road to the capital to play industry gigs for the likes of Alan McGee. "Don't You Move" is just perfect pop, its the easiest way to say it as vocally and musically it can't be faulted. Taking a band like The Smiths as a blueprint they add a polished sheen which sounds as if they've spent 6 months with producer Mike Hedges you can see why labels are taking note. Ending as always on the pulsating "Ride" they end 2006 with another classic gig.
Words: Alex McCann
Photos: Karen McBride www.karenmcbride.com
*****************
Click here to leave your comments on the Message Board
(NB: The message board opens in a new window so please disable your pop-up blocker to view)
*****************
THE RANDOMS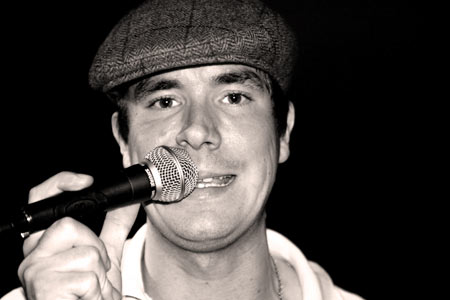 THE HUSSY'S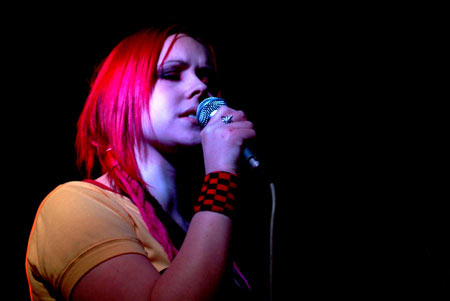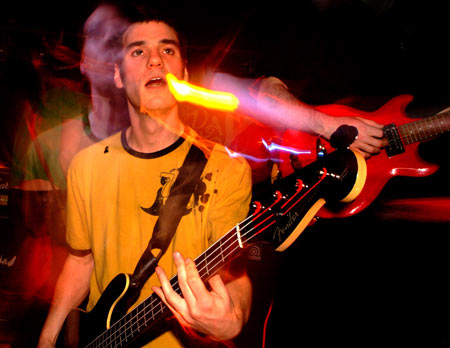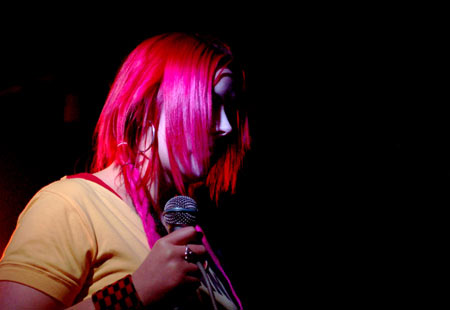 THE TIDES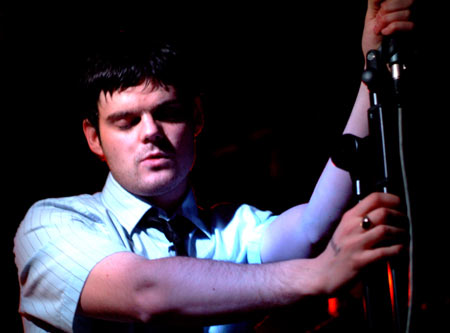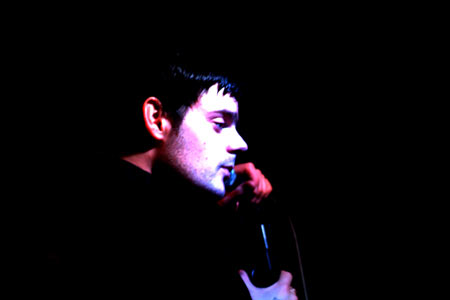 BARFLY