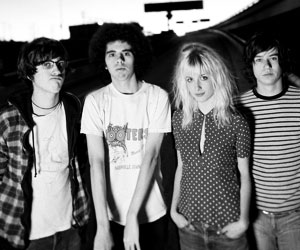 Be Your Own Pet
Stop stroking that poodle
BYOP are:
Jemina Pearl (vocals),
Jamin Orrall (drums),
Nathan Vasquez (bass),
Jonas Stein (guitar).
"We're not punk, as we're not really changing anything."
Spoke Nathan at the commencement of the banter with Nashville's finest rockers in a cold and dark outlet of the hallowed hall of the Roadhouse in Manchester. I, for one, beg to differ with that view, when you have a singer who performs with such captivating style, cock and strut and fervent feeling of John Lyden in his heyday as well as looking like Anna Kournikova would if she had just won Wimbledon for the first time. Add to that; a drummer with the power and intensity to shake such immovable objects as a Starbucks coffee shop from its foundations, a bassist whose throbbing nature puts George Clooney to shame and a guitarist who is tighter than Gordon Brown at Budget time. Then things will change in with your presence and people will be set free from the daily grind.
It seemed only natural to commence with a question about their influences, in an attempt to understand where the inspiration comes from, for such ardent musical cohesion and intense passion that is displayed via the potent pearls; 'Bicycle Bicycle, You Are My Bicycle' and 'Hillmont Avenue'? To which Jemina emphatically proclaimed;
"All influences, we all have different musical tastes and that helps. Our sound is a mutation of punk."
"We listen to a lot of punk" was Jamin's addition.
Their searing sound is not symptomatic of the place they are indigenous to, so how easy was it for them to get established in Nashville?
"We're established in Nashville!!" Exclaimed Jonas with bewilderment, as Jemina clarified the situation;
"We're not really established in Nashville, we're just a band that goes away and plays. We have a bunch of fans there, but it is not really a good place for Rock N' Roll and hardcore acts."
However, it is often the case that you do not realise the power and pull of something until it has gone far away. I can almost hear the aggrieved Nashvillians sat in Dino's Diner, slamming down their glass of Jim Beam and exclaiming;
"Damnation we let them get away; I knew we should have put them on a 'Damn Damn Leash."
With the importance of playing live increasing all the time; you could just about forgive bands who sometimes give the impression that playing a gig is like doing a 9-5 slot at the office. However, this outfit are as natural to the stage as Kenneth Brannagh and put so much gusto, passion and fun into each and every show. How do they want people to feel at the end of one of their sets? Jemina took the lead;
"Just to feel that the saw something and it wasn't a waste of money."
"We want them to feel apart of it and for people to dance and have a really good time." Elaborated Nathan.
It was a refreshing standpoint, as increasingly people feel disinclined to let themselves go in true R & R fashion, for fear that the "too cool for school" onlookers will be marking their performance like 'Strictly Come Dancing' judges;
"We are not like that!"
Just managing to repress myself from exclaiming that you feel like you have been let off the leash at one of their gigs; I proceeded to delve into the dynamic process of their song writing. Jonas cleared that particular matter up for me;
"It varies, sometimes the guitars take the lead and the process builds from there. Some bands just have a singer who does all the song writing, but we are all equal."
"The money gets split four ways" was Nathan's urgent addition, before Jonas continued;
"We have no leader, so that is probably why we sound the way we do."
True punk spirit came to the fore, as I noticed out of the corner of my bad eye; an agitated tour manager looking on. She was only doing here job when she signalled that I would have to start winding matters up. My plea for three more questions received a stern response of one more. However, a masterful Jemina interjected;
"No, he can have as many as he likes."
Nobody argued with that.
Some of the numbers like 'Threshers Fall' and 'Fire Department' seem to be driven and lifted to another floor by Jamin Orral's pelting, crushing and ardent percussion. With some bands Drummers are merely an accessory, but not with them. Jonas provocatively put me on the spot;
"Hey dude, he is calling you and accessory are you gonna stand for it?"
"No, no, no I said he drives the band." Jemina the mediator came to the rescue;
"He is very good, he's been doing it since he was seven."
"It is an important element and I enjoying playing a part in the band. We all make equal contributions overall." Jamin added.
Has he any intention to diversify musically?
"I am working on it; I am playing bass in my spare time at the moment."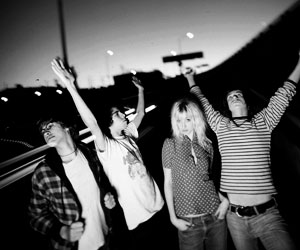 They all come across as broad music lovers with a range of interests. I had to ask about the last gig they attended and was greeted with a couple of intriguing names;
"We love watching gigs."
"The Black Tulips."
"Mudboy; they got a 7.5 rating on Picthford Media you know."
"The Mattoid." Then Nathan decided to elaborate on what they take out of such shows;
"I detail things and pay more attention nowadays, as you are constantly looking at how bands perform live." I think Jemina spoke for them all when she said;
"I always wish I was up onstage when I go a gig." She then noted;
"The last band I saw was Deluxin; Nathan's other band."
Those genuinely interested in what drives Be Your Own Pet and their origins would do well to delve into the frenetic, empirical and boisterous leanings of Deluxin. Their debut album is as hard to get hold of as Lord Lucyan. However, your intrepid interviewer has managed to find a place where there are 33 copies left (http://www.infinitycat.com/stonehamcat.html). Well, 32 after I have finished this article.
Given the fact that none of the bands listed above have had much of a media push; did they feel that their peers rely too much on tastemakers in the US and in the UK?
"Definitely, people our age do buy into a lot. Some of the stuff they write is daft; like the obsession with me puking." Did she care to elaborate on that incident?
"At the Reading Festival I had been drinking Red Bull and water all day. We had a t-shirt that had a few stains on; we were planning to throw it into the crowd. So, when I was accidentally sick on it, I just decided to throw it into the crowd anyway. Now people demand me to puke all the time."
The musical proceedings commenced with BYOP's buddy and thudding one man band; Jeff and his brand of raucous yelping punk. Among the shimmying gyrators at the front was Jemina herself. Gritty and captivating Yorkshire outfit; Harrisons followed and went onto produce a set of The Cribs fused with Maximo Park indie rock. This included the slightly haunting and emotive 'Cry Through The Night' and culminated in the bitingly snappy 'Bluenote'. A set of stammering rock with a hint of disco followed from Good Shoes with the thrusting; 'Small-time Girl' standing out for its heart and soul. It was not for one exuberant larrikin who constantly berated them throughout the set.
The above-mentioned hoodlum received a refreshing comeuppance moments later when BYOP entered the stage then a Batman eye-mask clad; Jonas Stein stood right in front of him and verbally castigated him with force and conviction. It's funny, but the guy had little to say in reply! A thrusting and piercing set ensued, incorporating 'Threshers Flail' that possessed a cutting and well worked build up, before exploding into a fireball of gutsy vocals and rampaging riffs. Jemina's hearty screech reached a high point in the bold, insurrection inciting 'Damn Damn Leash' and the harrowing 'Fire Department'. Standout offering was the 59 second free-for-all of new single; 'Let's Get Sandy' that shuddered around.
Onlookers strained every sinew to ensure that they didn't miss a moment of a thudding and compelling set. The band constantly made sure everyone was involved and, at one point, filled the room with love by making everyone in the crowd hold hands.
Many a pint of beer has bin devoured while debating the authenticity and vibe given off at Stadium gigs. Granted, they can feel false, especially because they should be a reward earned by a band through endeavour and ingenuity rather like a team making it to the Super Bowl or FA Cup final. Tonight, Be Your Own Pet has emphatically completed a third round victory. So, with that in mind, I will see you at the MEN Arena in three years time for a raucous celebration; mine's a pint of Guinness.
**************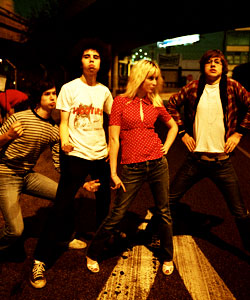 For more info on Be Your Own Pet
www.beyourownpet.com
**************
*****************
Click here to leave your Be Your Own Pet comments on the Message Board
(NB: The message board opens in a new window so please disable your pop-up blocker to view)
*****************