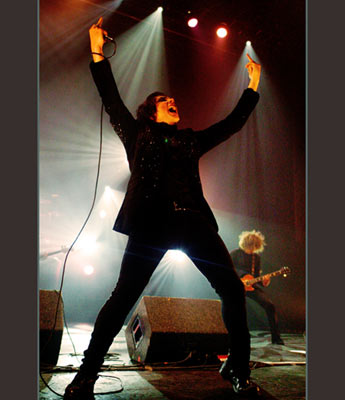 BEST OF 2005
This year has been one of many musical highlights from the anti-corporate shtick of Arctic Monkeys who rode straight to the top of the charts through word of mouth and internet downloads alone through to Live 8 where more corporate bands came together to support the cause of "Make Poverty History".
Of the lowlights you could look at bands like the Kaiser Chiefs and Bloc Party who managed to sell out theatre's with their own 3rd rate take on Britpop. Thankfully as our Best of 2005 selections show before passionate uncompromising bands like My Chemical Romance can still break through as can eclectic acts such as M.I.A and Test Icicles. Similarly if you simply wanted great songs you had the polar opposite's of Anthony & The Johnsons and El Presidente.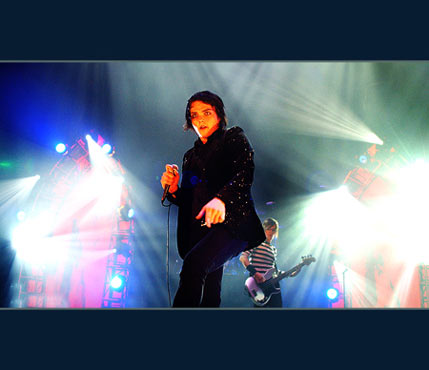 BEST ARTIST / BAND
1. My Chemical Romance
2. M.I.A
3. Pete Doherty
Like the Darkness and Scissor Sister in Previous years there was one band that ticked all the boxes in terms delivering a great album, unforgettable live shows and an unbelieveable frontman. Gerard Way and My Chemical Romance were taken to the hearts of people in the same way that Bowie, The Smiths and The Manics were to previous generations. Lyrically and musically they leaped out of the emo scene with "Three Cheers For Sweet Revenge", an album which took an orchestra of guitars piled more and more on with each track...and if that wasn't enough millions of teenage girls swooned over the Way!!!
Elsewhere M.I.A enthralled us with he inventive take on hip hop, electro and every genre under the sun and story which told her upbringing as daughter of a Tamil Fighter. Pete Doherty, while musically failing at every hurdle was one of those doomed icons that spawned a series of great bands from London and also the provinces. For that we're thankful and his performance with Elton at Live 8 was one of the most memorable of the year.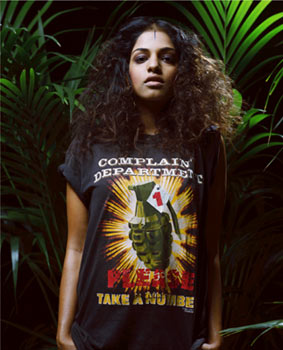 BEST NEW BAND / ARTIST
1. M.I.A
2. Orson
3. Test Icicles
Always the hardest category to pick each year as more and more bands come out from the traps and more records are released each year. It was a category which could have quite easily have gone to Arctic Monkey's, but with only one official single behind them we felt that they'd have won it by a tokenistic gesture.
Instead the Best New Artist of 2005 clearly had to go to M.I.A - an artist who had connections with Elastica and Pulp, but delivered a unique mix and match vision of British urban music. While all eyes were on Dizzee Rascal and Kano it was M.I.A that made inroads into America with major league producers looking to work her including Missy Elliot, and Kanye West who she turned down as she was too busy.
Similar to the rise of Arctic Monkeys, Orson came to prominence via the net with an album recorded on a miniscule budget and streamed via Myspace. What happened next was nothing short of a revelation? Their first UK show at 14 Lloyd Street as part of In The City saw them sign a deal a couple of days later to Mercury Records and two months later the video's been recorded for their debut UK single and the band are touring Europe with Duran Duran. Designer Magazine were there from that early Manchester show and the end of the year saw our photographer Karen McBride onstage at the MEN Arena as their on-road photographer.
Test Icicles name may get yawns from anyone over 25, but this band are, ahem, the bollocks. As we said back in October "a band so young and wide eyed who have listened to every record by the Beastie Boys, Alec Empire and some gabba techno shit and thought f**k we can do that to if we just picked up a guitar and 808 from a pawn shop"

BEST ALBUM
1. M.I.A - Arular
2. My Chemical Romance - Three Cheers For Sweet Revenge
3. Antony & The Johnsons - I Am A Bird
Everything about Anthony is ambiguous. An alien child fallen to earth like Oscar Wilde, at the same time vocally he moves and caresses the notes that veer between that of an 80 year of man of the blues through to an 18 year old chanteuse. "I Am A Bird Now" is a compelling listen from start to finish, hypnotizing the listener with a powerful beguiling voice. On "For Today I Am A Boy" he questions and probes his own sexual ambiguity. "One day i'll grow up and be a beautiful woman" he croons and indeed realizes. Anthony has been singing for years as a drag queen in cabaret bars across New York prior to becoming a recording artist in his own right.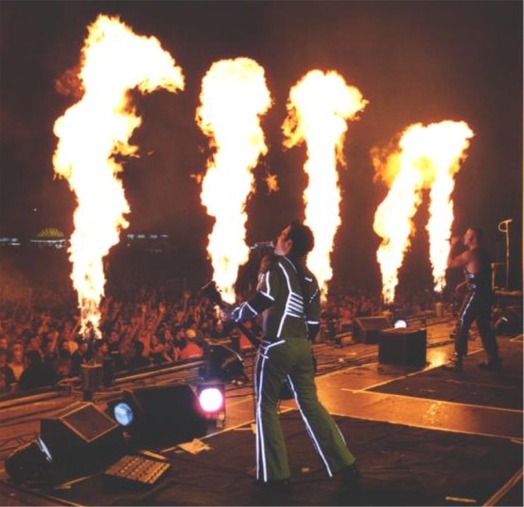 BEST LIVE ACT
1. Rammstein
2. My Chemical Romance
3. Green Day
Rammstein have an addiction to pyros, like Pete Doherty has for smack and self-destruction. Fire breathing face masks, flame throwers and crossbows are all part of the bands make up and when you think that by boiling their keyboard player Flake in a pot during "Mein Teil" they couldn't take things further...they then shoot a flame across to the back of the arena. Many have tried, but it's Rammstein that have just created the most explosive incendiary live show the world has ever seen. If you get the chance to see them sell anything, sell your mother for it - Rammstein transgress rock n roll with something much bigger.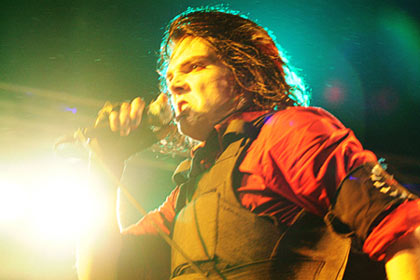 BEST ROCK ACT
1. My Chemical Romance
2. Funeral For A Friend
3. Green Day
Funeral For A Friend are a band who faced a lot of criticism, much of it undeserved, as soon as they got out of the starting blocks, but if anything the criticism they received about the first album has lead them to produce a 2nd album which in spirit, if not sonically, captures the free spirit of their early EP's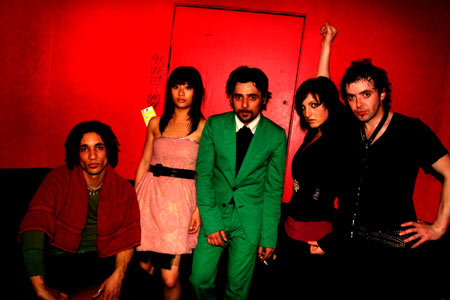 BEST POP ACT
1. El Presidente
2. Girls Aloud
3. Sugababes
A red flag backdrop marks them out as a communist party trying to offer a real alternative to Blair and Howard, but to all intents and purposes El Presidente are just a pop band. Albeit a pop band which shouldn't necessarily work and one that was undoubtedly formed in a Scottish greasy spoon cafe theorizing over what elements make the perfect pop band. It transpires that Dante's vision of the perfect pop combo is equal parts Prince, Bowie and Marc Bolan with a look that is as old skool pop as Dave Spikey is to old skool comedy.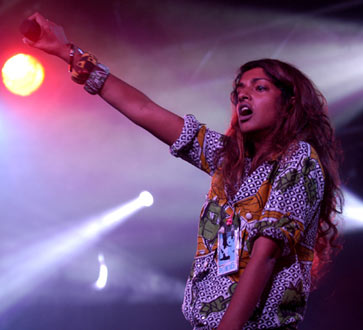 BEST URBAN ACT
1. MIA
2. Gorillaz
3. Movement
When Gorillaz were first launched it was a novelty with great pop records and while individually these are still groundbreaking pop records taking in hip-hop and world music and arranging it into a digestible form, as a whole it stands up as a great artistic statement. Only Damon Albarn would take on the mammoth task of recreating the "Demon Days" album live on stage with all the special guests...and it would only be Damon who'd take it out of London straight to the heart of Manchester just to rub the Gallaghers faces in the fact that why they may sell more records he's still the one with the artistic vision to put his hand to almost anything. This is of course the man who started off Seymour (later Blur) who rode on the coat-tails of Baggy, kicked off the Britpop scene in the mid 90s, set up a world music label and recorded the Mali Music album and more recently recorded the second Gorillaz album with the likes of Shaun Ryder, Neneh Cherry and De La Soul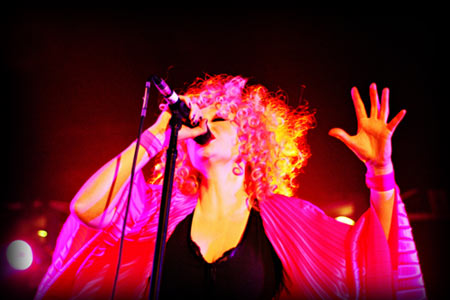 BEST DANCE ACT
1. Goldfrapp
2. Gorillaz
3. Chemical Brothers
Finally after five long years Goldfrapp have at last reached the pinnacle of their career by becoming bona-fide popstars after the general public wisely took notice of their sexually ambiguous electro tunes by giving them a hit single and best selling album with "Ooh La La" and "Supernature" respectively. Observing the sold out crowd at the Academy 1 I can see a mixed audience of disco dollies, lovey dovey couples (come on guys get a room why don't cha), students and surprisingly a few under 14s (perhaps fans of Rachel Stevens).
BEST ALTERNATIVE / ROCK SINGLE
1. My Chemical Romance - I'm Not Ok
2. The Subways - Rock & Roll Queen
3. Towers Of London - F**k It Up
BEST POP SINGLE
1. Sugababes - Push The Button
2. Black Eyed Peas - My Humps
3. Gorillaz - Dare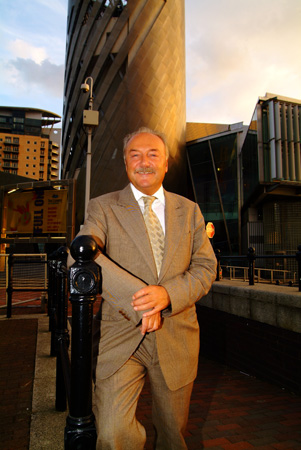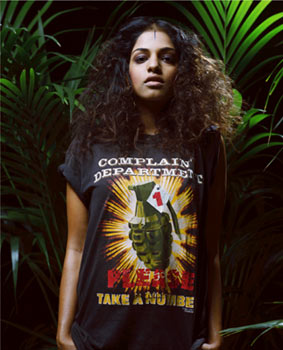 MAN OF THE YEAR
1. George Galloway
WOMAN OF THE YEAR
1. M.I.A.
Our choices for Man and Woman aren't as dissimalar as you may thing. One stands up for honesty and truth in his world of politics while his detractors try to pin false allegations. On the other hand M.I.A has been accussed of promoting terrorism through her music that is entrenched with the memory of her father, a prime figure in the Tamil Fighter movement. Two unique characters in a world that often champions the mediocre and those that follow the pack.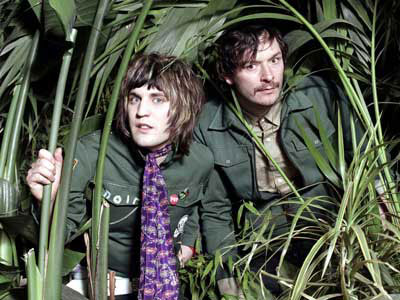 SEXIEST MAN OF THE YEAR
1. Noel Fielding (The Mighty Boosh)
2. Dougie Poynter (Mcfly)
3. Sammy Danger (Test Icicles)
It's all about the haircut and the poncho for the Number 1 Sexiest Man Of The Year. As part of the Mighty Boosh he's made us laugh in previous years, but there's something curiously sexy about Noel Fielding which saw him knock out McFly's Dougie Poynter and Test Icicles Sammy Danger.
Runners up include Christiano Ronaldo (Man Utd), Pete Doherty, Gerard Way (My Chemical Romance), Martin Tomlinson (Selfish C**t) and for the older readers Mark Owen and Morten Harkett (A-Ha)

SEXIEST WOMAN OF THE YEAR
1. Kate Moss
2. MIA
3. Deeyah
Cocaine, Politics, Music and Religion: Our 3 Sexiest Women of the year managed to cover all of them somehow. Kate Moss has been Designer Magazine's Sexiest Woman Of The Year several years in a row, but stood down last year for Alesha Dixon from Misteeq. This year Moss, (exposed by the Mirror for taking Cocaine - copyright of the Daily Mirror for exposing the shocking story that a model takes drugs, LMAO) fought off competition from M.I.A and the Muslim Madonna, Deeyah.

*****************
Click here to leave your comments on the Message Board
(NB: The message board opens in a new window so please disable your pop-up blocker to view)
*****************


THE ARTS IN 2005
Each year Designer Magazine correspondent runs through the Best Of The Arts and this year is no different. Designer Magazine favourites like The Mighty Boosh return for the 2nd year in a row to win the Best TV Show, closely followed by coming of age drama Sugar Rush and C$ comedy Spoons. While David Tennant, the new Doctor Who, takes the Best Actor category for his roles in Casanova and Secret Smile as Samantha Morton gains Best Actress for her role in the Libertine opposite Johnny Depp. To find out the other winners look at the list below:
BEST TV SHOWS
1. The Mighty Boosh
2. Sugar Rush
3. Spoons
BEST FILM
1. The Assasination Of Richard Nixon (Sean Penn / Naomi Watts)
2. The Constant Gardener (Ralph Feines / Rachel Veiss)
3. Downfall (German Subtitles)
BEST DVD
1. War Of The Worlds
2. Shameless (Series 2)
3. Nathan Barley
BEST ACTOR
1. David Tennant (Casanova / Secret Smile / Blackpool / Dr Who)
2. Dominic Monahan (Lost / Lord Of The Rings)
3. Ricky Gervais (Extras)
BEST ACTRESS
1. Samantha Morton (The Libertine)
2. Sienna Miller (Layer Cake)
3. Ashley Jenson (Maggie in Extras)
BEST ARTS PERFORMANCE
1. Whose Life Is It Anyway (London Comedy Theatre - Kim Katrell)
BEST BOOK
1. John Peel Autobiography

*****************
Click here to leave your comments on the Message Board
(NB: The message board opens in a new window so please disable your pop-up blocker to view)
*****************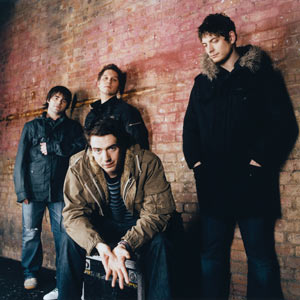 WORST OF 2005
For every winner there must unfortunately be a loser and it seems that Kaiser Chiefs and Snow Patrol are bigger losers than most. Do you agree?
WORST BAND / ARTIST: Snow Patrol / Kaiser Chiefs
WORST NEW BAND: Kaiser Chiefs
WORST ALBUM: Kaiser Chiefs "Employment"
WORST LIVE ACT: Snow Patrol
WORST SINGLE: Shayne Ward - It's My Goal
WORST TV PROGRAM: Celebrity Spelling Test
LEAST ATTRACTIVE MALE: Anthony from Big Brother
LEAST ATTRACTIVE FEMALE: Kerry McFadden

*****************
Click here to leave your comments on the Message Board
(NB: The message board opens in a new window so please disable your pop-up blocker to view)
*****************