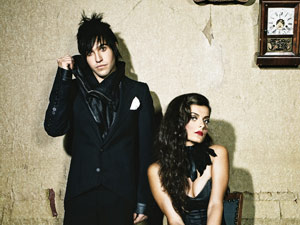 Black Cards - Manchester Roadhouse - 26.10.10
It's been that long since we listened to Fall Out Boy that we'd kind of forgotten they'd split up... and without any leaked penis shots from Pete Wentz (Ian Lostprophets has taken over that role now), Black Cards snuck up on us unexpectedly.
Taking direction from La Roux instead of Les Paul, this is a club party soundtrack that aims to soundtrack Macauley Culkins high rather than his Party Kids come down. If on paper this sounds quite good, and the initial songs on myspace suggested it could be, then the live reality is a total let down. The worst aspects of pop music combined in a cod reggae Eurovision hell at best and Peter Andre B-Sides at worst and it isn't helped that frontwoman Bebe is Hayley Williams in reverse - no personality, charisma and despite being classically good looking is a sexual as a mannequin.
The simple fact is that if Pete Wentz wasn't in this band, the club would be empty and while in Fall Out Boy his rambling monologues were the worst aspects of the show, tonight they're more interesting than any note played. Referencing the first time he came over to Manchester and mentioned Manchester United as it was the only thing he knew, to cries of City (and a few insufferable Scousers) and then talking about his musical heroes such as Ian Curtis and Morrissey. Its not quite Andrew WK motivational speaking but offers a slight respite inbetween the horror we witness
"Dr Jekyll & Mr Fame" is bizarrely dedicated to Wentz's friend Andy in tribute to his newborn baby, despite that it's a song about people changing because of fame. It however is a perfect slice of post-Gaga esque pop. While "Club Called Heaven" is based around a 20s Charleston and starts off with a cover of "Bang Bang" as an intro. "Domino" is another highlight sounding like No Doubt at their peak.
And that's it at its best. At worst "Gotta Be", a song so bad Miley Cyrus wouldn't even consider releasing it. "Tiffany" a song about a sugardaddy is a naff Shakira B-side.
With Decaydance Records Pete Wentz has been a formidable A&R man, just a shame he didn't take the time to A&R his own project before it his the general public
Words: Alex McCann

© 2000-2010
Designer Magazine unless otherwise stated.

All Interviews by Alex McCann unless otherwise stated
NB: Please seek permission before using any articles within this site
Contact us: designermagazine@hotmail.com