Blow-Up
While the name Blow-Up might not initially leap out from the record rack, chances are you'll have been dancing to one of their legendary remixes for the likes of Madonna, Flaming Lips, Blondie and Yoko Ono. A few years ago it was the de-rigeur to have the obligatory Chemical Brothers or Fatboy Slim remix, nowadays record company's are desperate to get the Blow-Up treatment. Released in limited edition format last year, "Exploding Plastic Pleasure", has just received it's full release over in the States and with guest appearances from Debbie Harry, Dee Dee Ramone and Lydia Lynch it looks set to break the duo through as artists in their own right.
Q: The Blow Up story is one that takes in 3 cities and different cultures. Do you feel this has widened the groups sound and influences as opposed to just growing up in one city your whole life's?
Paolo: Well I grew up in N.Y.C. in the 70s and remember being influenced by my older brothers record collections including glam/disco/punk as well as 60s pop/psychedelic music. I moved to London in the 80s and was into all different types of pop and dance but I still think my early years dominate and influence me now.
Claudio: I grew up in italy in a different cities. I was born in a small town called Termoli on the adriatic sea but in my early age i moved to rome then milan cause the small town life wasn't for me. I always liked music my all life and been influenced by my brother Dino's band in the 70's where they were influenced by the 60's. i love the 60's music as a pop culture, 70's punk, nue wave and so on. that's why when paolo and i we met we were so perfect and in tune with the music that we wanted to make and our influences it was so similar that it wasn't difficult to do what we like.

Q: At the moment your perhaps better known for your remixes than your original material. What you feel it is about the Blow Up sound that attracts names as wide as Madonna and The Flaming Lips?
P&C: Our first LP "Exploding Plastic Pleasure" released in 2003 was only a limited release on an independent label so many didn't get to hear it. But word of mouth & the write ups found their way to a lot of the right people and soon we were being asked to produce, write and remix tracks for up and coming acts and that just got more and more people interested and soon Madonna & The Flaming Lips came knocking and it's been non stop from then.

Q: What's the most exciting remix you've worked on and why?
P&C: On Madonna's "Hollywood " we had a blast and really took chances like making the vocals really dirty and backwards at times. The Flaming Lips "Ego Tripping" was fun because we knew we didn't have to do a mix with the dance floor in mind. We were able to make it a bit more psychedelic and added chants in the end saying L.S.D. Also it's funny but the latest remix is always the most exciting. We just did a track for an artist called Esthero who is clearly not as famous as Madonna but we're really exited about the outcome.

Q: On your own tracks you have a real retro electro production. What is it about that specific sound or genre that appeals to you over other dance genre's such as techno, house or drum & bass?
P&C: Our LP was released in 2003 and recorded at the end of 2002 so we were influenced by a lot of the underground euro electro music coming out at that time. Most electro does tend to have a retro feel because of the dominated synths but in comparison to say 90s house/techno/D&B, we were never into that music, the 90s were such a drag, with a few exceptions.

Q: You've been compared to the likes of Daft Punk and Les Rhythm Digitales - real figureheads of the electro sound throughout the 90s. Do you see it as a compliment of just lazy journalism?
P&C: Those are probably the few exceptions about what we liked in the 90s. Everyone finds things in others music to influence them and we were never shy to admit to it.

Q: I'd imagine it's quite varied with the acts you've remixed, but what contemporary artists do you listen to, both in terms of casually listening to music and great producers?
Paolo: I really like the Ravonettes LP, I think Richard Gotterher was a great choice to produce them. Rick Ruben always produces things good, sometimes the guitar work is a little too metal for my taste. We get lots of tracks sent to us by new acts and we use them in our DJ sets. Just for the record, we're not DJs and never were, we did & do play records at times in public but in the sense of the word "DJ" we can't take that title.
Claudio: Yes that's right we are not DJ's and i don't like to be one. but at the same time it's fun spinning here and there to promote our own music and some of the records that we like you never know what we are playing. I can only say stay tuned for our live performance soon to come with her next album. till then just listen to us spinning. i don't mind listen to add-n-to-x.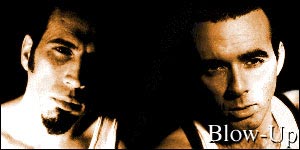 Q: Debbie Harry, Lydia Lynch & Dee Dee Ramone. Sounds like a real wish list. How was it working and collaboration with these artists in the studio?
P&C: Debbie comes in and just opens her mouth and sings and it just gets ya in your gut, that voice! She was in town one night and we had her over and asked her to sing something for our LP, but we only had "Uncontrollable Love" lyrics & music ready so that's the song she sang for us. Lydia was spending time at our Villa and heard some of our instrumentals and liked one track that was to become "On The Prowl" from our "Exploding Plastic Pleasure" LP. We turned on the mic and she just came out with the lyrics "1,2,3", her talent for words & feelings are amazing. Dee Dee was over one day and saying how much he liked disco and never had a chance to record or write something with a dance feel (he said "Bad Girls" & "Dancing Queen" were some of his favourite songs). On "You Can't Make Me Do That", we had the basic idea for the verse & chorus down and Dee Dee worked on some of the chord changes and some of the lyrics, at one point all three of us were humming along the chorus looking for words and Dee Dee said "You Can't Make Me Do That" as a joke. When he returned the next week he couldn't stop laughing when he heard that we made it the chorus and title.

Q: If you could choose anyone to collaborate with who would it be and why?
P&C: We wrote a song for Debbie Harry with all her phrasing and timing in tact and she just loves it. We'll be producing and writing a few tracks for her at the end of this year for a future release of hers. We love the songs Debbie & Chris have written over the years and hope they could both collaborate with us on some of the songs.

Q: Have you ever had to turn down a collaboration / remix with an artist cos you simply don't like them or feel it wouldn't work out?
P&C: Yeah we do turn down things all the time, but it wouldn't be nice to talk about it.

Q: The next big project you're working on is the reworking of Rod Stewart's "Do Ya think I'm Sexy?". When approaching something like this how hard is it to please both the dance floor and the radio stations?
P&C: With the success of remixes for Elvis & The Rolling Stones out there we feel that the public (and the publishers) are ready to embrace new versions of songs by the original artist. Not until the late 70s were remixes even in existence. A new version by a different artist was all you could get. It's not such a taboo thing now that The Stones agreed to have it done.

Q: What's next for Blow Up in 2004? Live performances? UK Shows?
P&C: 2004? It's half over. We're backed up with remixes and haven't yet gotten around to getting a live show together. We pop around now and then doing a DJ set, we just finished a short US tour opening for Blondie. We really would like to go out and promote Blow-Up but we're going to wait until after another Blow-Up LP, probably in 2005. We just started writing new tracks for Blow-Up but the way things are going with remixes and producing the songs may wind up as songs for other artists. we just finished the tour with Blondie here in the USA and we will go back opening for Blondie again this summer. and yes you will see us in the UK.

Q: Any hot remixes you've just had commissioned?
P&C: We just remixed the new American release of "Good Boys" by Blondie. They are going to promote our version to the radio and clubs. Also were really exited about a mix we just did for Yoko Ono. She just loves it and asked us to produce some new tracks for her.
************
"Exploding Plastic Pleasure" is out now
For more info on Blow-Up
www.blowup.ws
************
**********
Post your Blow Up reviews / comments on the Message Board
**********