The Blowout Summer Special - The Southern Hotel (Chorlton) - 29-30th July
The tables were full of empty glasses, overflowing with cig ash; the barrels (Strongbow, lager etc.) had been similarly emptied over the two night of this musical gluttony at a venue more well known for it's "Buzz Club" comedy nights.
By the time the venue has discharged the listeners into the residential area of Chorlton in the early hours of Sunday morning, we had been treated to a showcase of talent is bubbling away around Manchester. A few of us also learnt a new dance, the "Dosie Doe" (cheers Zoe), and continued the night with a few more "afters" (cheers Danny)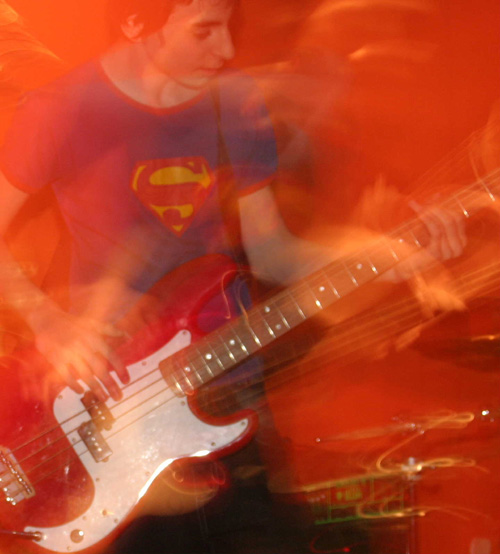 When the fuzz clears and memories flash back, stand out images will be a storming set by Fear of Music closing Friday nights instalment, and the attention grabbing performance by the Polytechnics on Saturday
Prior to stepping on stage and eschewing the debauched traditional image of the rock'n'roll lifestyle, the Fear of Music frontman Joe Rose is to be found sitting next to the stage reading a book. The band are in a relaxed mode, preparing for the maelstrom they will shortly produce.
As the crowd immediately start to move towards the stage to view this hotly tipped young band they are halted in their stride by an unnamed (lets call her Alison) young woman who proceeds to claim the floor space and commence to carry out a series of balletic moves and gestures, or as someone commented, she appears to be going through her Kate Bush phase.
Some of the bands seem uncertain of how to deal with these goings on, but for Rose, he is thriving on the unintended visual complement of the bands aural delivery. So much so that if she wants to appear in one of their videos, just let them know. Playing a set that draws heavily their eponymous titled mini album, FoM have a rawness and intensity that appears at odds
with their off stage behaviour, and one that the audience are clearly pleased so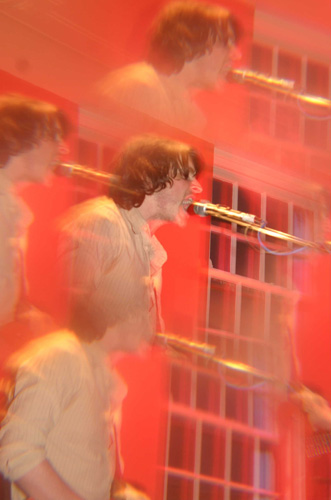 On the Saturday night, hemmed in the middle of the playing order, the Polytechnics quietly take to the stage then capture the attention of the, by now boisterous, punters with an ecstatically received set. Their initially abrasive sound gets the "who do they remind me of" game going"(e.g. is the voice reminiscent of Neil Peart from Rush or even Muse ?) before everyone
just settles to enjoy the music for it's own sake
Genuine bemusement at the rapturous applause they receive crosses the band members faces as they depart the stage. Cries for "More" are met with the only encore of the event
To focus on only two bands is perhaps unfair on the other, excellent acts on show, but it's nice to know that the quality control at Blowout is still pretty high
Words & Photos: Ged Camera - www.camera1.free-online.co.uk
*****************
Click here to leave your Fear Of Music comments on the Message Board
(NB: The message board opens in a new window so please disable your pop-up blocker to view)
*****************