Bonebox / Grand Volume / Ian Britt / Ryna - Manchester hester Roadhouse - 8.01.08
After the New Year excess, the January come down requires a gentle approach to breaking back into the gig world (unless you are Cath A who has done 6 gigs in 7 days), and the Roadhouse obliges with an "acoustic" evening that marks the re-opening of the venue. This isn't the type of event where a bearded James Blunt sits on a stool hunched over the mic spouting sugary sickness across the floor. Its approach is to challenge to the more normally "electric", boisterous acts to strip down their material to its essential, whist still maintaining the vibrancy of the original
So let's begin with stalkers, bra straps, Randy Newman and Frank Sinatra all of whom occupy the world of Ian Britt. The normal mosh pit area is filled with tables, on which candles flicker contentedly and it's the audience who are seated. It's an ideal setting for Britt to regale us with us his tales, including the one of "Crazy Jane" the aforementioned stalker. He's comfortable in the environment, keeping the between song momentum going with his easy patter of how he's now got his first – and last- tattoo.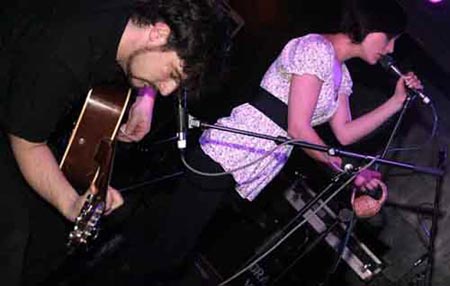 Not quite so confident is Caroline Sterling, one half of tonight's version of RYNA. Normally there's more of a band around her to help project the sound out, but tonight it's only her and Tony Grantham on guitar. At times she delves into P J Harvey territory, at others it's more the lone songstress as she tries to find the right pitch for the evening
"Country hip hop" is how one observer tries to describe the Bonebox sound to his partner prior to the start of the set.
No two Bonebox gigs are ever the same, so tonight there's a core of 3 with a trombonist on board for the final number. In keeping with the stripped down theme of the evening their set is restrained. Drums are absent from the set up and the gravely drawl of front man Jay Taylor is reigned in though it's still well within the Tom Waits range. A normally vibrant "Devil in the Detail" is subdued, yet still smoulders with intent. Pedal steel guitar blends with mandolin and guitars in a way that shouldn't really work but do
For Grand Volume, it's also an unusual occasion. The 3 piece are more used to blasting out powerfully raw chords, but their standard electric guitars are tonight replaced with sedate versions. To mark the occasion, guitarist & front man Tommy Sheals-Barrett is dressed in a natty white jacket. The challenge means that the band come across as a more melodic version of their heavier alter ego.
It's all warmly appreciated and now we've been warmed up inside, it's time to face the sleet and hail outside
Ged Camera - www.camera1.free-online.co.uk
*****************
Click here to leave your comments on the Message Board
(NB: The message board opens in a new window so please disable your pop-up blocker to view)
*****************