Bowling For Soup / Never Heard Of It - Academy 1 - 25.10.03
From Sunny California to drizzly Manchester, Never Heard Of It hi-jack the stage for thirty minutes of punk fuelled non stop entertainment. DJ Dell-Osa is much more than just a frontman. He's a musical motivator, a born leader of a group who have that DIY approach to down to a fine art. The songs are rough, ready and raw with simple sing-a-long choruses and with two albums already released they've got plenty of tunes to choose from. NHOI handle their audience like a group of friends and its so much more than a gig, it's a party and everyone's invited. Having played the last two Warp tours in the States, NHOI live and breathe the thrill of live performances. As a tribute to DJ's favourite tipple we are treated to "Tequilla", an intoxicating tale of alcoholic debauchery. This half hour slot is a fine introduction to the band and with a confirmed return visit next year they'll be the name on everyone's lips in no time.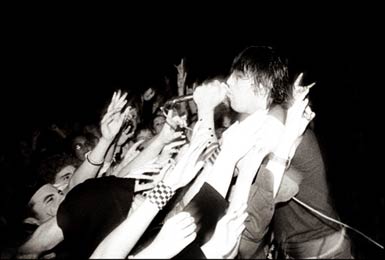 Bowling For Soup are the missing link between Blink 182 and The Bloodhound Gang sharing that typically American frat boy sense of humour. The Texan four piece are re-igniting the party vibe NHOI started in fine style. Dipping into their "Drunk Enough To Dance" album at regular intervals BFS are just as deliciously demented as they were last year. "Emily", "The Bitch Song" and recent single "Punk Rock 101" are all instant crowd pleasers with Jaret connecting with the kids on their level while larger than life guitarist Chris preens and poses, adopting many different ways of endearing himself by making everyone laugh. Talking of mirth filled moments, a medley of covers including Britneys "Baby Hit Me One More Time", J Lo's "Jenny From The Block" and a spot on impression of Shaggy on "Angel" really hit the mark and it's refreshing to see a band enjoying themselves so much.
"Girl All The Bad Guys Want" is the hit that everyone's come to hear. Bowling For Soup even invite their own record crew on stage for some body popping. Even though they play "I Don't Wanna Rock" the band obviously want to rock and for their entire show Bowling For Soup do just that.
Nicholas Paul Godkin
Photo's by Karen McBride - www.karenmcbride.com

**********
Post your Bowling For Soup reviews / comments on the Message Board
**********