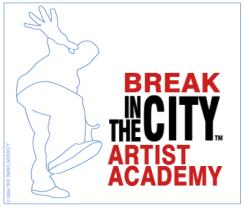 BREAK IN THE CITY

Run by The Band Agency…is a partner event of In the City itself for the future of the industry. Literally, those who want to 'break' In The City.

This year - Break in The City will be fully supported by BBC Radio 1- who have put together this vibrant event with a twist on the traditional panel/audience format.
Break in the City hosts numerous events at ITC:
· Free seminar classes, on how to break it in the music business, plus workshops and mentoring in conjunction with Radio 1 OneMusic
· Live industry showcases, club nights, approx 130acts & DJs
ARTIST ACADEMY DAYS: SATURDAY 1ST AND SUNDAY 2ND OCTOBER
Bridgewater Hall, Lower Mosley Street, Manchester M2 3WS.
Doors midday, kick-off at 1pm. Admission free. www.bridgewater-hall.co.uk/

THE BREAK ITC RADIO 1 ONEMUSIC DAY: SAT 1ST OCTOBER, 12.00pm, FREE
Artist Academy in conjunction with Radio 1 OneMusic will host an introductory seminar presented by Huw Stephens (Radio 1 DJ) and an interview with an rising star, Kevin Mark Trail (ex The Streets), discussing the rise through the music industry business. Which leads to break out sessions with one on one mentoring with industry luminaries and established musicians offering invaluable feedback. In one corner will be the legendary OneMusic open stage hosted by a Radio 1 DJ. Anyone can come down and play. With Decks for Schools hosting named DJs (G Kut, Mark OD (Metropolis), Tonn Piper (1 Xtra, Daywalkers)) training the new budding MCs.
Other music industry on hand with advice include A&R from Virgin, Radio Pluggers (Red Alert /The Killers), Keith Mullin (The Farm), Producers (James Blunt, KT Tunstall to Bon Jovi!) Promoters, Lawyers, Publishers, Managers (IE Management /Robbie Williams), PRS and special guests (TBC)
See website www.bbc.co.uk/radio1/onemusic/
Also the PRS (Performing Right Society) host their Demo to Limo event, were bands sign up and get the chance to cruise the streets in a limousine (Thanks to VIP Limousine Hire) whilst A&R give feedback on their music. This is all tied in to Create Your Own Rock Legend Competition.
CREATE YOUR OWN ROCK LEGEND COMPETITION
A fun interactive web based game allows you to create a variety of rock personas, with artists encouraged to attend Break In The City to win some great prizes, awarded to those musicians that show the most promise. Prizes such as a weekend in Monnow Valley Recording Studio, where Black Sabbath and The Coral have recently recorded, and a chance for many artists to cruise the streets during In The City by Limo with an A&R panel discussing their demos!
See website www.breakinthecity.co.uk for more info and game
THE BREAK ITC ARTIST ACADEMY: SUNDAY 2ND OCTOBER, 12pm, FREE
Music Futurism & Music Theories, hosted by Keith Mullin & guests, 12-2pm
Music futurism is predictive and draws upon current technological advancements, cultural shifts and the buying habits of music consumers whilst prophesising that the traditional recording industry business model as defined by Negus (1992) has no future (Leonhard, 2004, p1).
TRANSIT Network Meeting, promoter development training, 2-3.30pm
Women in Music and Creative Women. 3.30-5.00pm
The launch of a network for women in the music and greater creative industries takes place in September 2005. The City College Manchester & European Social Fund co-financed project will provide a platform for female entrepreneurs in the creative industry sector.
With thanks to:
PRS Foundation, City College Manchester, Future Music, PRS, Youth Music, Decks for schools, Forming Bands, RF Records, VIP Limousine Hire (www.viplimohire.co.uk), Monnow Valley Studios (www.monnowvalleystudio.com)

Radio 1 on the Road
The aim of a Radio 1 on the Road music event is to create a vibrant, exciting event where musicians can meet, mingle, perform and get advice and feedback on their music.
Through Radio 1's One Live strand they've found that musicians & DJs want three basic elements: exposure, feedback on their music and information about how best to progress their careers.
Given that the audience may contain musicians ranging from those who have only just started getting involved with music, through to seasoned campaigners who have enjoyed some success in their own right, there's no way to create panels that are all things to everyone.
Therefore…
The R1OTR approach is to put the musicians in control. They concentrate on getting the best guests they can and let you decide what you want to talk to them about. You can come along, see the list of who's there and book and appointment to speak to them. "It's like a parents evening for bands" as Steve Lamacq put it.
Opening discussion
OK so there is one panel.
Typically 45-minutes to 1 hour long, the opening discussion is the session which sets the agenda for the day. It serves to address the headline issues of getting a band, crew or DJ's career off the ground. The advantage over other panel formats though is that it precedes the one-to-one advice surgeries. So unlike other panels, it need not answer every question, it's enough just to raise the issues. This lack of need for closure means that there's no need to cover every issue in detail so beginners need not get lost and more advanced musicians need not sit through a load of stuff they already know in order to get to the bits that they don't.
This event will begin with Radio 1's Huw Stephens in discussion with a recently signed artist (still TBC but it'll be someone you've heard of). They'll be looking over what gets an artist from the unsigned circuit to the … erm … not unsigned one.
Breakout session
Open stage
Demo advice
One-to-one advice - all happen simultaneously.
Open stage
The open stage session is designed to give artists a chance to perform in public, with feedback on their music and stagecraft. It's run on a lucky dip basis which will creates an extremely eclectic event, without any attempt to programme the bill by genre The atmosphere is kept relaxed. There's not stage as such so performers and audience are on the same level, and the audience area is populated with bean bags to keep things nice and chilled. The point is to make music just because we can.
Amps, decks and PA are laid on, so musicians need only bring along their instruments or backing tapes. Depending on the sign-up rate, acts perform one or two songs. We don't allow drum kits, which helps keep the volume under control and makes stage changes easier.
We also plant people in the audience whose job it is to give the acts feedback on their performance.

Demo advice
Rather than the nerve-wracking experience of a demo panel we like to get people talking one-to-one. You can sit down with an A&R person or producer, play them as much or as little of your CD as you like and ask them the questions you want answered.
One to one advice
This is the part of the event which covers the business side of things.
There'll be people to offer advice on subjects like:
· Starting out (getting gigs, finding studios & rehearsal rooms) and other general advice
· Royalties and publishing
· Press and publicity
· Management
· Home and studio recording
· Free legal advice
· Organising out-of-town gigs and short tours
· Getting own-release product into the shops
· Education and courses
Names confirmed
Kevin Mark Trail - Ex The Streets
Andy Varley - Insanity Artists Ltd
Keith Mullin - The Farm
Stuart Belsham - PRS Writer Admissions
Dave Stanford - PRS Writer Admissions
Cathy Mulloy - PRS
Gareth Thomas - Manager/Music Journalist
Huw Stephens - Radio 1 DJ
Mark Smith - Special Events Manager KOKO
Jim Mawdsley - Ex Shindig/Generator - Promoter
Kelly and Liam - Red Alert Management and Promotions
Jim Zumwalt - Lawyer
Sam Winwood VP - Int Repertoire Kobalt Publishing
Harry Lloyd Jones - Virgin A&R