Britney Spears / JC Chasez / Wicked Wisdom - MEN Arena - 1.5.04
The kindest thing we can say about Jada Pinkett-Smith is that if she had a bullet in the head the world would be a much better place. If being married to none other than Will Smith wasn't a clue as to how truly heinous this woman is, then the fact that her band Wicked Wisdom make "soul fusion" music that slots somewhere between Evanescence and the sick bag is enough to turn even the most vacant person off her. With shout outs to her "independent woman" she truly believes she is some musical revolutionary doing for music what Martin Luther King did for a nation of oppressed people. Jada Pinkett-Smith....f*ck off and die and take your husband with you!!!
Despite the fact they came out of the same stable back in the days of the Mickey Mouse Club and then in N'Sync, which many people dubbed the worlds ugliest boy band ever, JC Chasez is the man that's set to make the words "Justin Timberlake Who?" the overriding catchphrase of the year. As soon as he bounds on stage with "All Day Long I Dream About Sex", a four to the floor dance anthem of "Born Slippy" proportions that breaks down into a Gary Numan synth frenzy before bringing the beats back, he commands the crowd in a way most pop acts could only dream of. "Some Girls Dance With Women" is one of those zeitgeist records summing up the playful bisexual spirit through the eyes of a testorone driven heterosexual male. After a flawed ballad JC gets back on track for "Blowin Me Up", the anthem of the year and when the drum and bass explosion of the middle 8 kicks in there's no denying that JC Chasez is the best thing to happen to pop music this millennium.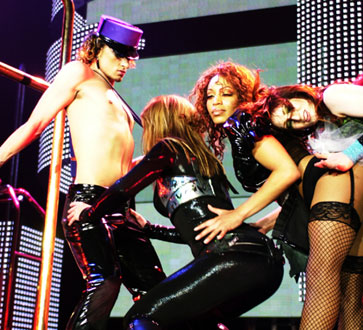 Britney Spears has had a roller coaster experience throughout the last 12 months. 48 hour marriages, endless debauched nights out and an album "In The Zone" which, both critically and commercially, has been her worst received to date. That her fans have stuck with her throughout this underlines the fact that for most Britney fans she is infallible, the girl that can do no wrong. However on the basis of tonight's Onyx Hotel Tour stop over in Manchester the fans may have the last laugh when Britney finally gets ditched after performing one of the worst pop shows in history.
Strangely enough the first 10 minutes of the show is glorious pop perfection at it's best. A intriguing creature dressed in a garish purple suit, somewhere between Leigh Bowery and a camped up Patrick Moore in Gamesmaster mode makes way for a Mary Poppins style dance troupe which disperses only for Britney to ride in on a bus for the opening overblown production of "Toxic". Flames burst across the stage and the experience is overblown camp reminiscent of Scissor Sisters meets the Village People. It's the only moment in tonight's show where Britney earns the £30 that each of the paying punters have shelled out for the tickets and with whispers emanate that members of the front row have paid £170 a ticket you really have to question the sanity of the average Britney fan.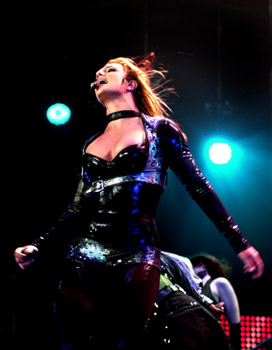 On "Over-Protected" and "Boys" Britney attempts to replicate the sexiness of Kylie or Madonna and sadly ends up looking like an out-take from BBC1's Cutting It, it really is that cabaret and hammed up. There's something strangely sexless about Britney, there's no denying she looks absolutely stunning but she's so plastic you can never imagine her indulging in anything more than heavy petting despite her infamous lipstick lesbian moment with Madonna and a scene where she stimulates, ahem, pleasuring herself during the show. Her endless need to reinvent pop classics reaches a nadir with a jazzcore version of "Oops, I Did It Again" and a take on "Crazy" which ends up sounding like the retrograde electo-funk of 80s popstars Five Star. What she clearly doesn't realize is that it took Kylie over 15 years to change "I Should Be So Lucky" into a ballad and that a song which has barely out of pre-school does not need a reinvention in some new found wave of maturity. You only have to look at "Slave 4 U" which remains faithful to the original and blows the audience away, which by this point of the show is stagnant.
If we were watching the show with hearing problems then this show would have been one of pure pop perfection. There's something strangely curious about watching a pop star grow up from a school uniform to a softcore porn set, but Britney Spears will always be more Janet "baps out at the Superbowl" Jackson than Madonna's genuine long lasting provocative pop career. If Britney's career survives this tour then next time we really need the hits delivered in their original form, we need "Baby, One More Time", "Lucky" delivered with a tongue firmly placed in cheek and "Stronger" with the pop edge we all know and love. Please Britney, we ask you one more time - get your hits out for the lads!!!
Words:Alex McCann
Photos: Karen McBride - www.karenmcbride.com
**********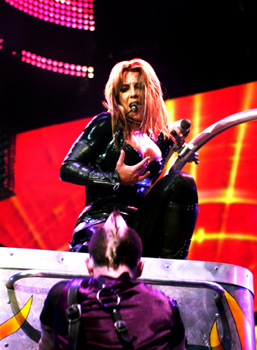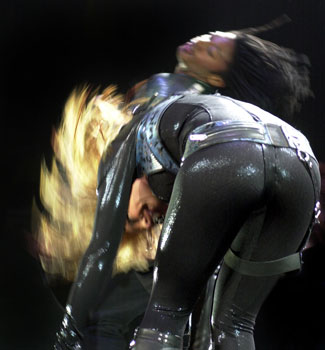 Post your Britney Spears reviews / comments on the Message Board
**********