Busted
They're aren't many pop bands you'll hear discussing the relative merits of Elbow and Granddaddy (Coldplay and Travis maybe but never your leftfield indie bands), then again Busted aren't your archetypal pop band. With a fanbase which includes Green Day and Blink 182 devotees through to fans who deserted Will Young and found the light with Busted, the band see themselves as a stepping stone from cheese flavoured pop through to real music. We caught up with the cheeky chipmunk headed Busted member Matt as the band prepared to blow the cynics away on their first UK Tour.
Q: "You Said No (Crash & Burn)" - a tale of being knocked back by the ladies. I guess you don't get that too often being proper popstars?
A: Exactly, it's a familiar one, innit. I'm not really one for going up to chatting to just random birds so it's fine.

Q: It's the third single and you're still defying the pop rules by not releasing a ballad. Is that part of the plan?
A: This is one of my favourite songs off the album and the albums gone back up to number 7 this week so it's going really well. You don't really get chance to sit back and think about things and think about what your doing and occasionally i'll sit back for 20 seconds and go f**k!!!

Q: On the B-Side you've covered "Mrs Robinson" which follows on nicely from the "What I Go To School For?" - you're getting older and older with these ladies aren't you?
A: We copied the Lemonhead's version, but Simon and Garkfunkel I think are f**king fantastic. We always used to muck around with the harmonies and the song just had that little schoolboy humour about it so it was fine.

Q: Next month you hit the road with the full on Busted rock & roll experience. Are you taking this as a chance to prove the doubters wrong?
A: This is the thing I've looked forward to most out of everything. I'm just so looking forward to finally getting up there and sticking two fingers up to everyone who says you can't do this, you can't do that, you're not this, you're not that. And i'm gonna get up there stick two fingers up and say yer know were not that and were not that and were not...but were this and we play live and we play well.
Obviously because we came out without a drummer there was going to be shit said, but i've got faith in us as musicians and we fit so well together as a band. We've got a drummer, keyboard player and a lead guitarist and it's going to wicked.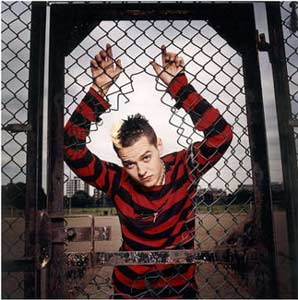 Q: Is the tour going to be full on debauchery all the way?
A: To be honest we've been given the tour to write the album, that's how f**king crucifying our record label are. We've written a couple of songs and we've got two weeks on the road to really nail it. It's still going to be Busted, but were gonna give it a kick up the ass to make it's better. It's just going to be a more live sounding album and were using Avril's producers on a couple of tracks to get that raw sound.
Were constantly writing and we've wrote a couple of songs which are right for Busted and we've wrote a couple of songs which aren't right for Busted. Because there are 3 songwriters in the band were constantly writing and a lot of songs we play to each other aren't Busted songs.

Q: Just before we go i've got to ask what is a typical Busted fan. I was looking on Amazon and the same people who bought Busted records also bought everything from One True Voice and Rik Waller through to Avril Lavigne - what's all that about?
A: We grew up and I listened to so much great music and so much shit pop music. I was a massive Cheap Trick fan when I grew up because it was just great guitar pop music. I love the Beach Boys, Green Day, massively into Blink 182. But it's mad, man. Sometimes I see my fans and we will talk to them and it's like what other bands are you into? Some people are like "well I follow Green Day when they come over to England and I really like Blink" and some times they're like "Well I was a Will Young fan and then I found Busted". In some way were trying convert some of the pop fans because were a stepping stone.
***********
"You Said No" is out now on Universal
Busted are on tour throughout May
For more info
www.busted.com
***********
**********
Post your Busted reviews / comments on the Message Board
**********
THE PEPSI SILVER CLEF CONCERT - MAY 14TH 2003
Manchester Evening News Arena
Apart from Gareth Gates teaming up with the Kumars for the Comic Relief record "Spirit In The Sky", 2003 has been a year seemingly bereft of great pop events. Fear not because on May 14th at the Manchester MEN Arena the pop event of the year takes place and at the same time as enjoying a great line-up of British Pop you're also doing your bit for Charity at the same time. Nordoff-Robbins uses music therapy to treat children and adults with a wide range of conditions which include both physical and mental disabilities, learning difficulties, emotional and behavioural problems, autistic spectrum disorders, neurological damage and terminal illness.
Blue, Atomic Kitten, Mis-teeq, Liberty X, Craig David, Girls Aloud, Big Brovaz and Busted are all confirmed to appear with more names and special guests to be announced in the coming weeks.
Tickets for the Manchester Evening News Arena show are on sale now and are available from the MEN at £27.50 with strictly limited premium seats available at £45. Ticket details/ Hotlines: 0870 190 8000 / 0871 220 0260 (24hr) 0161 832 1111 (daytime) or buy online from www.gigsandtours.com (all subject to booking fee)