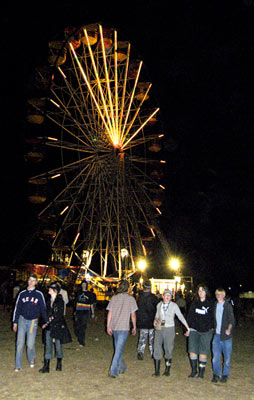 Reading Festival 2005
Part diary, part gloat and part reminder to a future me of the rash mistakes of a middle age youth. DO NOT proceed beyond this point if you suffer from any degree of attention deficit disorder.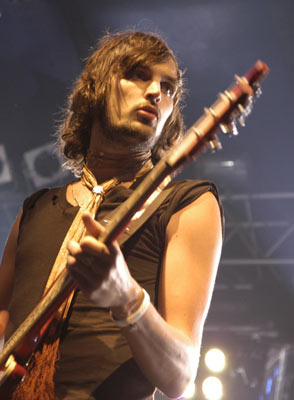 Pic: Kasabian

Friday
Most readers will know the journey to Reading courtesy of the railways is usually a battle against fire, flood and public transport not transporting the public. This year it couldn't have been easier if Reading had been brought to me, so..guns swivel, this year's soft target is: you. You lot. And touts. There were sod all day tickets to be had this year, the wristband scam had been sussed and the touts could only debate theoretical prices for tickets they didn't even have. The reason is the market place is now eBay and the touts are you, all you people buying then selling for filthy lucre. You should be donating them to fellow music fans. Me for instance. Anyway, after 3 fruitless hours begging, pleading and negotiating at the gate I went home, forsaking the Reading Friday line-up for some pretty good cricket (the new rock and roll, ya know).
And yes, you don't need to tell me that Friday was brilliant, the most perfect day ever. You all saw Kasabian, you all had a wild time and you all met your perfect partner.

Pic: Arctic Monkeys

Saturday
Saturday kicked off with a packed 12 noon Radio 1 tent witnessing Editors, of whom mucho buzz. Loved the music, hints of Echo and The Bunnymen, Joy Div and the guitarist must call The Edge "Dad". Good to see black shirts still de rigeur with the bottom-of-bill-but-rising proto-stars.
All American Rejects There are no excuses for putting on bands like this, not even their mothers should be forced to watch them.
Friday's Dance Tent has become Saturday's Lock Up punk stage. My first band's lead singer came on with Mark Knoppfler hair and a white sweatband, so it was a lost cause from the start. I tried my hardest but I had to leave after two songs, I won't tell you the band's name in case you try something ridiculous like listening to them.
Next stop were Nine Black Alps in the Radio 1 tent- their name is an anagram of Counterfeit Nirvana (well it is if you learnt to read and write in Manchester). Good enough though.
Back to the second tent to see the mid afternoon set by Arctic Monkey. The place was mobbed. Good tunes, a front man who drips charisma and an audience word perfect on songs that have never officially been released! There is obviously something afoot here and this time I don't need a youngster to explain it to me. Actually, I did.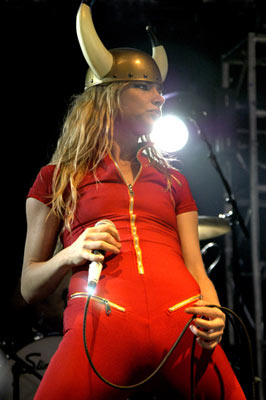 Pic: Juliet & The Licks

The other blessing in going to see Arctic Monkey was missing Juliet and the Licks, whose reported cluelessness was so astonishing that even Juliet's removal of her dress and alleged bap flashing did not redeem things. .
About this time there was a total collapse of the latrines on the site, we don't know if we were left in the poo due to a common central problem or did one block close, setting off a chain reaction (pay attention - gag alert) of successive failures in the rest of the cistern. Cue laydees switching from pints to sherry. Remember there used to be vast expanses of fence around the edge of the site which made very convenient conveniences, for the boys at least? All inaccessible now and replaced by various retail outlets serving piss back to us, truly we reap what we sow.
I'll try anything twice so its back to the Lock Up for The Dwarves. Not often you see a guitarist dressed in a full latex face mask with Gene Simmons style graphics. And not a stitch else. The moment he put his left foot up on the stage monitor was enough to convince me I do not have what it takes to stomach hardcore speed skater punk or whatever ya call it.
Sharp exit to the Main Stage for The Charlatans. I'm a bit biased, they can do no wrong in my eyes (ears), their set fitted like a comfortable slipper and this was one of the highlights of the day. New material New York City clearly indicated no intention to dramatically change musical direction just yet. Burgess's voice is awesome but maybe I have had my head in the sand for 15 years, is he batting for the other side? I never ever suspected his demeanour and dancing owed so much to Jimmy Somerville.
Vacating my mosh pit position (theoretically speaking, I was where the mosh pit would have normally been) for a more sedate viewing point several hundred yards back Razorlight announce the end of gigging Up All Night as if it was some kind of albatross, then give us new material cut from the same mould. Enjoyable but had to leave during the interminable solo sea shanty.
Now, a little rant at you lot. Flags - NO! In the old days rock and rollers burnt flags, now you just use them to tell us which tiny province you come from or that you are an attention seeking little jerk. Mr Mean Fiddler - put a stop to it in the Arena cos viewing from anywhere greater than 20 yards away is getting impossible. Also condemned are un-amusing artefacts on a stick - rubber chickens, condoms, inflatable fish, over-size soiled granddad Y fronts, even, incredibly, yard brushes, feather dusters and a mop. Save your pathetic irony for your teeshirts you inconsiderate mental pygmies.



Pic: Arcade Fire
Its not often a senior bean counter from a far away land can claim to be first to draw this reviewer's attention to a new band but in this case its true, so it's back to Radio 1 for Arcade Fire, much hyped in accountancy circles. What a blast. Eight instrument swapping Canadians with coo-wahhhhh backing harmonies sounds like a recipe for disaster but it was magic. We're talking a line linking a pumped up Polyphonic Spree (so said someone seemingly familiar with them) to, at the other end, the fantasy hybrid combo of Stereolab and The Tindersticks, possibly the first ever time that name has been used as a positive benchmark. The percussionist gets the Most-Theatrical-Tambourine-Playing EPNS silver triangle stick award, not so much a religious experience as a desperate attempt to draw attention to himself with 6 other musicians in front of him. His set closing assault on the ubiquitous single cymbol would get him a job in Saudi Arabia market square meting out justice to adulteresses any day.
The Raveonttes - best of the day. Sharon sets the boys (and girls) hearts a-pumping. Thankfully, no Danish flags were on sale in the bazaar.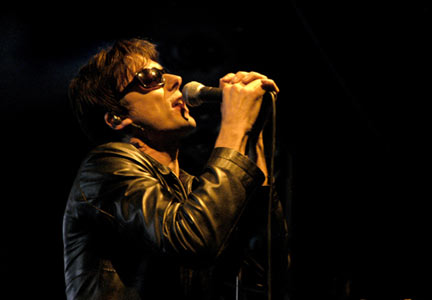 Pic: The Tears

The Tears, Brett and Bernard, watched mainly in silhouette, close proceedings. Great guitar work from Bernard and Brett seems lifted by the rejuvenated partnership. Close your eyes and it could still be 1993. Don't know why there were barely 200 souls in the crowd though.
Dashing for the last train home to ensure a comfortable bed and decent breakfast, I passed the Foo Fighters and - this is the truth - Dave Grohl plumbed the depths with the deadly words "help me with this….DAAAAAAAAAAAAAAAAAYO". David, its Room 101 time if that continues. Nicely retro green lasers though, must have kept the cows amused.
Piercing insight into the quality of his own merchandise plus nimble-footed marketing resulted in one stall holder's killer pitch: "slow burning jackets two for a tenner - start yer fires easy".
Sunday
OMG why am I doing this, it's bound to be ROARING vocals, black teeshirts; band motifs combining skulls, motorbikes and pneumatic virgins with name fonts dripping blood red - you know, the full metal thing.
Don't believe it, turned out to be the best day. No, believe all the above but at least there was still a small corner of a field in Reading that hadn't drowned in motor oil.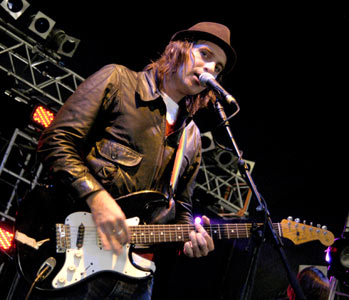 Pic: Boy Kill Boy

Boy Kills Boy weren't on my running order list, nicked off the NME board. Tunes, guitars, moogy [©] keyboards, and a top set-finish by the drummer simultaneously kicking his kit over and himself off the back of his stool resulting in bad concussion, a valu start to the day.
Art Brut next and this band are definite live contenders. Whoever he is the singer has one hell of a way with words. The lyrics had us in stitches and we loved the "me mate is a nutter" backing vocals on the song which I for convenience sake am going to call "I'm Considering A Move To LA". File under Damn-Great-Live-But-You-Know-You'll-Only-Listen-To-The-CD-Once".
Today's only shift from the Radio 1 tent gave us a band on the third stage who we didn't know and genuinely we could not find anyone else who knew. The poor sods on stage must have picked up the scent of confusion, or was it indifference and at the end the roadie packing up the gear announced the band as Every Move A Picture. The only thing I remember was a chorus that went "San Francisco Take Your Hands Off Me", that's either off the scale paranoia or a mate with a naff name.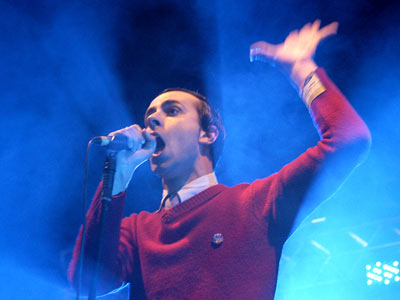 Pic: Maximo Park

Maximo Park and the Duke Spirit rocked well and bring proceedings in fine form through to the inevitable British Sea Power. Now here's a band that understands festivals. Owls and trees on stage; half of Reading's shrubbery in the audience; live favourite songs from the first album still being wheeled out; bear; shoulder jumping; still looking like a slightly sinister troup of boy scouts; yup - BSP play to their strengths and please us mightily. Add to that, sunshine and news of an England victory filtering through and you have such a perfect summer combination beyond even Enid Blyton's imagination.
Making it onto the Must Buy pile are LCD Soundsystem. Electro funk (I can make these up if I want) and dynamite percussion , Have you ever before wondered what a combination of The Fall and The Human League would sound like, or perhaps New Order blended with The Rapture? The sum effect got even us oldies shaking our thang.



Pic: Bloc Party

Your reviewer can neither confirm nor deny seeing The Futureheads but definitely there was one song from Bloc Party squeezed in before the dash for the last train, prior distain may need to be revised.
Final note to the idiot contingency, don't climb the tent poles and don't lob stupidly heavy projectiles, its not funny and it ain't clever. It wasn't your mate with the cut nose was it but next time, it might be YOU.
Many thanks to mates present - same time same place next year; mates absent - must try harder!!!
Words: No Lions
Photos: Shirlaine Forrest - www.shirlainephotos.co.uk

*****************
Were you at Leeds or Reading this year? Did you see the riots? Best / Worst Bands?
Post your comments on the Designer Magazine Message Board here
*****************