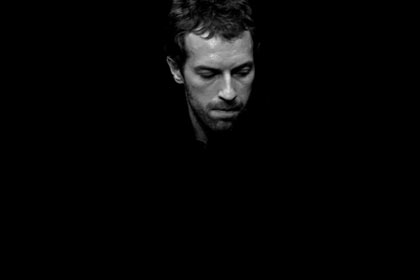 Coldplay - Bolton Reebok Stadium - 5.7.05

Tonight's gig starts with a spectral spatial emotional drive which carries all the element of a great Star Trek episode. The dark stark cold stare of Spock, counterbalanced by Kirks emotional resonance. It's a blinding spectacle of light and ambient piano motifs from the biggest band in the world. Welcome to the world of Coldplay, a band who can simultaneously attract extreme attacks that they are the most boring band ever and still manage to go number one in 21 countries worldwide with their new album "X&Y"
"Politik" with it's condensed classical pomp, The Beatles "Hey Jude" stuck on repeat as a moment of frenzied moshing (yes, moshing at a Coldplay gig). "Give me Elbow, Give me Doves....you're pretty cool if you're a Coldplay fan" is freestyled and adlibbed over the top to a bemused, but elated audience.
Stepping back from the mike at the end of "Yellow", Chris Martin looks bewildered, surprised even, that the song has garnered such a response. It was the song they were denied playing at Live 8 a few days earlier due to the lyrics "You, you're just skin and bones". An anthem of the people. As martin says later "I think the phrase is Mad For It". By the time they reach the end of "God, Put A Smile On Your Face" they have gravitated it to a four on the floor anthem comparative with "Born Slippy". "Speed Of Sound" veers between a soundtrack to a Channel 5 softporn flick and a moment of genius, a prayer for the millenium. By the end of it Martin is is kneeling on the floor with his fist in the air victorious.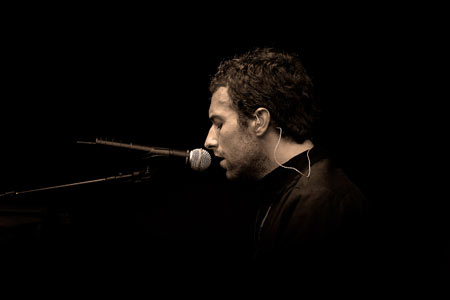 "Warning Sign" is the sound of Coldplay trying to write U2's "One" while bring entrenched in the mindset of Jason Pierce. It's a soulful song played by four men to a stadium full of choristers. A song about being a Southerner in Bolton Reebok Stadium, "Eveythings Not Lost", the choir practice continues over a white boy gospel song.

"The Scientist" sees the Stadium awash with lighters as their international breakthrough hit, a song which surpassed Yellow as their calling card. It's a song which leads sensitive souls in a call and response with Chris while security forget about manning the stadium and are fixated on the stage in awe.

"We Live In A Beautiful World" is given the campfire treatment at the front of the stage. "Clocks" takes from some obscure reference points - Can, Kraftwerk - but wraps it around in a glorious pop melody. For a moment with the strobes and throbbing bass, Ibiza is brought smack down in the middle of Bolton.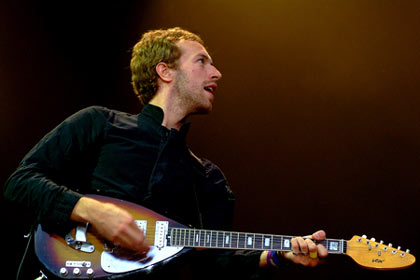 The finale of "In Your Place", where Martin mentions the great bands of Manchester - The Smiths, Stone Roses, Happy Monday, Oasis, The Inspiral Carpets - and then a version of "Fix You" which is played twice as they're recording it for the video for the new single.

Everything about Coldplay is filled with wonder. I mean how did the meek mild Chris Martin ever get up on-stage in the first place, marry Gwyneth Paltrow, have a child called Apple, be one of the most outspoken musicians on fair trade and world poverty. How did Coldplay stand out in front of thousands of people and deliver a set predominantly of ballads which manages to compete with Oasis and U2's recent shows.

You may not play their albums every day, but Coldplay are truly inspiration when it comes to the live shows.

Words: Alex McCann
Photos: Karen McBride www.karenmcbride.com

*****************
Click here to leave your coldplay comments on the Message Board
(NB: The message board opens in a new window so please disable your pop-up blocker to view)
*****************

PHOTO GALLERY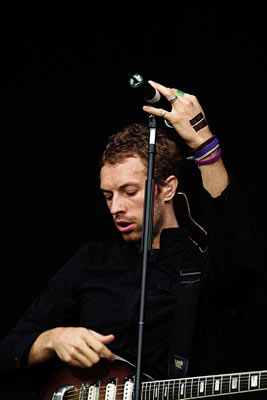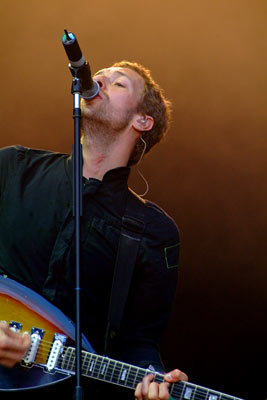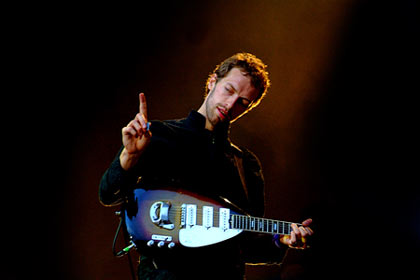 *****************
Click here to leave your Coldplay comments on the Message Board
(NB: The message board opens in a new window so please disable your pop-up blocker to view)
*****************