Coldplay / Richard Ashcroft - MEN Arena - 19.12.05

While it may not quite be the days of Mad Richard, Ashcroft is back with a presence that hasn't been seen since he parted his ways with Nick McCabe after the monumental "Urban Hymns". Lost in the wilderness he seemed to rise above the parapet every so often with a couple of classic solo singles "Song For Lovers" and "C'Mon People (We're Making It Now)" and his collaboration with UNKLE, "Lonely Souls", but largely his 2 solo albums to date went unnoticed under a weight of lush production which took away the beating heart and ravishing soul that voiced a generation with his previous band.
If anything from the moment Ashcroft's feet touch the stage it's clear that he's elevating himself above the position of support act. When Chris Martin introduced him as "the greatest singer and songwriter in the world" at Live 8 it was more than just an Embrace style resurrection from a man who knew the world was listening, it was a statement of fact that people needed reminding of. "Sonnet" reminds the masses who the man is before he launches into a rejuvenated version of lost album track "Science Of Silence", undoubtedly the best track Ashcroft has written since "History", which takes in the spirit of Marvin Gaye with a gospel infused him for the modern age.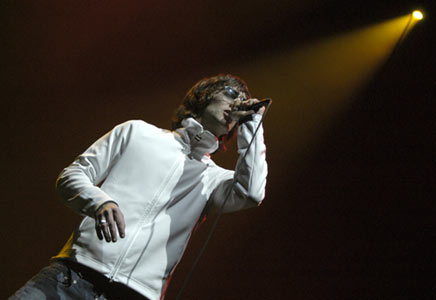 An emotional take on "The Drugs Don't Work" sees the Arena singing along in unison lighters aloft, and for once this isn't a moment of saccharine induced sentimentality. It's a moment of where a simple gesture touches base emotions and the most masculine of men. New single "Break The Night With Colour" elevates itself from the flat recorded versions and showcases itself as a glorious hip hop soul song before he dips the mood a little with a melancholic acoustic run through "On Your Own". "Sweet Brother Malcolm" which Ashcroft describes as "one of the oddest title's in the history of rock'n'roll" is a slow folk lullaby and while it offers a rest from the anthems it's clearly an album track which doesn't work in a cavernous arena setting. Much better is "If You Want It", a future stonker, and classic song in the vein of Carol King.
Finishing off with "Lucky Man", tonight dedicated to George Best, and "Bittersweet Symphony" which ends with a raucous rock and soul outro Ashcroft brought back the magic and wonderment of the first time we saw the Verve. Richard is truly back in all senses of the word.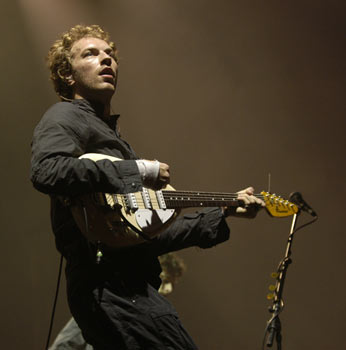 Unbelievably its been 3 years since Coldplay last played Manchester, their last Northwest gigs were at the nearby Bolton Reebok Stadium, and what a difference those years have made. The last time they played Manchester they were literally playing the album note for note, no sense of the big stage and were struggling to survive in the arena setting despite having no competitors in the album charts. Within the first two songs, "Square One" and "Politik" Coldplay seem like a War Of The Worlds style ballet with Martin leaping around the stage like a man possessed while cylinders fire off synthetic modules and bleeps around him. All the while the crowd mosh furiously and it's a far cry from the new acoustic tag they got lumped with early on in their career, but it says a lot that it takes them to their 3rd song to deliver what could be called a traditional guitar track. That track is "Yellow", the very one that broke them through to the masses and that they can throw it away this early on shows just how far they've moved on.
Far from being the one trick pony's that critics often try to label them "Speed Of Sound", "God Put A Smile On Your Face" and "Talk" show a band who struggle to fit into any box.
"Even if you're a tough guy you can sing along and be slightly feminine" Martin suggests before launching into "The Scientist", a track he dedicated to Ian Curtis, John Lennon and George Harrison. Later on he'll jest that "It doesn't matter how old we get and how old they get we'll never be as handsome as Duran Duran" referring to the 80s bands gig the previous night at the MEN, before adding "we're the 97th most handsome band in the world" before launching into a country song to make up for their shit looks.
"Beautiful World" segues in lyrics from Depeche Mode's "Enjoy The Silence" before a storming version of "Clocks". It's "In My Place" though during the encore where the band really connect with the fans. A song taken on a new sentimentality since their performance at Live 8 earlier this year we pay witness to Martin waltzing with guitarist Jonny Buckland before taking a sprint past security and to the very precipice at the back of the arena. Running back faster than Linford Christie he sits back down at the piano with seconds to spare for an emotion closing run through "Fix You".
For all the Make Poverty History sloganeering, his daughters wacky name and flurry of great singles 2005 was the year that Coldplay finally nailed the live performances and became a band that could compete with Oasis and U2 on the live Arena.
Words: Alex McCann
Photos: Shirlaine Forrest www.shirlainephotos.co.uk


*****************
Click here to leave your comments on the Message Board
(NB: The message board opens in a new window so please disable your pop-up blocker to view)
*****************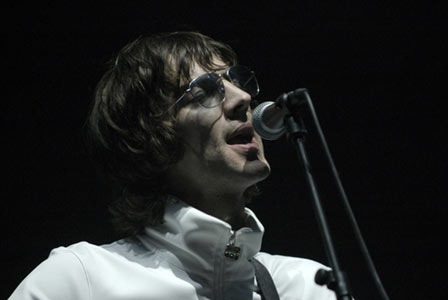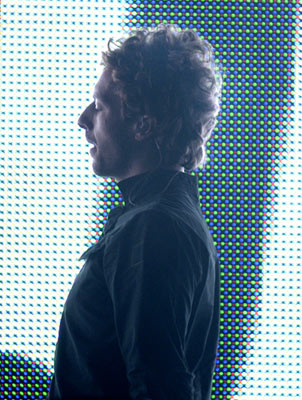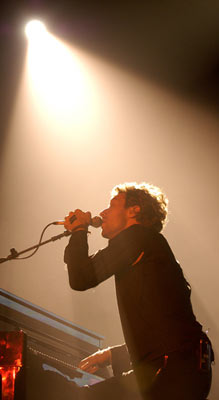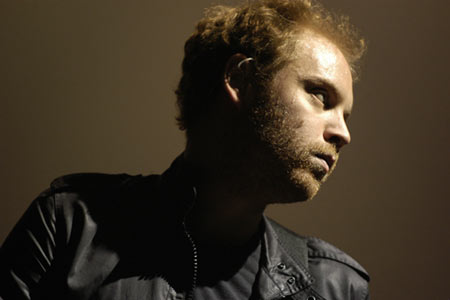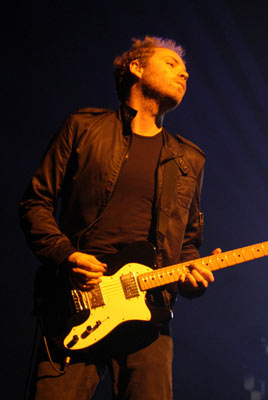 *****************
Click here to leave your comments on the Message Board
(NB: The message board opens in a new window so please disable your pop-up blocker to view)
*****************