---



DESIGNER MAGAZINE
EDINBURGH FESTIVAL PREVIEWS @ MANCHESTER COMEDY STORE


---
In previous issues of Designer Magazine we've interviewed everyone from long-standing student favourites Lee & Herring through to cast members of modern day classic comedy shows such as The Office, Phoenix Knights, League Of Gentlemen and Bo Selecta.
The big question is though where are tomorrow's Rick Gervais' and Peter Kay's coming from and as hard as we tried we couldn't think of find a better place to look than the Edinburgh Festival which takes place throughout August. Or could we? Throughout June and July the Manchester Comedy Store previews several of the hotly tipped acts performing at Edinburgh which means we don't have to suffer the joy of British Rail and the problem of weighing up the relative merits of a few more jugs of ale each night vs the fact of staying in a lower quality hotel for the privilege.
Here's Designer Magazine's preview of the acts appearing over the next 2 months

THURSDAY 12TH JUNE - Hungry Eye Edinburgh Preview Show 1
The first preview's acts are still to be confirmed, but the Comedy Store management promises a very special guest which we'll announce as soon as anything is confirmed.

THURSDAY 19TH JUNE - The Hungry Eye Edinburgh Preview Show 2 - Andre Vincent + Gavin Webster
Gavin Webster is a resident at the Comedy Store's MEN at Work on Wednesday nights so regular visitors to the store will recognize the face even if they don't recognize the name. His previous credits include writing for the 11 O'Clock Show which suggests topical observations are the order of the day.
Andre Vincent's last Edinburgh Show "Andre Vincent Is Unwell" focused on his cancer ridden kidney, 2 years previous he joked about the fact he was diagnosed a diabetic and nine years ago it was a shattered knee cap. This guys knows his illness and impediment jokes like Jo Brand knows her cakes. 2003 is the year that Andre Vincent either makes it at Edinburgh or realises that the same old joke isn't funny anymore.

THURSDAY 26TH JUNE - The Hungry Eye Edinburgh Preview Show 3 - Dara O Briain + Brendon Burns
We last saw Dara O'Briain a few weeks ago compering at the Store and while he was battling the audience all the way by the end of the show he had them eating out of his hands. In the full on Stand Up Show, O Briain should finally shine and show why he regularly fills 900 seater venues back in his native Ireland. NB: Look out for an interview with Dara O Briain in the next couple of weeks at Designer Magazine.
Brendon Burns is a angry Australian, which makes a change from the so laid back they're almost horizontal Australian comics, who is as likely to attack the politically correct brigade as attack the right wing bigots. But those expecting an Australian Mark Thomas are surely mistaken as Burns mixes up the politics with sex creating a unique and intriguing comic genius.

THURSDAY 3RD JULY - The Hungry Eye Edinburgh Preview Show 4 - Adam Hills + Simon Evans
Adam Hill's previous 2 years at the Edinburgh Festival have seen him nominated for the Perrier Awards for both 2002's "Happy Feet" and 2001's "Go You Big Red Fire Engine". Infectious and chirpy as you'd expect from an Aussie - the difference with this guy is he's actually hilarious and will have you laughing out loud the moment he hits the stage.
Simon Evans has been described by Caroline Aherne as "absolutely brilliant" and 2003 marks his return to the Edinburgh Festival following his sold out shows in 2000. Regularly performing on Radio 4's "The Way It Is" as Richard Richard this is one guy you shouldn't miss

THURSDAY 10TH JULY - The Hungry Eye Edinburgh Preview Show 5 - Andy Parson + Kitty Flannagan
A bit of an unknown prospect for us as we don't know that much about Andy Parson & Kitty Flannagan apart from the fact that the former wrote for Lenny Henry and the latter appeared in last years ITV's "The Sketch Show". On the basis of that alone it could be one to avoid, but after we saw Donna McPhail blow all our preconceptions away last month, tonight could surprise you all

THURSDAY 17TH JULY - The Hungry Eye Edinburgh Preview Show 6 - Andrew Maxwell + John Bishop
While Andrew Maxwell is a comic very much in the laddish cheeky chappy Irish variety...great at what he does, but still not original...it's John Bishop that's the highlight of tonight's show. For a Scouser the guy spends a lot of his time in Manchester as a Comedy Store regular and won the City Life Comedian Of The Year Award in 2001. Running with the idea that at least half of his show is spontaneous banter it will be interesting to see what he does in Edinburgh this year.

THURSDAY 24TH JULY - The Hungry Eye Edinburgh Preview Show 7 - Phil Nichol + Mike Gunn
Corky And The Juice Pigs were one of those cult obsessions that used to fill the airwaves on the late night Radio 1 before the suits took over and decided we needed less originality and more car alarm dance music. Phil Nichol is the ex-guitarist of the defunct comedy group and if that wasn't enough to tempt you alongside the stand up routine there's also the songs "Emotionally Challenged Girl" and "Only Gay Eskimo to end the set.
We first saw Mike Gunn in the early hours of the morning on Channel 5 of all places and were instantly drawn to this gloomy East Ender. His debut performance at Edinburgh saw Gunn adopt the persona of a funeral director which would be realistic enough he didn't have a rough around the edges wideboy grin.

THURSDAY 31ST JULY - The Hungry Eye Edinburgh Preview Show 8 - Dominic Holland (TBC)
Holland recently starred in the Armando Iannucci pilot "Gash" which missed the spot as often as it hit it. As this is all we have to judge him off, the best advice we can say is hedge your bets and flip a coin to decide whether you go.
******************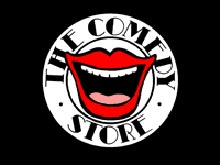 For more info on the above events and the Comedy Store
www.thecomedystore.co.uk
******************
**********
Post your Comedy Store reviews / comments on the Message Board
**********