MANCHESTER'S FREE MUSIC FESTIVAL
D:Percussion was originally set up several years ago as Re-Percussion, a statement against the Manchester bombings - it was this determination to stand up in the city together and be united together by music. Over the years the likes of Snow Patrol (back in the day when they were an inoffensive minor league indie band, rather than an inoffensive enormo band), My Life Story, Badly Drawn Boy, The Fall, A Certain Ratio and Alfie have all appeared as well as a selection of the city's finest DJs.
With Manchester grabbing the crown back from Liverpool as Englands capital of music this years line-up bosts a stella cast of talent. Nine Black Alps, Alfie, Bez & Domino Bones, and Duritti Column are some of the names you may have already heard of, but the real highlights look set to be some of the upcoming bands in Manchester. Below we profile 4 of the bands you really
must check out at this years free festival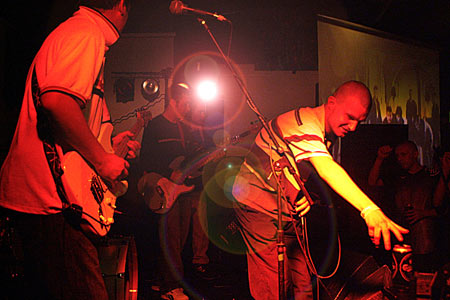 YOUNG OFFENDERS INSTITUTE
The songs by now are already Mancunian classics. "We're The Young Offenders", "Acid Man" and "Let Me Out" have already been released on Anthony Wilson's F4 Records and there's every sign that these guys are going to follow the career projectory of the Mondays rather than the Space Monkeys. The best tracks though are the ones yet to be released, "Havin A Party", "Baby Cocaine" and "Jiggy Giro". Classic rock n roll songs which grab you from the outset and don't let go. Sure, it's nothing innovative but it's done with such pure honesty about their way of life that you can't help but be enthralled by it.

Like Oasis and the Mondays who came along at the right time, The Young Offenders appeal to a group of people disenfranchised by the current music scene. The type of people who wouldn't listen to Franz Ferdinand because they're too arty or The Bravery cos they're metrosexual tarts and quite rightly see that Kaiser Chiefs are shite. The Young Offenders Institute are a true band of the people!!!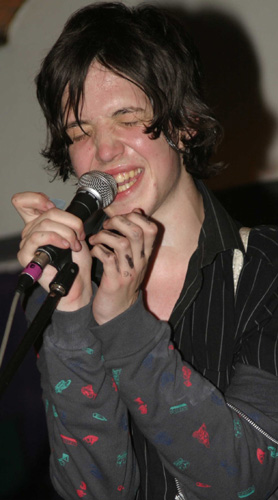 FEAR OF MUSIC
Spiky, loud and vibrant, this Manchester based quartet vibrates with energy and initiative, and in the case of guitarist Mike Ward, also pogo at the same time. So the smallish crowd here tonight are all are treated to a blistering performance by a band that promise much.
Promoting their 6 track EP to be released in July, vocalist Joe Rose is at times a taut, wiry, figure, caressing the mic stand whilst stretching his vocal chords to for that falsetto note. At other times he's kneeling, trying to wring as much out of his guitar as he can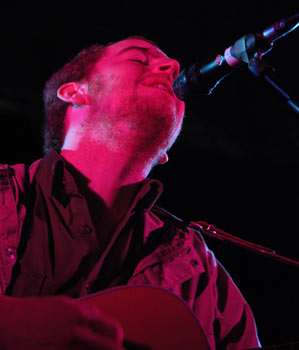 STEPHEN FRETWELL
Stephen Fretwell's been tipped as the next big thing for the past few years and with recent high profile supports slots with KT Tunstall and Keane he looks set to deliver on that early promise. Designer Magazine first witnessed Fretwell when he was supported by a little known Scouse band the Stands in March 2003 at Band On The Wall. Since that moment management changes and irregular gigs led many to think that Fretwell has failed to seize the moment, but today it's those early songs that still stand out with "Emily", "New York" and "Run" being modern Manc classics. An attempted and aborted cover of Joni Mitchell's "Riding On A White Swan" only adds to the charm

STAZI
What do you get if you mix cheap casio keyboard, low rent glamour courtesy of the Pulp School of fashion, Rowetta from the Happy Mondays, a gimp, a Guns N Roses sample and a love of Northern Soul? Manchester's best kept secret Stazi. "Put Your Loving Arms" and "Love Is Lethal" are already destined to be classic moments (along with Johnny Dangerously legendary tune which no remembers the name of) when the Northern Quarter unearths a Time Capsule 100 years from now.


FULL LINE UP'S FOR KEY 103 & METRO STAGES
KEY 103: Nine Black Alps (On stage 3pm), Bez & Domino Bones, Alfie, Stephen Fretwell & Band, RSL, Folded Remediez, Durruti Column, Raw T, Fear of Music, The Forest, The Young Offenders Institute, Daywalkers

METRO: The Pedestrians, Beats for Beginners, Movement, Loose Canon, Stazi, Stranger Son of WB, Behind Green Lights
Working For A Nuclear Free City, Jack Cooper & The Beep Seals, Sirconical


**************
D Percussion takes place in Castlefield on August 6th noon-11pm
For more info on D Percussion check out
www.dpercussion.com
***************

*****************
Click here to leave your D Percussion comments on the Message Board
(NB: The message board opens in a new window so please disable your pop-up blocker to view)
*****************