D Percussion - Castlefield, Manchester - 6.8.05
With Virgin Festival pulling out of sponsorship for this years Move Festival at the last minute and leaving it dead in the water amidst cries from elderly neighbours of "Ha Ha, Cricket pitches are for playing cricket on...not rock n roll" Manchester needed a festival more than ever and as usual D Percussion delivered the goods. Set up back in the day the festival was started as an answer to the Manchester bombings - a V sign to those who threatened to stop Manchester being the vibrant city it is. In 2005 with the recent terrorist threats in London we could see D Percussion as a great stamp of approval for our liberties and the kind of clap track the Daily Mail would write. What D Percussion is, is a chance for a load of mad for it Mancs to have a good time and hear some of the best new bands out of Manchester. It's also to our credit one of the last few remaining free festivals in the UK.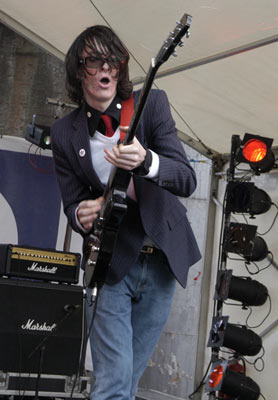 (Pic: The Pedestrians)
The Pedestrians take the sound of post-Libertines London and add in that cocksure Manchester swagger. Fronted by former 50Leaves frontman Liam Manton who adds an infectious blast to these proto-type tunes, a ball of energy that has been swigging special brew for the best part of 2 years in Manchester nightclubs and is a true star in waiting. Part Jam / Part The Stones they've still to find that killer song that will propel them to the next level, but at this stage they offer much more than most of the bands they've supported to date.
By the time The Young Offenders Institute arrive on stage there's a sizeable crowd out to see the heirs to the Happy Mondays throne. Seeing the YOI countless times over the past few months they deliver what we've come to expect with "Jiggy Giro", "Baby Cocaine" and "Havin A Party" standing out, but by now we need a few more songs to prove these songs aren't just flukes. The crowd are split between uptight indie kids with the latest haircuts from Tony & Guys Indie Collection 2005 and the people who are just here for a good time and a free party. The last time a band like this divided the city it was Oasis and look what happened to them!!!

(Pic: Raw T)
We just about catch the end of Motley and unique Playstation inspired hip hop tracks which in a real world would be competing with Dizzee Rascal and Mike Skinner for Urban Supremacy. Instead we catch Raw T who are Manchester's answer to Roll Deep Crew and mix up grime beats and indecipherable lyrics, which probably says more about us than them. There's something extremely watchable about Raw T, but you could never imagine listening to a full album of them and they still haven't got that "Pow" club banger to send them national.
A few months ago we worried that Fear Of Music were going to be spat out as another casualty of the music industry ala Kinesis, but thankfully their manager Graham Blowout has managed to keep a lid on it and let it grow organically. Spitting out Manics influenced bile, dabbing on the eyeliner and adopting Che Guevera t's when they really should be doing something more fun like watching Spongebob, the band have set themselves apart from the rest of Manchester by offering such musical depth at such a young age. It couldn't be more apparent as we witness them following Raw T and The Young Offenders Institute, but with the likes of "The Waltz" and "Skins And Bones" suggest that there's more to come from this band.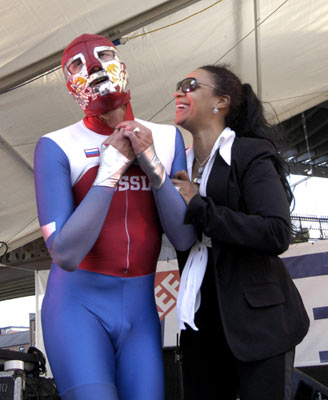 (Pic: Rowetta and Stazi)
In the space of a few minutes X Factor's Rowetta will be seen singing with electro-tarts Stazi complete with gimpmaster and Jack Osbourne will fall into the canal outside Barca. In between all this mad nutters in lycra will take on an assault course in the name of charity. It could only happen at D Percussion and Stazi sum up that spirit better than most. Led by the impressively gangly Owen Rankin they rip their way through a set of lo-fi electro pop which could fit in with Fierce Girl and Robots In Disguise as the new pop underground. It all ends with a sample of Guns'n'Roses and much air guitar.
From that point on it all becomes as blur as all great festivals should be. Nine Black Alps deliver stoner rock and although they're better than last time we saw them there's still a sense of how the hell did these guys become so fawned upon? Badly Drawn Boy makes a surprise appearance and with only 20 minutes to fill he concentrates on the songs and keeps the chatter to a minimum, Stephen Fretwell and Alfie prove that acoustica in Manchester is still alive and kicking and Bez and Domino Bones....well you can understand why Bez was always the dancer in the Happy Mondays
We'll see you down the front for D Percussion 2006 next year!!!
Words: Alex McCann
Photos: Shirlaine Forrest www.shirlainephotos.co.uk
Bez Photo: Barrie Thompson
*****************
Post your D Percussion comments / reviews on the Message Board
(NB: The message board opens in a new window so please disable your pop-up blocker to view)
*****************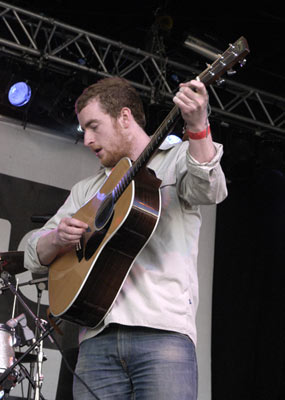 (Pic: Stephen Fretwell and Young Offenders Institute)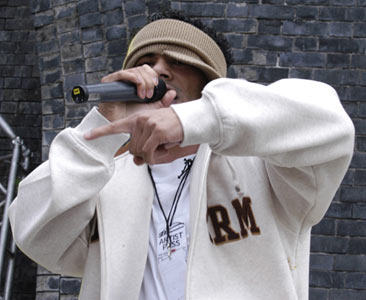 (Pic: Bez and Motley)