D-Side
It would be easy to write D-Side off as being just another Irish Boy Band ala Boyzone or Westlife if it wasn't for the fact that "Speechless" was a bona-fide pop gem. Imagine Hear'say's "Pure And Simple" with squelchy electro synths and a tight beat and your half way there. With an album ready to go featuring songs written by Harvey Mason Jnr & Damon Thomas (Justin Timberlake) and Desmond Child (Robbie Williams) as well as 5 songs co-written by the lads themselves it could be time for the critics to eat their words. We caught up with D-Sider Derek to find out the latest.
Q: You were one of the founding members of the band. Tell us how the D-Side clan got together?
A: Myself and Shane went to stage school in Ireland and every time there was a show on we'd both be there. One year there was this one show we did that went right from the 80s and up to the 90s and I wanted to be in the boy band...in fact I always wanted to be in a boy band. So me and Shane were like let's just do it.
We used to go for auditions all the time for commercials and stuff like that and we met Dane. His mam and Ryans mam came from the same place and it's quite small. Ryan used to play in a pub band with his brother and so did Damien with his family. We kind of just got together and it sounds like it was really quick, but it did take a lot of work.
After about 6 months rehearsing we approached Craig David's producers who did 3 songs with us for nothing. They played them to the President of our record company who loved them and signed us the next day on a development deal.

Q: Wasn't it just a dole like existence before you signed with your current label Warners?
A: It was really really bad. I don't how much they paid us a week, but it ended up with us living on about £23 a week. We were living in a horrible flat with rats in it and living on rice. But now it's all changed with Warners - we earn a bit more money, were in a nice house. We had to work hard to get where we are, but it's all good.

Q: Even though the first single "Speechless" is released this week, you've been touring for the past 6 months on the roadshows. Who are your new pals in planet pop?
A: Atomic Kitten have been really nice to us and Liberty X have been really supportive since the start. The only person I thought was rude in anyway was Daniel Beddingfield, but then I've spoken to him again and I think he just comes across wrong. We were in Popworld the other day filming and he was so excited about someone writing good stuff about him in a magazine. I could understand because we have the same make-up artists and all he ever does is get bad press and he just gets excited about getting some press that he was telling the whole place. It could seem really big headed, but if you know him you understand why so I don't think there is really anyone bad we've met to be honest.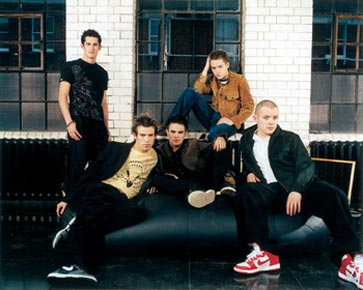 Q: What sets D-Side apart from all the other boy bands around?
A: Obviously were a boy band, but we've just done an album that is really different. We worked with a lot of American producers like Harvey Mason Jnr & Damon Thomas, they've just done some work on Justin Timberlake's new album, and Desmond Child who has done some tracks for Robbie and writers who have wrote for Britney, N'Sync and Mariah Carey.
Were just kind of picking through the best tracks at the moment. Some of the songs that we wrote ourselves have only been demoed so we want to go back in and have them reproduced. We don't really want to go too much into that American sound, "Speechless" was written by the same guy who did "Don't Stop Movin" and that's not very American sounding, but I think as we grow so will the music - expect the unexpected that's what I say!!!

Q: You guys have been called the new Westlife and Triple 8 have been compared to Five. Which band would win in a punch up?
A: They want to start a fight and we don't - so let's just leave it at that!!!
***********
"Speechless" is out now on Edel
For more info
www.dside.co.uk
***********
**********
Post your D-Side reviews / comments on the Message Board
**********