DEAR SUPERSTAR
Within 12 months Dear Superstar will have it all. Their show at In The City in October will see them sign a major label deal, a top 10 single will set it up for the album...oh, and the accusations of selling out that Lostprophets and Funeral For A Friend received after a modicum of success will follow them around everywhere they go. Even here in a half full venue with the staff pouring themselves lethal cocktails of 5 double vodka's and special brew, Dear Superstar look like a band destined for pullout posters in Kerrang and Metal Hammer. Taking emo and post-hardcore as a raw blueprint and then writing songs that can compete with the aforementioned FFAF and My Chemical Romance, what sets Dear Superstar apart from the hundreds of bands you'll see up and down the country is the fact that their songs and stage presence dwarf that of most signed bands
Q: 8 years being in one of the biggest UK unsigned bands. You're either aged 100 or you started when you were about 12. Tell us about the last few years and the bullshit record deal?
A: From 1996 - 2004 many of the members of DearSuperstar resided in another band. At the end of 2003, we signed to Emotion Records with the promise of a single and album release. We recorded the single, started pre-production of the album and even fell to the control of a label and supported "The Bluetones"!!! WHY!?
Soon later, the bombshell of a drug-overdose, and a planned 9 month tour stripped two members from the band. Following the break up and contractual release from Emotion Records - Adam, Benj, Birdy and myself looked only toward the future... We recruited Milton and decided to follow our roots of sleazy, in-your face rock n roll! If any bands are reading this, don't make the mistake of taking any old deal. We get offers all the time as DearSuperstar - BUT - we live by the rule of "No deal is better than a bad deal!"

Q: What's different this time about Dear Superstar? Why the name Dear Superstar?
A: Well, from the past 8 years we've got a whole world of contacts and a whole lot of experience. We've made so many mistakes, some un-printable. Lets just say Jaegermeister, groupies and playing loud rock n roll outside a court in procession don't mix too well!! But, DearSuperstar have achieved so much is a small amount of time - we must be doing something right. Why are we called DearSuperstar? Hmmmm, well everyone comments on our un-shatterable self-belief and we are always portraying an image of being bigger than a run-of-the-mill unsigned band.. So we wanted something bold and dashing - were gonna be fucking Superstars - so that had to be in there.. The Dear bit came from the theory/non-acceptance of not being in control of our destiny. We write our own future, the world will never meet you half-way! You've gotta make it happen yourself!! So we figure the dear bit symbolises our efforts... Kinda geeky and deep - but its better than being called "Fireblade" or "Anal Decrepitating" ya know!?

Q: Our readers can listen to you on Myspace (www.myspace.com/dearsuperstar) but how would you describe the Dear Superstar sound?
A: Its kind of an amalgamation of post-hardcore metal, raw emotion and the most sexist, dirrrty, cock-sure rawwwwk n fucking roll!! We have all the usual Gun'N'Roses'isms and the balls of Motley Crue, whom we love. But it aint run-of-the-mill... It's our whole life on one CD! It puts all the spit, blood and gruelling of a real rock show into your bedroom. We want kids, parents and grand-parents to love us, hate us and fuck to us!!! What's wrong with that?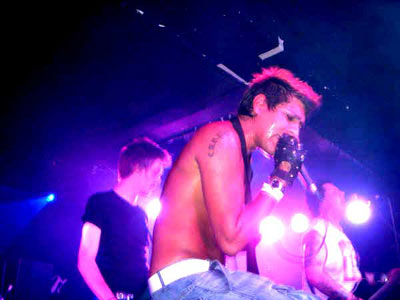 Q: The recent Designer Magazine review said "Dear Superstar's songs and stage presence dwarf that of most signed bands". I get the impression that you're personally competing with the biggest bands in the world rather than other unsigned bands. Is that the case?
A: Yeah totally - that's exactly us!! I used to do kickboxing. When we were paired up for sparing, I always took the biggest hardest mother-fucker there. Not because I'm tough, coz I aint, it's because if you cant be the best, then what is the point in doing it? I'd rather fail at being the best than succeeding at being a failure or a sell-out! I guess it will sound really sanctimonious and pretentious to the readers of this, but that the way it is. We want to share the stage with our idols and blow the fuckers off it! PERIOD!


Q: Are you concerned about the fact you're gonna be called sell-outs as soon as you achieve a degree of mainstream success?
A: Not in the slightest... It really gets under my-skin when bands like Paparoach constantly get slated for selling out. All the members of that band know so much about Metal and everything that comes with it - you'd never win a argument with them.. Milton and I know all too well (educated by Jerry Horton)... Same as Lostprophets, such an awesome band who don't pour messages of hypocrisy and world decimation down your throat. It's about the fucking music, if you don't like it - move on... Selling out is a label that people put on successful bands, one commercially viable hit and your fucked!!! Losing fans is my worst nightmare - so that would be my only concern. The fans of DearSuperstar are what make it worth while!


Q: You're selling out venues that major label bands leave empty. How do you go about spreading the message of Dear Superstar?
A: Amazingly, things have been really good for DearSuperstar. The word spreads well off the back of our shows, magazines and obviously Myspace. But for the added push we do all kinds of promotion. We've got a group of gorgeous girls dubbed "The DearSuperbabes", we dress them up in short skirts, fish-net stockings and DearSuperstar skinny t-shirts. Its amazing how receptive people are to tits n ass!!! But we try to put on interesting and colourful shows - there's always naked bodies and hi-octane stage prancing!


Q: You've recently been in the studio. Tell us about those classic Dear Superstar songs you've been working on
A: We put out an EP, which received loads of good press. Metal Hammer saluted us, Rock-sound revelled in it and the webzines slapping glowing marks over its ass. The only issue was the recurring insinuations of us verging on emo - a vex to even the most placid member of Dear Superstar. So the new album lays heavily on hard-driving riffs, close to the bone lyrics and homo-erotica (were not gay!). The existing EP tracks have been re-written and re-produced too. They are sounding awesome now; we just want to capture our bold live feel on CD.


Q: In The City is just around the corner. What do you hope this will achieve?
A: In the city has such a great vibe about it... Even if we don't get that record deal we long for, we will savour listening to the cream of Manchester. We watch a lot of new bands, signed and unsigned; it's so important to support these bands, no one likes playing to the support bands and their girlfriends. Naturally, we'd love a major label pick us up at "In The City", in fact fuck it - I think we will!

****************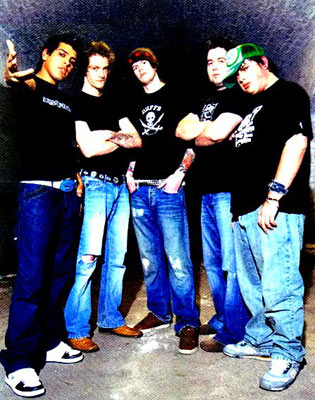 Dear Superstar play In The City Rock Festival on Oct 2nd
The band support Engerica on October 30th at Manchester Roadhouse
For more info and audio stream
www.dearsuperstar.com
www.myspace.com/dearsuperstar
****************
*****************
Click here to leave your Dear Superstar comments on the Message Board
(NB: The message board opens in a new window so please disable your pop-up blocker to view)
*****************