(Pic: Lookin)
Dear Superstar / Lookin - Retro Bar Manchester - 14.8.05
Later on this evening, Finnish superstars Deep Insight bound across Retro Bar in crisp white suits. To look at they're the Hives in an alternate universe, the sound is the sort of commercial emo-rock that has seen them support the likes of Lostprophets and Further Seems Forever. Back home they may be the next Scandinavian breakthrough band in the mould of The Rasmus and HIM, but tonight eyes are all on Manchester as two of our homegrown heroes deliver storming sets.
Lookin have been honing their sound for the past few years and support slots with the likes of Icarus Line and No Hope In New Jersey have seen them grow in stature to the point where each show is treated like their own personal playground where they're headlining to eternity. Fronted by the splendidly named Christian D'Acuna and Theo Bowers (no relation to Dane presumably) the band have little in common with fellow Macclesfield bands Marion, The Macc Lads or Joy Division's Ian Curtis. Veering between Muse-esque pomp rock on "Time To Change", commercial pop-punk ala Green Day on "Maybe Tomorrow" and nihilistic anger on "Here We Go Again" the band have recently gained national airplay on Steve Lamacq's 6 Music show, but live shows like this is where they really excel. D'Acuna snarls at one moment and then disarms you with a fragile smile - it's the same schizophrenic twitches that tormented geniuses like Cobain always exhibited. Lookin have got a bright future ahead of them!!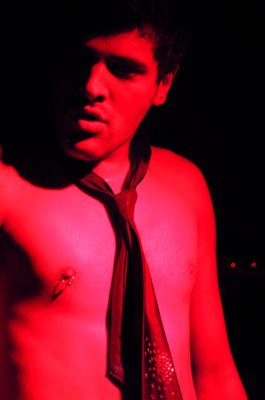 (Pic: Dear Superstar)
Within 12 months Dear Superstar will have it all. Their show at In The City in October will see them sign a major label deal, a top 10 single will set it up for the album...oh, and the accusations of selling out that Lostprophets and Funeral For A Friend received after a modicum of success will follow them around everywhere they go. Even here in a half full venue with the staff pouring themselves lethal cocktails of 5 double vodka's and special brew, Dear Superstar look like a band destined for pullout posters in Kerrang and Metal Hammer. Taking emo and post-hardcore as a raw blueprint and then writing songs that can compete with the aforementioned FFAF and My Chemical Romance. "Sunset Suicide" sits between the hedonism of Motley Crue and the nihilism of MCR, "Break Up" recalls Infest era Papa Roach and "Falling Apart" could have easily been off any of Hoobastank's albums. While it's far from original, what sets Dear Superstar apart from the hundreds of bands you'll see up and down the country is the fact that their songs and stage presence dwarf that of most signed bands.
Manchester's rock scene is burgeoning with the likes of Nine Black Alps and Fear Of Music flying the flag for a new era that doesn't involve Oasis and Stone Roses retrospectives. It won't be long before the names Dear Superstar and Lookin are the bands the next generation from Manchester look up to.
Words: Alex McCann
Photos: Sarah Jane Pooley www.sarahpooley.co.uk