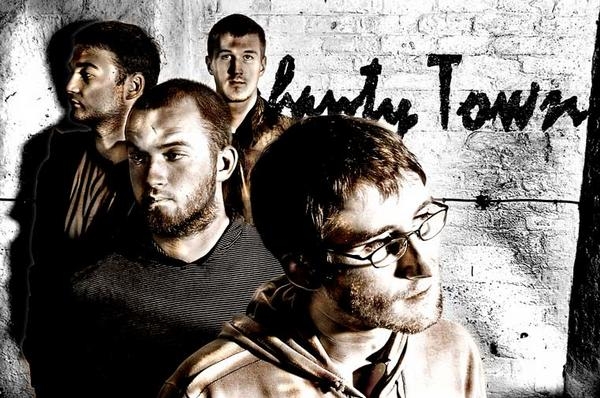 DESIGNER MAGAZINE & VEGA MUSIC presents... UNDERCOVER @ ALTER EGO
Shanty Town
Seaside Riot
The Furs
Up To The Rafters
Slow Readers Club
plus DJS till 3am
VENUE: Alter Ego (formerly Mutz Nutz), Princess Street, Manchester
DATE: Fri 19th Dec
TIME: Doors 8pm
PRICE: £6 on the door / £5 adv tickets

SHANTY TOWN
"Last but certainly not least was the brilliant Shanty Town, strolling in from the streets of Salford, ready to let their songs loose on the ever-grateful crowd in front of them, with their many influences and styles, which varied for each song. Bassist Rob claimed that the band drew its inspiration and spirit from punk bands such as The Clash and The Buzzcocks, as well as other bands from the Manchester scene, which explains the gritty bassline that sounds like a triumphant ode to Joy Division in the song 'Fake Blonde', which began their set. Treble-stricken guitar harked at influences from the Roses, and the sometimes-steady, sometimes-quirky drumming style of Si hinted at influences from Ian Curtis and friends, whereas Eddie's vocals resulted in the pleasant sound of a Manc Joe Strummer. Melodic songs like 'Taking Over', 'Shotgun' and 'Waiting For' left the crowd smiling, and pop triumph 'Quaker Days' played midway through the set went down well amongst the merry yet attentive audience. I would recommend you watch this band in the near future, or even later on, because they are here to stay, which can only be a good thing." Designer Magazine
"Great band, great audience. Apparently everybody was there to see Shanty Town. They've got nice songs, very catchy choruses." Guestlist Music
"The undisputed diamond in the rough could only be Shanty Town who played the Dry Bar on Saturday night. Hailing from Salford the group of local lads got the party started when they took to the stage.
Charismatic front man Paul Edwards' enthusiasm and swagger rallied a heaving posse of adoring fans and kamikaze crowd surfers. Chanting, cheering and causing security some trouble Shanty Town stole the show,
Literally ending on a high the lead singer was carried aloft by the crowd and didn't even miss a note before finishing their set.Fast, furious and difficult to pigeonhole, slightly punky part indie, but impossible to dislike, Shanty Town are undoubtedly an undiscovered talent." Manchester Evening News
http://www.myspace.com/asalfordshantytown

SEASIDE RIOT
"Shit kicking pogo indie… Seaside Riot incite some serious lad mosh scenes" Jaimie Hodgson, NME September 2008
http://www.myspace.com/seasideriotuk

THE FURS
Hailing from the city of Manchester via Bolton, The Furs are a new 4 piece band playing in whatever venues we can to make a name for their selves. With influences including Ocean Colour Scene, Stereophonics and trains to and from Bolton, we play music to anyone who'll tap their feet, clap their hands or even full on rave if it takes their fancy.
http://www.myspace.com/thefursband

UP TO THE RAFTERS
U.T.T.R. are known to cause involuntary foot movement and in severe cases spontaneous euphoria. Symptoms include; exhilaration, joyfulness, throwing your hands up in the air, sweating, getting a rush and jumping against the ceiling
http://www.myspace.com/uptotherafters

SLOW READERS CLUB
Formed in 2008 The Slow Readers Club sees Aaron and Kurtis Starkie sharing vocal duties, James Ryan on bass and Neil Turvin on drums. The band are currently writing and recording and will be back doing gigs in December
http://www.myspace.com/theslowreadersclub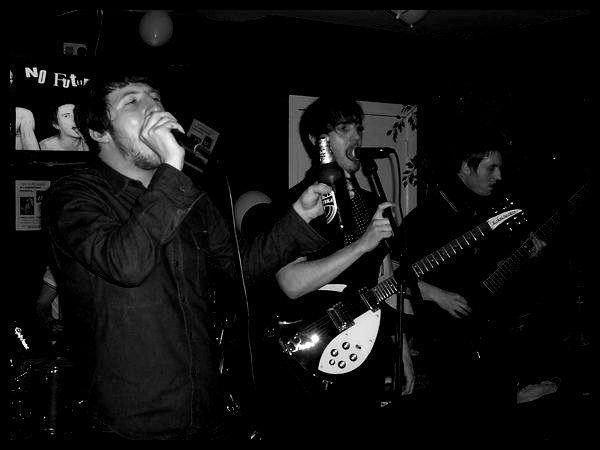 DESIGNER MAGAZINE & VEGA MUSIC PRESENTS....
Elgazelle
Syd Bozko
Bright Kicks
The 100 Club
Mount Fabric

VENUE: Moho Live, Tib Street, Manchester (between Afflecks Palace and Sachas Hotel)
DATE: Friday Dec 19th
TIME: Doors 8pm
PRICE: £5 adv tickets / £7 on the door
More info & audio links
www.myspace.com/designermagazine


ELGAZELLE
Formed in their hometown of Manchester in 2007 Elgazelle are Paul Wright (Lead Vocals/Harmonica) Rick Hyde (Guitars/Vocals) Phil Lodge (Bass/Vocals) Lee Morse (Lead Guitar) & John Gagon (Drums).
Inspired by their shared affection for rocknroll, 60's Soul and R&B Elgazelle have played consistantly around their hometown, winning new fans over at nights such as The Aftershow & Rent A Crowd presents with their eclectic mix of retro pop sounds and sweaty performances.
They currently have a monthly residency at 'Run For Cover' which is a new night at Lounge in Chorlton. Run For Cover showcases the best in new upcoming bands and artists and operates on a strictly non-profit basis. The night is the first Saturday of every month, includes live acts and resident DJ's and is FREE entry!!!.
The band are currently recording sessions for their debut 5 track EP at Blueprint Studios in Salford. The EP is due to be released in early 2009.
http://www.myspace.com/elgazelle


SYZ BOZKO
We are SYD BOZKO an Indie-Rock band from Manchester. We started in August 2007 and decided to record demos in November 2007 before deciding to hit the gigging circuit. We have no particular influence as such, we just like making good music. We have been quite successful in recent months, from being played on national radio to packing out top Manchester venues. We entered the YGG Irish Festival in March 2008, this was only our 3rd live gig, and we went on to win the competition, beating well established unsigned Manchester bands. Since then we have recorded our 2nd demo, in April 2008, at The Cutting Room Studios (the prize for winning the YGG Festival). This was then promoted and launched at M19 bar in Levenshulme in June 2008 courtesy of Tony Hennigan. In between this we have continued to gig in and around Manchester & the Northwest including, The Academy Manchester, Dry Bar, The Ruby Lounge, The Cavern, Liverpool & The Loft, Preston. In December 2008 we are bringing out our 3rd demo. and in November we are headline support for the Inspiral Carpets, Tom Hingley at M19 bar Levenshulme. If you like us then keep listening, Cheers people SYD BOZKO
PRESS CUTTINGS 'Winners Syd Bozko'. The event organiser James Hennigan said 'Syd Bozko were great live, the crowd and the judges loved them, they really know how to work a crowd." -'Boddingtons Manchester Irish Festival YGG Unsigned 2008'
Syd Bozko a band to watch out for, after only playing a hand full of gigs the band entered and went on to win the YGG Irish National festival. Recently the band also got their first airplay on XFM Manchester with Clint Boon. - 'Glasswerk National - Hide and Seek Festival'
http://www.myspace.com/sydbozko

BRIGHT KICKS
2008 looks to be an exciting year for manchester's 'Bright Kicks', consisting of four focused and ambitious souls drawn together through a mutual passion of music.
After all cutting their teeth in previous bands for a few years around manchester, ther origins begin with darryn clarke (guitar) and david whitworth (drums) locked away in a rehearsal room jamming the hours away, first and foremeost for the enjoyment of simply being able to play music again. gradually, as the weeks, months passed by, without a care for the outside world or latest flavour of the month, this rejuvinated state of mind was quietly spawning new material both were new to and stimulated by at the same time.
With a hefty selection of new music laid out, the time was to begin recruiting and see how a voice would fit on top of their latest sound. forward 6 months, empty promises and general false starts that had to be nipped in the bud, still no vocalist. that is of course, until a promising assured singer from Didsbury chased an ad up. Enter vocalist Bobby Magee, inspired by the likes of Robert Plant,Roger Daltry to Ray Charles and James Brown he has developed an individual style with clear soulful melodies,mix this together with an undeniable stage presence and talent that craves to be on stage holding a mic,you find thankfully not another Ian Brown,not another Liam Gallagher,but a new individual. All that was needed now was bass duties.
And so a few more months pass, the odd bass player arrives, but no joy. until Bobby invites a 'friend of a friend' down to jam. Enter Greg Kelly, hailing from reddish. Never one who followed the 'mad fer it' crowd, greg was schooled on funk, jazz, reggae while also tipping his hat to rock ensures bass playing beyond his years.
So with the complete lineup 'Bright Kicks' finally stepped out of the shadows at the attic Manchester at the tail end of December 06. And the long wait proved justified. Within a year of solid gigging around the north west the band were already making noises. Even when sharing gig slots with signed bands, one noteable occasion found the headliners in the front row dancing away to the bright kicks sound. Elsewhere One of the biggest crowds the band played to was at a student festival. A last minute reshuffle saw the band effortlessly play as a 3 piece with no bass. With momentum gathering, and being courted by various london management companies the band are now prime fruit for the picking, having already rocked venues such as club academy and Academy 3 the band are now preparing to grace stages such as manchester ritz. rumours of major record label interest have sparked a small ever growing fanbase, keen for the antidote of the diluted sound of local accents on the radio singing about myspace. Having already recorded with established producers giving them the thumbs up, Bright Kicks are gaining in popularity and stature with every gig. Having already made tv appearances on the homefront, the band have even made friends stateside being invited for interview on US radio! BRIGHT KICKS INTERNATIONALL!!!
http://www.myspace.com/brightkicks

THE 100 CLUB
"Casting a draconian shadow over the listener...I'm thinking I like this."
Adam Adshead (Sandman Magazine)
"Taking their musical cues from the other side of the Atlantic… I was blown away by the power and volume this lot create."
William Bradley (guestlist)
"Get to see this band while they are small, it won't take long for them to flourish."
Sorrell (Live at Academy3 review)
http://www.myspace.com/the100club

MOUNT FABRIC
Mount Fabric first met in 2007, and after a whirlwind romance, knuckled down to produce the finest songs they could muster. After many hours of fine tuning and a few new effects pedals later, they're finaly ready to be unleashed on the world. Or at least the gig going population of Manchester.
http://www.myspace.com/mountfabric

DESIGNER MAGAZINE PRESENTS.....THE MANDIGANS XMAS PARTY
ft
The Mandigans
Dictionary
& more TBA
Venue: The Station Hotel, 44 Stamford New Road, Altrincham, WA14 1EJ (opposite Altrincham Tram / Bus Station)
Date: Sunday 21st Dec
Doors: 6pm
Price: £5 in advance

THE MANDIGANS
Formed In Late 2007 by brothers Henry and George Flint. Over time the boys music progressed to the point of needing additional members, recruited not long after were Matthew McAuliffe , Richard Allen and Michael Wilde. After playing for quite a while and churning out such well knows songs as ' Girl Next Door ' and ' Stop, Start Epic. ' the recruitment of the final member Thomas Andrews completed the band you hear today.
After the debut gig and the production of songs such as ' In The Morning ' and ' Helicopter ' The Mandigans began gigging , from London to Manchester they had began making a name for themselves , and with the recent release of their debut Album self-titled ' The Mandigans ' everything is going great,
- Oh Yeah, and We record our songs Ourself
REVIEWS
As performers they certainly do not play like an average kids' band. The Mandigans kept it together as a unit, never once falling out of time or showing any signs of struggle. Their music sounds like the catchy indie pop songs that you will strife to keep off your mind. They were most impressive for their age and experience, and have a great chance of going far. - Will Slater
Once in a while a band comes a long that are truly special and the Mandigans are one of those bands. The Mandigans are a band who tick all the boxes - catchy mature pop songs, riotous live shows, two brothers and an undeniably charismatic frontman.
- Alex McCann Designer Magazine
"A Manchester band, formed by 2 brothers and already being hailed by some as the next big thing to come out of the city. Sound like we've stepped back in time? We've not, this is The Mandigans. The songs are catchy, indie pop with choruses you can't get out of your head. Live they are tighter and more accomplished than bands double their age (the average Mandigan age is 15). Taking on El Policia as the under 18 Manchester band to watch this should be the year for the 6 boys" Guestlist Music

http://www.myspace.com/themandigans


DICTIONARY
After a gathering over a couple of gorgeous chicken tikka kebabs from The Mughal, and a few bowls of ice cream, we realised, Dictionary was our destiny.
http://www.myspace.com/dictionarymusicuk