Pic: Lewi Lewis and Ad Lick
Do Me Bad Things
Just a few days previous to meeting the Do Me Bad Things they'd had one of those weekends which they describe as "sucking the media cock" on CD:UK and Popworld. It's a situation they're not entirely at ease with and while the media is quick to call them the next Darkness they don't see why people aren't mentioning bands like Sludgefeast and Atomic Bitchwax in the same breath. Designer Magazine caught up with Lewi Lewis, Hurricane Tommy and Ad Lick to find out the Do Me Bad Things came together by complete accident and how the debut album will shock fans by ditching the rock for contemporary R&B pop.
Q: This is like the 3rd time we've seen you in as many months and it still feels like you've just come out of nowhere without warning?
Lewi: We've come out of nowhere because to us it feels like we've come out of nowhere as well. It's all happened very quickly
Ad Lick: None of it was intentional. We did a recording just under 2 years ago and had no intentions of doing a gig. The fact that we're now in Manchester doing a gig
Hurricane Tommy: It was seriously quick. 4 or 5 London gigs and then a record deal with Must Destroy so all of this is news to us as well.
Lewi: It's interesting to see that people in towns outside of London even know who we are. You see messages on our message board saying why don't you play Aberdeen or somewhere and it's like because it's news to us anyone knows who we even are in London.

Q: You were mentioning before about your (Lewi and Tom) previous piano based band People do like to have this idea that you've just been dropped from space to wake-up the music scene?
Ad Lick: That's the idealistic view - that we just picked up the guitar last year and started writing the most incredible songs that ever were.
Hurricane Tommy: I remember after our first proper London gig, James from Sludgefeast was there, and he said that it seemed as if we were all in a 6th Form drama lesson and they said who wants to be in a band. I guess it can seem that way to some people, but me and Alex (Lewis) have been in bands together since we've been about 12.

Q: When you came together as the Do Me Bad Things what did you want the band to be?
Lewi: At the time when we actually formed as a 3 piece it was just instrumental. We were doing riffs every Sunday. We'd seen loads of bands that summer that were so riff heavy so we formed this power-trio. Also the bands we saw were putting on performances. We saw the Hives at the Garage when they first came over and the band Atomic Bitchwax (the guitarist from Monster Magnet) and their live shows were so intense, but they looked as if they were enjoying it. For us it was like lets be in a band like that.
Ad Lick: When you're asked what your influences are some bands are very quick to shoot off their influences. And it's like if you're that aware of them those bands generally sound like them in the first place.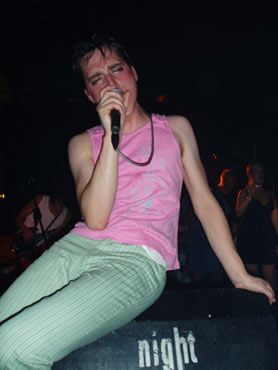 Pic: Do Me Bad Things Nicolai Prowse
Q: Was there a certain point where you thought we've got too many singers here?
Lewi: All of a sudden something happened. It's a bit of a blur, but it was around the Christmas time. Obviously we didn't have a singer, so all 3 of us asked different people to be the singer and everyone turned up.
When we were recording we needed such an amount of singers for the songs we had written. It wasn't a conscious decision to make this the biggest band in the world. But even on the recordings there's more than 9 of us on there, but it was the 9 of us that were just really good friends by the end of it. We realized that in the future if we got any extra musicians in they were just that.
Hurricane Tommy: I think though in the New Year when we get to play bigger places we won't rule out having the chance to use a keyboard player, string section and a couple of multi-instrumentalists. Some of the tunes on the album are not going to be really do-able live.

Q: So you could expand Goldie Lookin Chain style from about 9 members to 25?
Ad Lick: Someone said something about us being like a gang. I quite like the idea of a band being a gang and Goldie Lookin Chain are like that.
Lewi: With a lot of bands it's not even the whole band that are actually signed to the label, cos people are quite surprised when they find out all of us are signed. With the Libertines it's just the front two that are actually signed to a deal, the other two are just on a wage which I think is f**king awful...and that is fairly normal too, I was shocked when I heard it.

Q: Going back to those gigs you saw prior to forming DMBT's. I guess the image was inextricably linked with music
Hurricane Tommy: The image was maybe a little more subversive earlier on. We found some photos of our very first gigs and they were a lot more intense. The girls would wear gold masks and there was a lot more make-up. It wasn't pretty. It was quite dark. We stopped doing that because people used to focus on more than the fact we were a band, even though when we first started it was the idea to show look how extreme you can go in the way you look...but that shouldn't distract from what this band sounds like that.
Lewi: The media's current obsession with gimmickry makes people think there always has to be something to get. It's something we're constantly having to deal with. There's nothing complicated to get about being in a band. In the 70s most bands had make-up...
Hurricane Tommy: ...but now people assume there has to be some kind of post-modern trick. There always has to be some corrupt conspiracy as to why we exist.

Q: I think it's because there haven't been bands like Do Me Bad Things and the Darkness for such a long time. Prior to you guys it was stripped down garage rock for the last couple of years
Ad Lick: I think that was a fashion thing that came extremely popular because of it's connotations with the look.

Pic: Chantal Dellusional
Q: Do you feel though that Do Me Bad Things would have existed if there would have been bands around that weren't so bad at the time?
Ad Lick: I know for certain that these guys would have. They've been in interesting bands since i've been going to see them and have been friends with them.
Hurricane Tommy: Musically i've always focused on the past. There's not very much modern music that I very much interest in, certainly not mainstream music. I don't feel like i've got any contemporaries.
Lewi: Most bands are just regurgitating the same old bands. You listen to the Libertines and they're just a bad version of the Jam
Hurricane Tommy: ...and a half arsed version as well. If you've got a good song, but you sound like the Beatles I don't care. If there's more Beatles songs out there then great, but it's when it's half arsed.

Q: How do you feel when you look through a mainstream music magazine nowadays?
Lewi: Sick...NME's not even a music magazine really is it. It's like Smash Hits for students with the diary of what the Libertines have been up to that week and how different they are to the Darkness. They're still going through the Darkness backlash.
Hurricane Tommy: The writings just completely changed. I found an old box of NME's from when I was a kid. There was an issue from 1991 and on the frontcover was Pavement. If you think how underground Pavement were in 91 with their first album. That would just never happen now with the NME. It's just the Libertines or the Strokes and then they rotate them.

Q: So how is it playing the game and doing CD:UK and Popworld?
Ad Lick: That's a weird situation to find yourself in because we harp on about how the media tries to portray this band and there we are sucking the media cock. That was the realization of what we were rallying against and yet there we were appearing on it.
Hurricane Tommy: I actually watched us on Popworld the other day and the presenters quite sharp. But Cat Deeley, lovely lady that she is, she's just a trash peddler.
Lewi: Sometimes I wish we'd have done our first album on an independent label. At the moment we don't know what the f**ks going on.

Q: And talking of the first album, people are pretty damn shocked when they get to hear it?
Hurricane Tommy: Yeah. It doesn't sound like a rock band at all. It's almost crossing over into contemporary R&B pop. Live it's still pretty heavy, but on record some of the stuff is pretty out there. It's a nice thing to have where you get an album and someone appreciates that and then they go to the live show and get something completely different. Some people that like us live are not going to like the album and vice versa. One of the tracks we've not been able to play live so far is "Suburban Flame". On the recorded version it is the closest we get to contemporary R&B, but live it's just gonna sound like a metal song. It's like Black Sabbath doing an R&B track.

Random Snippets of Information

* The original video for "Time For Deliverance" was scrapped by the label because it was too extreme. "We all had Moose's head and burlesque girl dancers who jumped out of birthday cakes. The thing was you couldn't tell that we were a band really" adds Tommy
* Hurrican Tommy likes TV Themes and soundtracks and one of DMBT's songs sound like Jacobs Creek Wine Advert
* The band were supposed to be supporting Goldie Lookin Chain early in the year, but Sony offered the label bags of money so the crowd had to suffer John The White Rapper.
* The band want to film their next video in the Jamaica, but the record company are more likely to send them to Blackpool or Croydon and add plastic palm trees. If it's the former location they may indeed recreate the famous Alan Bradley hit & run tram incident from Coronation Street
* Auditioning their singers would be sick, but if they were judges on X Factor Ad Lick would be the tyrannical Simon Cowell figure. Hurricane Tommy would be crying in the corner like Sharon Osbourne and Lewi, quell surprise would be his namesake Louis Walsh
* Designer Magazine suggested a Valentines single release to coincide with the 2nd anniversary of their formation...watch this space as it may just happen.
* When the band appeared on CD:UK last week it was The Woods ambition to slap Cat Deeley's ass. Sadly he didn't get close enough. Next time lads!!!

Word & Pictures: Alex McCann

*****************
Post your Do Me Bad Things comments / reviews on the Message Board
(NB: The message board opens in a new window so please disable your pop-up blocker to view)
*****************

*****************
"Time For Deliverance" is out now on Must Destroy
The band support the Darkness in December
For more info
www.domewebthings.com
*****************