Doves - Preston Guildhall - 14.12.05
You may be having turkey for Christmas dinner, but tonight we're tucking into Doves. What a delicious feast we have in store at the virtually sold out Guildhall with these workmanlike Mancunians who have travelled the globe with their album "Some Cities".
With a light show more dazzling and exciting than the Christmas Tree on Oxford Street, Doves plunge headfirst with "Snowdon", a song of U2 epic proportions but without that self righteous holier than thou attitude the Irish quartet cling on to. Behind the band projections provide some visual stimulation for the emotive aural treats. Frontman Jimi Goodwin with his comfortably chubby appearance, unkempt beard and casual clobber possesses a voice so powerful, original and heart warming that event he most adamant beer guzzling bruiser can take solace in his comforting tones.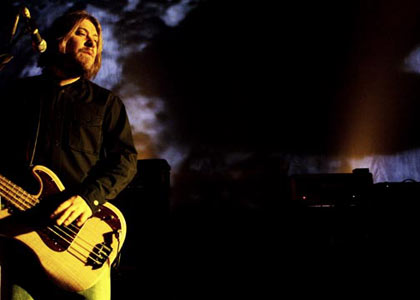 On the less memorable album tracks interest wains, but who can't be excited by the brilliant "Pounding". Jimi even raises a titter when the band play the first few bars of the Snooker Theme Tune, which has been a fixture of this very auditorium for years. "The Man Who Sold Everything" is the premiere league of songwriting, while "Black And White Towns" nod to Northern soul is a nostalgic rousing experience.
After "The Cedar Room" from their prolific debut album, Doves leave as a humorous video of them is being shown of them being chauffeured around in a stretch limo, stopping off at their local for a swift pint or two. On their return, positions are changed, instruments swapped for the mid-tempo delight of "Here It Comes" as genuine footage of dancers at the Wigan Casino is shown. A sense of the Brazilian carnival atmosphere is brought to Preston during their most dance fused track in the guise of "There Goes The Fear", which is as triumphantly jubilant as it was on first hearing it. Jimi thanks everyone for the last seven years of support which would suggest the end if nigh for Doves, but im sure they'll be back soon, reinvigorated with a new passion.
Words: Nicholas Paul Godkin
Photos: Barrie Thomspon - www.barriethompson.com
*****************
Click here to leave your Doves comments on the Message Board
(NB: The message board opens in a new window so please disable your pop-up blocker to view)
*****************