Download Festival 2009 - Live Review
Friday 12th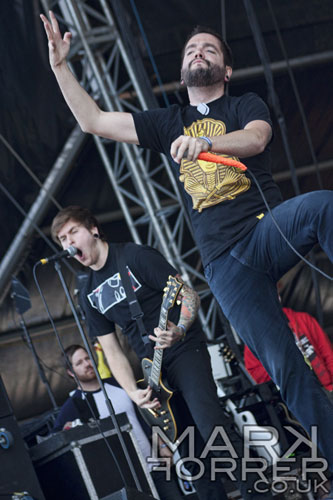 (Pic: A Day To Remember)
A Day to Remember set the weekend's shenanigans in full motion with their eclectic, aural alchemy. The triumphant 2001: A Space Odyssey theme, "Thus Spake Zarathustra" rumbles the 2nd stage foundations in an elated crescendo until the equally and differently rumbling "The Downfall of Us All" starts up with its immediately recognisable acapella breakdown and crunchy guitar tone. A big start to the set which maintains energy well as the band engage in some limp necked, synchronised headbanging whilst vocalist, Jeremy McKinnon's moves swap from pop punk swagger to hardcore powerstances as swiftly as the music. No time is wasted on chit chat as the band storm through their pressing 25 minute set with cool confidence and some sweetly summery melodies and vocal harmonies.
ADTR are moderately confusing to the non-fan and appear more comfortable with the hardcore side of their duel faceted style but respect must be paid to their revolutionary mash-up sound. Luckily for them the majority of the bustling field happen to be fans of theirs who massively appreciate the tunes delivered such as "Fast Forward to 2012", "My Life for Hire", "The Danger in Starting a Fire" and "The Plot to Bomb the Panhandle".
Canadian ADHD rockers, Billy Talent shriek, rage and chop their way through a blinding set featuring material from their two full length albums and a little from their upcoming third release, "III". Sounding like the theme tune to an evil carnival and sporting red, black and white attire, Billy Talent are a little slow on the uptake. The first track "How It Goes" is a little lacking in energy and fitting to the overcast weather and rather bleakly mastered sound that is pumping out from the main stage soundsystem. However, three tracks in the boys step it up with the track "Lies" and suddenly their signature electronic buzz of a guitar tone feels more meaningful with the physical hyperactivity to match. Sounding like Weezer's screechier sister with melodic Tourette flinches, tunes like "Devil at a Midnight Mass", "Try Honesty" and "Red Flag" uplift the crowd whilst frontman, Benjamin Kowalewicz's piercing gaze, eccentric gestures and nationality banter (referring to the audience flown flags, "I never knew Korn was a country... or Pissflaps") lighten the mood and distracts from the threat of rain.
Billy Talent's set is a real turnaround performance and a positive experience all around, one particular highlight being the showcase of the new track "Rusted From the Rain" which is an ascending, bluesy ballad during which it becomes clear that Kowalewicz actually has a very powerful and expressive voice, not too dissimilar to James Brown. A revelation not rivalled since Daryl Palumbo showed the colour of his calibre on Head Automatica's stellar first album, "Decadence". Kudos Mr Talent.
Entering the stage to a pounding, tribal drum introduction, Killswitch Engage and their jestingly dressed guitarist-cum-wrestler, Adam Dutkiewicz begin with a spirallingly mathematical build-up, let-down, build-up into first album big hitter, "A Bid Farewell". Howard Jones' heart warming smile, smart casual chic, hugely moving vocals and catastrophic roars are layered up with sexy, spacious beatdowns, gorgeous melodies and some devilish pinch harmonics thrown in for extra metal credibility as the band tightly shred their way through material reaching as far back as "My Last Serenade". Despite the band's respectable metallic reputation, they still manage to have themselves some fun onstage with guitarist, Adam offering/threatening to expose his "veiny member" to the entire female portion of the crowd as well as skipping from stage left to stage right with the grace and stature of a ballet dancer (in a wrestling outfit). The set is big and aggressive with plenty of galloping shred, guitar squeals, Will Ferrelesque toilet humour and the occasional summer afternoon wall of death. An impressively light hearted performance from an outstanding act with the song "My Curse" being one of the festival highlights.
It is hard to decide what to make of Limp Bizkit's Download appearance. The stifled excitement in the air as the alienesque turntablism spins out of the soundsystem to indicate the start of the show is colossal. From a completely subjective point of view, it is Limp fucking Bizkit. It is Wes fucking Borland. The audience know every single word of every single song and are going wild for the duration. However, the red cap wearing, juvenile gorilla that is Fred Durst looks to be tired and old onstage. Charming as ever, he offers a number of middle finger salutes and offensive slurs to his loving fans. The set is full of the biggest Bizkit tunes, starting out agro with "Break Stuff" and an unfortunate technical hitch that leaves Wes' guitar out of action for a few seconds. Luckily, he can be excused for drawing attention to himself as this allows a good thirty seconds or so to admire his incredible stage make up. Black and red skeletonine body and face paint, dilated black contact lenses and a flat mohawk that works real nice with Limp associated headbanging.
The crowd participation for this show is absolutely unrivalled and peaks when Durst invites two audience members up onstage to join him and help out with singing and rocking, hip hopping to John Otto and Sam Rivers' mega bass groove. Limp Bizkit's nostalgia set contained an absolute golden Download moment when Durst jumped offstage to get a little intimate with the crowd for the end of "Rollin'" and had his jeans pulled to his knees after leaning a little too close to a Fred hungry crowd member. The look of fire in his eyes suggests a fight breaking out for a very long five seconds until he leans into his young fan and screams aggressively, "I'll eat you aliiiive!" as the blistering Bizkit single begins to rock the crowd.
Despite the numerous awkward silences, tiredness and charisma lacking set, there was an undeniable magical atmosphere that can't be ignored during the hit heavy set that is wrapped up expertly with sing along Mission Impossible theme, "Take a Look Around" and some explosive, goodnight pyrotechnics.
Forlorn, issue-embracing metallers, Korn perform a stunning set and show the calibre of their showmanship, justifying their position as one of the biggest contemporary metal bands. Frontman Jonathan Davies captivates the crowd with his uniquely percussive lyrical style which he executes expertly live with singing, screaming, beatboxing and his very own vocal miscellany. The set features a lot of dark, instrumental interludes which maintains momentum in between the numbers such as "Falling Away From Me", "Coming Undone" and their biggest hit "Freak on a Leash" which drives the crowd wild with its metallic, hip hop groove. Korn lay out a smorgasbord of party tricks including a superfast drum solo, live bagpipe interlude, a Korned up rendition of "We Will Rock You" and Jonathan Davies eccentric 'lost in the woods' dance moves. Korn play heavy as fuck funk expertly and wrap it up with textbook track, "Blind" followed by Davies' close to tears performance of "Goodbye Cruel World" like a dark lullaby.
Epic grandeur. Suited up Faith No More start out their first live appearance in eleven years with a dreamy, desert island lullaby which sees famously charismatic frontman, Mike Patton, looking slick, limping onto the red curtained stage sporting a cane, matching red suit, sunglasses and awkward body language to sing softly the tune which turns out to be "Reunited" by Peaches & Herb. An appropriate choice after the bands split so long ago! Joined by keys player Roddy for the sweet chorus, Patton begins to break character with movement and toothy, irrepressible grins to show his true colours and that he was kidding around with the old man act. With this revelation comes the hard rock classic, "The Real Thing" which sees Faith No More displaying the same lively ferocity of ten years ago. Drummer, Puffy plays open-handed and technically with masses of dynamics that really emphasise the heavy, power choruses and great sensitivity during the quieter moments and numerous ballads. Bassist, Bill Gould's recognisably funky spoing compliments well Jon Hudson's busy and beefy guitaring that covers both the rhythm and lead parts. With the addition of Roddy Bottum's chorus enhancing keys that make everything sound that little bit more important, Faith No More are sounding fantastically tight and entertaining the crowds, familiar and not, left right and centre.
For the few members of the audience who can find no merit in the standout songs being performed early in the set such as "Land of Sunshine" and "Caffeine" there is always the Mike Patton Show to keep their attention. The playful music box of a frontman sheds his crimson jacket to free himself up for a further energy investment in the form of a roaring, cackling, screeching, applying white noise distortion to his vocals, screaming casually through a megaphone, clucking out a quick farmyard acapella of Lady Ga Ga's "Poker Face" and mime shooting band and audience members with his cane that he picks up after announcing "I'm gonna need my cane, my jokes are getting stale!" and starting to limp again.
Nine songs into the set, Faith No More take a little break from the musical intensity in the form of a laid back cover of the Commodores' "Easy" (like a Sunday morning), the duration of which, Patton spends playing hide and seek by wrapping himself up in the stage left curtains, occasionally leaving just his head poking out. Then, back to business with the heavy groove of track "Last Cup of Sorrow". Only Mike Patton could get away with successfully instigating more crowd involvement using such colourful language as "come on you fucking deadbeats!" as darkness falls and the band push their set to heavier heights with the light hearted "Introduce Yourself" and sinister "The Gentle Art of Making Enemies", followed by moderately gentle ballad "Take This Bottle" and some more heavy numbers up until that track that everyone knows is dropped. Much like Faith No More's set, it is Epic and received by a surge of cheering and singing along. Finale track "Mark Bowen" sees the band giving every last drop of sweat into their performance as Patton lies back on the monitor speaker at the front of the stage, scratching his back on it in a feline manner before jumping up and going on a wild rampage for the last 20 seconds of Faith No More.
The empty stage is bathed in blue light for a very long 120 seconds before the band return onstage for another two songs, starting up with a little "We used to be good, ask your parents!" joking and a tongue in cheek, cover of "Chariots of Fire" to which Patton beatboxes until track "Stripsearch" emerges from the madness. Ending on typically funk orientated classic "We Care a Lot" Patton introduces a hilarious work out of star jumps and sit-ups (mic in mouth) in between his lines before closing Download's Friday evening with a gargantuan round of applause.
Faith No More's set was pure excellence. Good enough to excuse them for inspiring and unleashing nu metal on the unsuspecting masses. All is forgiven and tonight's performance could easily rank high amongst the greatest rock performances ever.
Saturday 13th
There is nothing like a little alt rock on a sunny early afternoon to cure a festival hangover and Fightstar deliver some appropriately lighter listening for Download festival, gracing the second stage with their very British charm. Drummer, Omar Obidi rocks hard and sings along (without a mic) but starts out sloppy on the skins, noticeably pulling and pushing the tempo more than a little. The sound is very crisp but the band are lacking in movement with Charlie and Omar pulling all the weight visually. Shy lead guitarist, Alex Westaway appears awkward and contributes vocally with no conviction. They perform the single "Paint Your Target" better, with soaringly throaty vocals and a punchy drum sound courtesy of numerous flams and cheeky cymbal catches as well as elegant octave chords. A surprisingly burly circle pit forms as Fightstar delve into deeper, heavier territory with the tune "War Machine" and then the finale "Deathcar" for which their producer joins them onstage to allow Charlie to shed his guitar for the brutally heavy song which sees kids literally sprinting to the epicentre of the amassing hurricane of flailing limbs. A mildly disappointing show from a band who are capable of bigger things.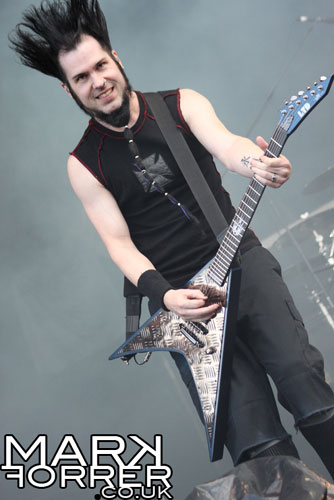 (Pic: Static X)
Static X bring their hard and unique brand of industrial "death disco" to Download's second stage. It is gritty and fast with staccato, scream-along choruses and sounds great from down on the ground. The boys and their ludicrous hairstyles prove that they are there to party by bringing on their shots girl in between songs to provide them with 40% strength rehydration. Dance-like drum beats from Nick Oshiro and his huge arm span drive the mechanic, massively percussive music which has occasional flashes of southern rock & roll influences with reams of Nine Inch Nails industrial. A fairly low key performance but entertaining nonetheless, with highlights including the singles "Cold" and "Push It".
Black clad, metallicised DnB fiends, Pendulum rise to the occasion that is Download with a fusion of drum and bass and fast metal, performed with a live drums, guitar and bass. The MCing, Courtesy of Ben Mount is lively and in your face, leading the crowd to dance and even circle pit as a tribute to how well executed Pendulum's ambitious set is. Big tunes like "Through the Loop", "Propane Nightmares", "Slam", "Tarantula" and an amazing mash-up style performance of "Voodoo People" that oscillates between rock and drum and bass styles throughout, place Pendulum's 150th live performance in a firm position as one of Download's most standout. A Mexican Soundwave, drum and bassed up rendition of Metallica's "Master of Puppets" and a cool as ice onstage demeanour captivate the crowd and set in Granite that Pendulum are massively versatile showmen capable of catering for any crowd, albeit it in a quite far removed fashion to what they represent at the core.
Marilyn Manson is the absolute low point of Download Festival but has clearly made an interesting and respectable artistic decision to be so. His 80s throwback of a set features a lot eerie dischord and slow, grating riffs with fittingly throaty slurs. Being such an alternative icon, Manson is thinking big with his set configuration. He casts a dark and sombre tone over the festival expertly, with a number of awkward silences, make-up reapplications and costume alterations between songs and little in the way of visual stimulation other than horrific grimaces, floor-humping and the strut of a wounded animal. The atmosphere is not dissimilar to that of a funeral reception as Manson looks less and less alive as the set progresses and the track "Four Rusted Horses" slow starts with the lyrics "everyone will come to my funeral". Apt. The set drags and drags and banners sporting dollar symbols drop for the track "Armageddon" and eventually Manson skulks offstage leaving behind him a genuinely scary atmosphere. The applause is scarce and the air is tense until Manson cheekily pops back onto the stage to provide the audience with some much needed closure in the form of the huge, foot stomping classic "The Beautiful People" which immediately rights his wrongs. A tip of the hat to Mr Manson and his torturous genius.
Iconic, tribal 'S' symbols are strewn around the main stage and an influx of jumpsuit and mask wearing fans push and shove their way closer to the front to catch a glimpse of Des Moines, heavy metal masqueraders, Slipknot, who are tonight headlining their biggest show ever. Red tinted static fills the on stage screens and a disturbing gamelan sample loops until introduction track "(515)" plays and the stage erupts into a mushroom cloud of think smoke, in which the band begin the track, "(sic)" which is scorchingly fast and full of Slipknot's renowned aggressive energy. Joey's kit looks regal with all gold metalwork, black cymbals and plastered in Slipknot logos. Strangely, at least half the band appear to be wearing skinny jeans and vocalist, Corey Taylor is sporting a rather confusing configuration of Converse, tight jeans, smart shirt and a blazer (and of course his latest, scarily expressionless mask). Regardless of their trim apparel, they are not stopped from destroying the stage and each other with bats, kegs and barrel rolls as fans have come to expect. Older tracks, "Eyeless" and "Wait and Bleed" are blasted out early and then a speedy, verging on hardcore track "Get This". "Before I Forget" is absolutely blitzkrieged with seemingly no end of firey explosions to intensify an already impressive song. "The Blister Exists" is also an entertaining track which sees the Clown and Dicknose playing marching drums with Joey until Dicknose's strap breaks, which he looks genuinely upset about as his head drops into sulking child posture.
The tempo is slowed briefly for "Dead Memories" which is presumably the closest to writing a ballad that Slipknot will ever come. It is thoughtful and introspective with a soaring, heartfelt chorus. After this brief stopover, the band stir up chaos once again with Iowa single "Left Behind". They take an intended breather of three minutes or so for equipment alterations then play sinister and low key track "Vermillion". The stage show is very theatrical with the usual pneumatically mounted drums and excess band members always free to work the crowd at any given moment. For example, DJ Sid climbs onto one of the security guards during an interlude for a horseback tour of the crowd control barriers as he zigzags around slapping hands with fans. Corey strikes a chord with the majority of the audience members and adds a little more meaning to an already great song after proclaiming that on the 10th anniversary of Slipknot's first album and after being painted by the media as something they're not, that Slipknot are the voice of everyone who has ever been misunderstood. "Everything Ends" is dedicated to the people that will never understand and the crowd participation for this song in particular is like nothing else.
After flaming, alternative anthem "People = Shit", The band faux walk off stage only to return for three last songs including "Spit It Out" during which Corey commandeers the eighty thousand strong crowd to be seated for the interlude and jump up when the song kicks in. A spectacular sight, during which Joey's entire drum kit lifting up, learning forward ninety degrees and spinning three sixty goes under the radar a little as the audience are scrambling to stand! The band say their goodnights amidst a screechy crescendo and line up 80s style for a quick photo opportunity as the track "'Til We're Dead" plays them out.
Sunday 14th
The sun is absolutely blazing when radio friendly, midlife rockers, Journey jump onstage for a gorgeous set of old school, power party ballads with a sweet sound including one of the best rock songs ever written, " Don't Stop Believing" which is delivered perfectly and reaches out far and wide to the audience. Journey's petite, replacement singer Steve Augeri sounds uncannily like original vocalist Steve Perry and has a modest stage presence to match the band's quiet confidence and conviction. Journey prove well that they can still rock and that they are no old timers with several contemporary guitar solos that wouldn't feel out of place in a Dragonforce set. They are a real pleasure to watch and a perfect soundtrack to a hot summer's day.
Roll up! Roll up! The ego show, Dream Theatre is in town with more drums in their kit and more strings on their guitars than you can count. The musicianship is startling and excellently executed as the original virtuoso power metallers play through just 5 songs, all epic, in their set. They start slow with some moderately laid back tunes like "Pull Me Under" and concentrate on their instruments rather than onstage antics, which is still hugely entertaining to watch as bassist, John Myung double taps his six-stringed bass with the delicate and fast touch of a frantic teleprompt typist. The set peaks with the track "Metropolis" which consists of a savage 10 minutes of massive licks, chops and soaring power vocals sounding sometimes like a ballad and sometimes like a busy Sonic the Hedgehog soundtrack. Keys player, Jordan Rudess produces a strange portable keyboard that looks a lot like a Klingon weapon of sorts for a solo battle with John Petrucci that sees the pair face to face, inches apart, shredding at super speeds. A nice set overall with some great instrumental action from each band member.
Bluesy, Southern rockers, Clutch offer no cheap tricks during their 40 minute set. Their gear may be modest with small combo amps, minimal drum kit and plain jeans and tee shirt attire, but this goes to represent the stylish simplicity that they are lucky enough to possess. Their dirty groove gets heads bouncing amongst the unjustly sparse crowd as the fire in the eyes of singer, Neil Fallon seems to hypnotise everyone into a funky trance. Lots of flange and waa effects wash around the air and it's hard not to feel that, as a great a band as they are, Clutch would seem a lot more at home in a dingy, Texan gin joint, although having said that, their sound does paint that picture and take you there even on Download's relatively large second stage.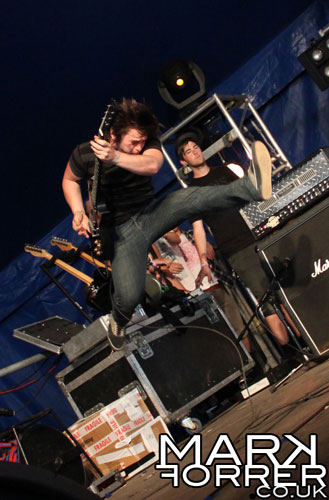 (Pic Attack Attack)

Attracting Download's younger, Babycakes clientele, unassuming Welshmen, Attack! Attack! chug out an unexpectedly great set from Red Bull's patronisingly named "Bedroom Jam" tent. The band's alt. rock sound translates well live with lots of stoppy/starty, half time/double time and big drops that are performed with pinpoint accuracy. Lead 6-stringer, Will has a real rock star persona that drives the live show's energy and, on demand, sees the kids circle pitting around the supporting pillars and rocking almost as hard as him. The songs are nice and simple with big catchy hooks and occasionally both guitarist playing the same powerchords to give a hard rock wall of noise. Drummer Mike hits big and energetically with a huge grin that fuels the positive sentiments that the other band members are providing. Attack! Attack! offer truckloads of promise with simple, catchy tunes, largely about relationships, professionally communicated through high kicks, hard-rocking and an impressive touring schedule.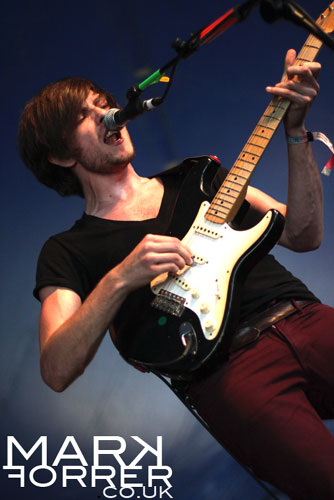 (Pic: Twin Atlantic)


Melodic post-hardcore Scots, Twin Atlantic tightly lay down some beautiful, driven riffage layered up with angelic and piercing guitar melodies whilst playful and sticklike frontman, Sam McTrusty (seriously) teases the audience with bunny hops, hip shaking and fleetingly devilish glances. Despite the tomfoolery, Sam's vocal parts are sensitive, wise beyond his years and contain the kind of lyrical yearning that make for intense and intimate listening. Euphoric, emotionally charged build ups are rife and Guitarist, Barry McKenna swaps his guitar for a cello for a penultimate mellow ballad "A Guidance From Colour". The closing track "Audience and Audio" sees guitars flying through the air as the band try to destroy as much of their equipment as possible in the final thirty seconds of stage time. Refreshingly rock and roll.

(Pic: Flood Of Red)

Headlining Sunday's Red Bull tent, Circa Survive tribute act, Flood of Red create an elegant ambience, bathed in red and purple stage lighting to fit their dense experimental rock with sensory, soprano vocals. The band are very rhythm driven with an impressive drummer/bassist rapport that powerfully leads the exploratory guitars to great heights and visually exciting with each member pulling their weight with delicate prowess and quick, emotive swaying motions. There is a good deal of crowd interaction from singer Jordan who dedicates a track to everyone with sunburn from a good three days' roasting.
Mic spinning and stick flipping makes for an entertaining live show but the keyboard player takes it too far with his own percussion section with which he mimics the drumming. Presumably this is intended to thicken up the sound but in reality it just makes it sound a little sloppy. The songs intensify through the duration of the set and the band are really working hard during their last number which ends with a military style drum beat and them all beating various drum included a bass drum which is passed into the crowd and played by guitarist, Graham until the sound dies out and is replaced by massive applause.
Coming alive, silhouetted against a wall of Marshall amplification, with the opener "Rocket", what separates Def Leppard from most all other Download bands is their faithful reliance on old fashioned allure and strength of material on stage as opposed to distracting pyrotechnics, banter and acrobatics. After all, are they not a band? Their sustained ring out powerchords, melodic leads and cataclysmic foot stomping bass drum sound all performed at handclap tempo make for inviting listening that gets the young and old amongst the audience nodding heads respectfully. Sexy visuals are cast up onto the forty foot on stage screen, emphasising the romantic element within the songs performed such as "Make Love Like a Man", "Too Late For Love" and "Love Bites". The visuals are later replaced with a warping Union Jack, blowing in the wind and silently shouting out to the UK rock scene, new and old.
The stage lights intensify as the evening darkens and the Lepp boys kick out the epitome of rock tune "Pour Some Sugar On Me" which instigates a seventy thousand strong sing along. With the crowd fired up, frontman Joe Elliot pays his respect to Lepp's one-armed drummer Rick Allen for the strength of character and commitment displayed since his car accident back in 1986 – tonight's show marking 23 years since Allen's first major show since losing his limb, which happened to be at none other than Donington. Allen receives a massive, double-winded ovation from the audience which lasts over five minutes and leaves him in tears of elation. A genuinely touching Download moment which represents all the unrelenting effort and heart that Def Leppard have poured into their music.
Bringing the Festival to a close positively and encore-free, the Lepp play "Let's Get Rocked" with true conviction, promise there will be a next time and bid the seventy thousand a warm good night with a line-up, bow and wave. Vera Lynn's "We'll Meet Again" plays out loud and lulls the punters into day dreams of what other delights Download have in store for them next time around.
Word: Benicio Herbert
Photos: Mark Forrer - www.markforrer.co.uk

DOWNLOAD 2009 GALLERY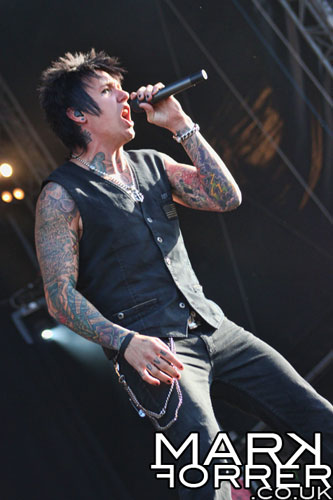 Papa Roach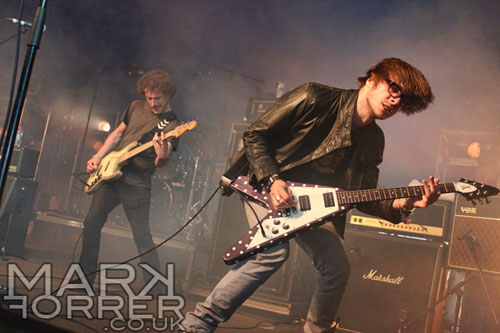 People In Planes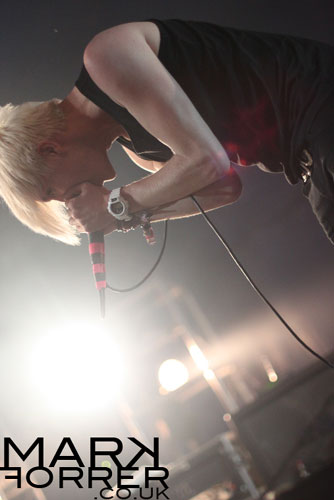 The Blackout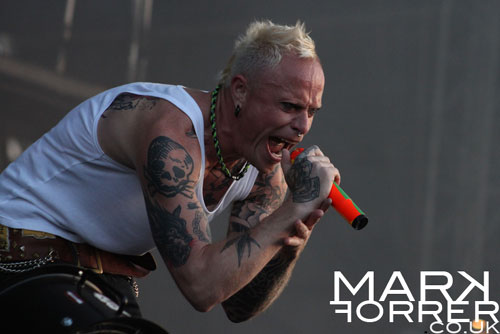 The Prodigy

YMA6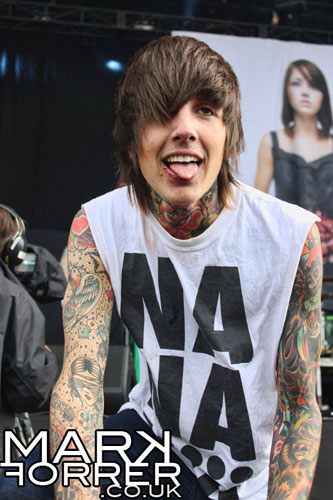 Bring Me The Horizon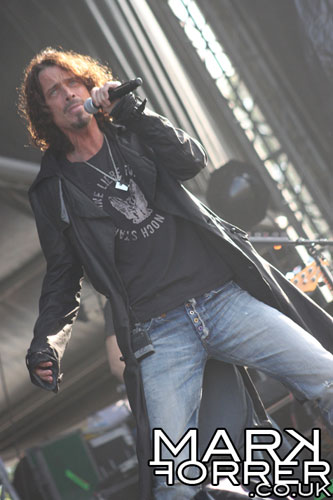 Chris Cornell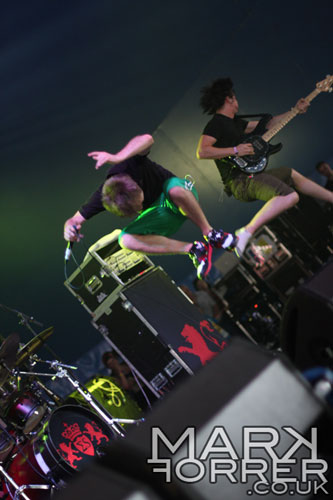 Enter Shikari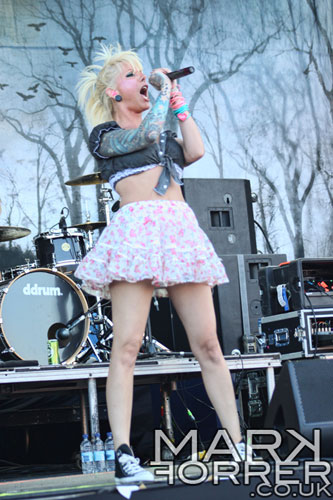 In This Moment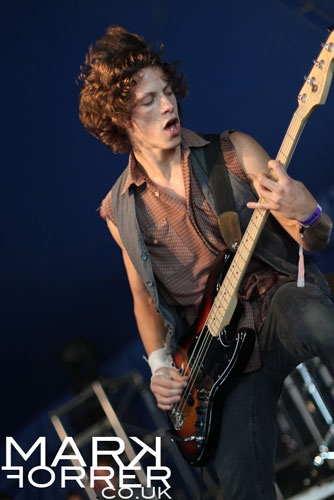 Outcry Collective
*****************
Click here to leave your comments on the Message Board
(NB: The message board opens in a new window so please disable your pop-up blocker to view)
*****************