Download Festival - Donnington Park - 13-15th June
Arriving at Donnington Racetrack after a series of gruelling over night coach journeys from Newquay to London, London to Derby then Derby to Donnington, I take a pee on a Simple Plan poster and then all is well. I am calm and collected on the surface but excited inside for the Download Festival weekend awaits. With one evening to burn before the professionalism begins, I instantly set up camp, truss up in neon tights and outer underwear (for irony you understand, for everyone else is in black) and hit the fun house with a belly full of Jack Daniel's. The shape of things to come.
Day 1
Rolo Tamassi, a Sheffield five-piece whom I know only by reputation carry the heavy burden of being one of the opening bands for Download Festival. There are standards to be set and insatiable audiences to be impressed. The relatively underground band line check on stage and unsurprisingly appear a little shy. The set starts with some eerily buzzing ambience. "Nice", I thought. Portishead spring to mind and I am put at ease, relaxed, until the bubble bursts and the band descend into absolute insanity. It is well controlled insanity that is executed with mathematical precision. Raucous, grating screams over 16bit flitty electro and a healthy blast beat backbone. Frontwoman, Eva Spence glides and writhes, switching between hardcore roars, heavily enhanced robotic vocals and a beautifully clean singing voice during the more mellow parts of the colossal song structures, like towering architecture. Synth player, James Spence looks like how the music sounds. His bipolar jellyfish pulsating and frenzied limb spasms, describe well the sound of Rolo Tomassi. Think one part Portishead, three parts The Locust and a pinch of bona fide originality and you're thinking Rolo Tomassi - Slightly gimmicky, but awesome nonetheless with genuine musical ability hiding amongst the white noise. My only concern is the question of staying power – Would I enjoy seeing them a second time? They hold their ground and provide a positive start the festival.
Detroit thrash metallers, The Black Dahlia Murder play fast and hard with a heart of pure black. Ruthless and technical minor key, power riffage and evil screeches make for an awesomely co-ordinated sound and image. Shrieker, Trevor Strnad (least metal name ever?) stalks the stage with both arms in the air in a majestic and triumphant pose worthy of a victorious Roman general. This iconic picture is ruined somewhat by Trevor's exposed comedy belly, peeking from under his shirt. Hardcore no more! What is most interesting about The Black Dahlia Murder is their density of sound. Their songs are so unrelenting and free from breakdowns and other such distractions, which just leaves layer upon layer of pure shredding velocity with just seconds to breathe in between each track. The term drowned in sound springs to mind, but only in a good way.
Camp, shred-laden spazzcore three-piece, The Fall of Troy are exhausting to watch. Frontman, Thomas Erak works back-breakingly hard at chugging out virtuoso renditions of some of the bands biggest hits including, "Whacko Jacko Steals the Elephant Man's Bones" and "FCPREMIX". A few classic metal riffs including Raining Blood and Heart Shaped Box are tastefully slipped into the songs to create a sort of Fall of Troy mash up. Flashes of brilliance are rife but also short lived. Their experimental nature is interesting but takes patience to appreciate which also makes it one of their shortfalls when trying to win over unfamiliar crowds such as the Download punters. An exciting and energetic set that is a little poorly received.
After a good 5 years without so much as a half-hearted single to keep the fans occupied, American indie superband, Rival Schools make a welcome return to form and are awash with pretty, throaty vocal melodies and snaking guitar licks. Their charming and honest delivery, full of smiles, is a perfect soundtrack to the laid back summer sunset and soothes the soul whilst providing a nice contrast to the regular Download acts. Their most well known and closing track, "Used for Glue" is one of the weekend's highlights.
Angst laden and politically fuelled punk rockers, Rise Against treat us to a passionate, heartfelt set full of rhetoric anthems of the downtrodden – mostly singles. Sounding as though he needs to cut down on the cigarettes and bourbon, singer Tim McIlrath's husky voice is genuinely something special and resonates meaning to anyone who'll listen. Rise Against's vigour and persuasive demeanour make every second of their precious 45 minutes onstage count.
Famously abrasive and one of the most exciting live bands at Download – The Dillinger Escape Plan whet the appetites of their fans with a co-ordinated dimming of the crimson stage lights and industrial grinding sound sample. After a good three minutes of tension building the band powerwalk into the limelight and explode into sinister, mathematical action. With swift and abrupt time signatures and jazzy sprinklings, The Dillinger Escape Plan are also visually astounding with a seizure inducing light show, all three guitarists throwing themselves around and falling to their knees with a complete disregard for personal safety and maniacal frontman, Greg Puciato climbing the lighting rig and throwing debris at the crowd in between visceral screams and conservative, sensitive singing moments. An absolutely sterling performance of calculated frenzy.
Moving like badly articulated action figures, the "Old Age Circus"* legends, Kiss, provide an irrelevant lesson in pyrotechnics and chanting about how awesome rock and roll is. Awesome to the max. There is showmanship aplenty and the arena is massively crowded with a significant proportion of fans wearing Kiss face make-up. Fairly surreal for the more intoxicated among us. Kiss's stage antics include, guitar smashing, face bloodying, random explosions, zip lines, a lot of songs that sound a lot the same and a huge "bass solo" a la Gene Simmonds that is basically the slapping of open stings with a hell of a lot of reverb and some alluring tongue orientated sex faces. Kiss are a superficial culmination of massive egos but sure know how to put a show on. They are interesting enough, but not at all because of their music.
*Wise words from the Dillinger Escape Plan who, whilst competing with Kiss still manage to pack out the smaller Gibson stage.
Day 2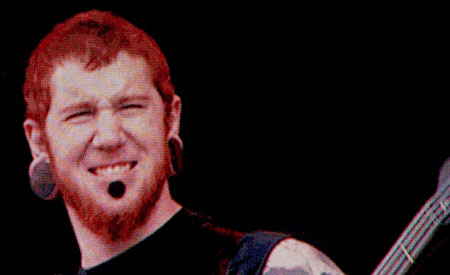 (Pic: Job For A Cowboy)
With constant shrieks, growls, squeals and a variety of other farmyard sounds, black clad, Job For a Cowboy cast some seriously heavy metal. Lots of long hair spinning, back pain headbanging and fiery, two step blast beats that drop in and out in half time and double time underneath the relentless vacuum cleaner vocals. The heaviest band of the entire weekend for sure and not a good choice for this hungover journalist at midday.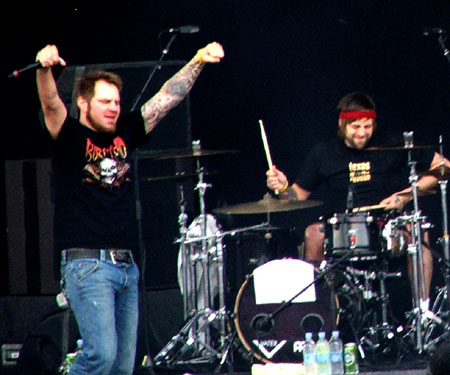 (Pic: 36 Crazyfists)
Bearded Alaskan metal veterans, 36 Crazyfists kick out some tremendous heavy metal with a little added sensitivity owed to Brock Lindow's tasteful screaming singing fusion with great range from shrill highs to rumbling lows. 36 Crazyfists' material is noticeably slower than that which is in vogue but more power to them for it works. Virtuoso drummer, Thomas Noonan whirls his drumsticks and makes his job look easy on the big hit, "The Heart and the Shape" whilst the crowd show appreciation with an early afternoon circle pit.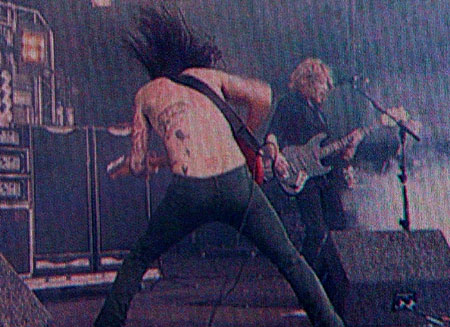 (Pic: Biffy Clyro)

Apparently under the influence of one thing or another, perhaps the electricity in the air of Download - Biffy Clyro play a slightly sloppy but highly charged selection of songs, largely leaning towards the heavier side of their most recent album. With thrashing hair and some cheeky speaker scaling, the gentleman Scots treat us to a fantastic new single to be, "Mountains" which is quirky and full of promise.
Drum n bass superstars, Pendulum really pull out all the stops for their Download appearance and play a thrilling, guitar powered set dashed with the usual sexy, dirty bass lines. Looking and sounding like a metal band, it is clear that Pendulum have really made an effort for this show and truly deserve the amazing crowd response that they earn. With coloured bars of light impressively dissecting the stage, the live band rock to a high calibre and miraculously convert hundreds of would be metal fans into raving dance heads, if only for forty minutes with mixes of "Voodoo People" and the definitive "Slam". A tip of the hat to an amazing act whose songwriting abilities and versatility have become more apparent than ever.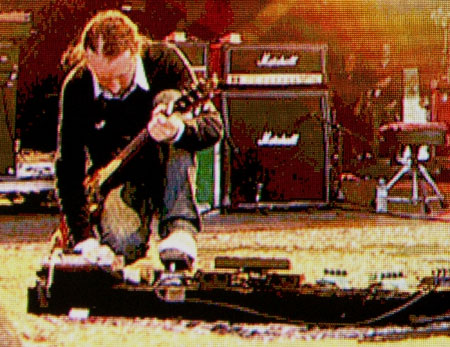 (Pic: Incubus)
Incubus' set is innovative and very laid back – going against the grain of what is expected of Download performers - and it works well. Beginning with "Are You In?" the band play gracefully and meaningfully and the track "Stellar" is an absolute gem. Brandon Boyd beats on his signature tribal drum throughout the set, making the ladies swoon, especially during his sincere performance of "Crow", before which he ties back his hair and removes his loose vest. The band deliberately avoid any of their heavier tracks and set a nice twilight mood of relaxation.
Pensioner punkers, The Offspring play a surprisingly old school set that consists mostly of songs from the early albums "Smash" and "Americana", arguably their two best. Despite getting on a bit, they are still willing and able to rock out to a fair degree and throw in a couple of new tracks including the single "Hammerhead" which is well received by audiences new and old. Still punk and still exciting, Dexter and Noodles do start to look exhausted as the end of the set approaches, which is a shame but God bless 'em for trying.
Day 3
Excited at the prospect of drum and bass death metal, I jumped on the chance to see Landan based Ted Maul and potentially something beautiful. I was unfortunately disappointed by what was essentially, stereotypical death metal with a little keyboard and the occasional signature dnb drum beat. Not a bad live act though, with a lot of dizzying movement, bezerkereque menacing voice samples and crowd participation.
Armed with dark riffage of biblical proportions and labyrinthine fret work, Between the Buried and Me are challenging and highly progressive with each track lasting around ten minutes. Tommy Rogers assumes a powerstance and unleashes a satisfying roar like a hawk, circling its prey and diving for the kill, over and over. The band are technical and accurate and perform the occasional sentimental interlude complete with mellow Hispanic guitar soloing, but only to create a false sense of security before descending back into the fantastically hard hitting, intelligent metal that they perform with such great form.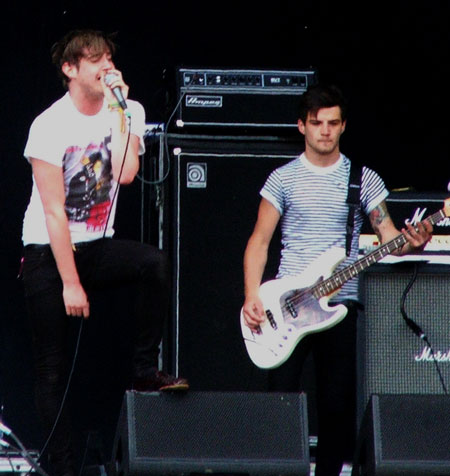 (Pic: Kids In Glass Houses)



Powerpop newcomers, Kids in Glass Houses sport some glorious, feel good guitar melodies, "do do do" sing along choruses and rather dapper, skinny fit attire. They are bouncy and eloquent and play a good mixture of classic material as well as more recent offerings like the cutesy new single, "Saturday". It is a shame to see them persecuted in the form of a light bottling, which is most likely owed to them being part of a predominantly metal bill and so darn pretty. The only criticism I can offer is singer Aled Philips' singing, that while being pitch perfect, seems slouchy and uninvolved. A bit of a shame but then again, I hear that 14 year old girls love that sort of thing.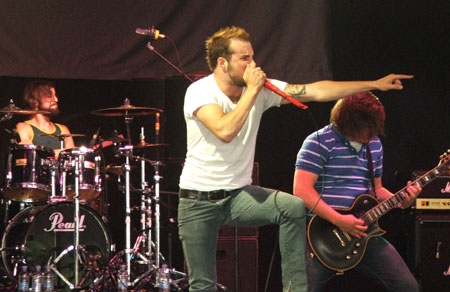 (Pic: August Burns Red)
After a quick group hug and prayer, Christian metal maestros, August Burns Red stampede into a furious and technical set. Like a well-oiled machine, the band function as an entity, performing some incredible interweaving cross-rhythms, in which every band member pulls their weight. The throat searing lyrics are difficult to decipher but are surprisingly positive and life-affirming and it becomes clear that August Burns Red are a band that should not be judged on face value. They are fluent and articulate both musically and lyrically - verging on operatic. They line up breakdown after breakdown, each one unique, melodic and exciting and deliver their songs with utmost zeal until the last moment of the apocalyptic closing track "Backburner" which actually leaves me breathless and considering becoming a subscriber to the Christian faith. The things you can do with God on your side! August Burns Red are the best band of the festival.
Jimmy Eat World play a textbook set that'll make you laugh, cry and rock. The American emo heros are sensitive, coherent and in fact do not sacrifice goats as previously threatened in an attempt to better fit in. It is interesting that this show is so awesome solely due to the merit of Jimmy'skillful song craftsmanship, without relying on stage antics, pyrotechnics or other such devices. Pure and simple, captivating genius.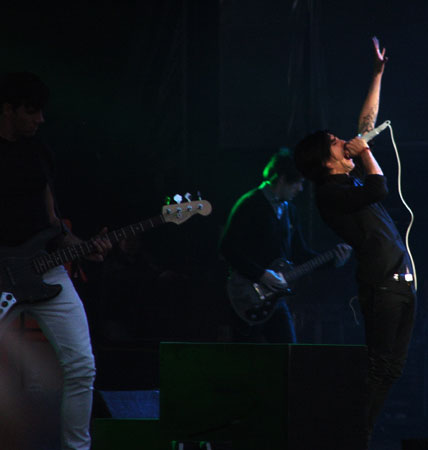 (Pic: Lostprophets)
With their front man and keyboard player trussed up all in black and white, respectively and apparently representing good and evil, alt rockers, Lostprophets provide a stark image, prove that they still kill the old way and scream their Welsh way into an anthem packed set. Well aware that there is many a Lostprophets hater amongst the crowd, Ian Watkins manages (and capitalises from!**) the situation amicably and wins over the crowd with a little friendly banter and an admirably exerting live show with an epileptastic red and purple based light show. The band start heavy but later slip in some more tranquil tunes amongst "Rooftops" – with a literally sparkling, firework filled finale – and "Last Summer" with its laid back sensibilities. The set is brought home with the 'Prophets foremost big hit, "Shinobi Vs Dragon Ninja" to which the crowd go wild and are inspired to pillage and burn the arena and campsites as is customary.
**The Mysterious "Fuck Lostprophets" tee shirts on sale are in fact genuine Lostprophets merch. They must've made a fortune covering both ends of the spectrum. Pure genius.
All in all, Download festival is a fair representation of big players, raw talent and new-comers to the industry. I personally found it a little closed minded genre-wise but that is to be expected considering that it is a metal festival, not an eclectic, open mind festival so I can happily live with it. Feeling satisfied and exhausted, I return to my lair to rest my liver and wait for Leeds Festival to come around so I can continue my journey of neon clad, beer fuelled insanity, maybe with a little journalism tossed in for good measure.
Words / Photos: Ben Herbert

*****************
Click here to leave your comments on the Message Board
(NB: The message board opens in a new window so please disable your pop-up blocker to view)
*****************