El Presidente
El Presidente are a pop band that shouldn't necessarily work and one that was undoubtedly formed in a Scottish greasy spoon cafe theorizing over what elements make the perfect pop band. It transpires that Dante's vision of the perfect pop combo is equal parts Prince, Bowie and Marc Bolan with a look that is as old skool pop as Dave Spikey is to old skool comedy.
Dante of El President comes across as a Casanova lothario come to deflower virgins with his seductive pop tunes. The fact that he used to be in Scottish rock band Gun is almost irrelevant as El Presidente will almost certainly eclipse them. The rest of the band are equally as alluring with the bassist providing eyecandy for the girls in a Rachel Stamp kind of way and the girls on synths and drums give the band an indie Abba feel.
It's the music that counts though. "Rocket" with it's glam rock stomp, the soaring soul of "Without You" and the next single "Turn This Thing Around". Check out El Presidente at venue near you
Q: I guess the obvious place to start for some of our older readers is Gun?
A: That was great. 10 years I was in Gun. If anything it was an amazing experience that set me up for where i'm going now. It was unbelievable just been 15 and 16 playing live, doing gigs and then coming to where I am now, what a buzz.

Q: And from the past to the present. MTV tipped you as one of the new bands to look out for, you've done virtually every music TV show going and critically and commercially you seem to be hitting all the spots
A: You don't want to blow your own trumpet, but I think the songs are strong enough. Like tonight for example I was watching the audience, and I hadn't done that at any other time in the past because i'm normally workin to build up an audience. The thing is they don't know you from adam and this is the whole point of this Brand Spanking New thing and you walk on stage and build it and build it and build and by the end of it you've got them in the palm of your hands and it feels like a party. That's the thing about El Presidente is you come and see the band, enjoy the music and have a party. I want people to Embrace that.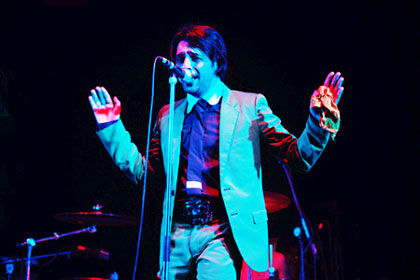 Q: It is pop music, but it's got rock in there, soul in there
A: It's got everything in there, but that's because we've got such a wide range of influences. I listen to Barbara Streissand, I listen to Neil Diamond. I listen to Parliament, Funkadelic, The Jacksons, ACDC, Led Zeppelin, T Rex, Beach Boys, Bee Gees.....everything!!!!!
I think a big part of is it. I can imagine songwriters out there who write great songs and they can't use them because it's not the same genre that they've gone. I'm totally different. I'm the opposite of that, if you write a great song you use it. That's the whole point of it. My brother and I have sat for the past 3 or 4 years working on a catalogue of songs.
When I write a song I think of a melody first. I don't think of a lyric, I don't think of a guitar riff, I don't think of a drum beat. For me the most important thing is melody and that goes back to who i'm influenced by

Q: Where did the name El Presidente come from?
A: When we were in Gun we were on tour and playing festivals in France. We did a service stop and me being vegetarian had the bread, butter, the cheese because there was nothing else you could choose from. I came across President Cheese and President Butter and I looked at the name and thought - El Presidente what a great name for a band. And I thought if I ever leave Gun that's the name for my band.

Q: And the look?
A: I got this suit given to me as a present, but I like suits and I like dressing up. I think that comes from the fact that I was always a massive fan of Prince when I was younger. I remember seeing the Purple Rain tour with Wendy & Lisa and the way he dressed with all the lace. That's the look I want to aspire to.
We didn't intend to have a guy from Trinidad playing bass guitar, a girl from Singapore playing drums, Laura (keyboards) who's Scottish, Johnny the guitarist is Irish. I didn't think it would happen that way, but the way it did and when you see it starting to come together (laura was the last piece of the puzzle) you think this band will work.
They're all just great musicians and it's almost experimental because you think can we all get on together coming from so many different cultures. I look at it as the Royal Tenenbaums of music. It's just this great collectiveness of musicians and totally multi-racial, multi-cultural band that seems to fit.

Q: We've heard the singles "Rocket" and "100mph" - tell us about the other tracks on the album?
A: "Turn This Thing Around" is my favourite song. It's the latest song i've wrote which gives me a good sense of relief in myself. Do you remember when Womack and Womack did "Teardrops"? I wanted to write a song like that and I think the closest I could get to it was when I wrote "Turn This Thing Around". It's nothing like it, it doesn't sound anything like it, but the style of it is just such a happy song.

Q: This is the MTV Spanking Brand New night, so this is your last chance to say to everyone why you are the Best Spanking Brand New Band around?
A: I'm quite a shy guy when it comes to telling people this is the best new band in the world. We've still got a long way to go, but we've got the potential to be the best new band in the world. I think I actually heard someone say in the audience when we were on tonight that they had just seen the best band in the world and that's pretty daunting.
To the readers who haven't heard of El Presidente just come and see a band who want to party as much as you. That's El Presidente!!!
**********


El Presidente tour the UK in Feb 2006
"Turn This Thing Around" is out Feb 6th 2006
For more info
www.el-presidente.co.uk
**********
*****************
Click here to leave your El Presidente comments on the Message Board
(NB: The message board opens in a new window so please disable your pop-up blocker to view)
*****************