El Presidente - Manchester Apollo - 26.4.05
Designer Magazine witnessed El Presidente selling their soul on the MTV Hit's Spanking New Show a couple of weeks ago and tonight marks the bands third visit to the city on the Kasabian tour.
A red flag backdrop marks them out as a communist party trying to offer a real alternative to Blair and Howard, but to all intents and purposes El Presidente are just a pop band. Albeit a pop band which shouldn't necessarily work and one that was undoubtedly formed in a Scottish greasy spoon cafe theorizing over what elements make the perfect pop band. It transpires that Dante's vision of the perfect pop combo is equal parts Prince, Bowie and Marc Bolan with a look that is as old skool pop as Dave Spikey is to old skool comedy.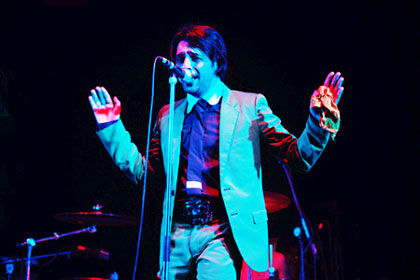 "Without You" and "Turn This Thing Around" are the two stand out soul classics that the Presidente have in their arsenal. The latter bizarrely enough is not a cover of the lost Lee Brennan (ex-911) classic, but a sugary coated pop soul 7" that features Dante swirling around like the infamous Alan Partridge lap dancing scene.
The other side of El Presidente is the glam rock stompers such as new single "100 MPH" and "Rocket". The ghosts of Ziggy Stardust and Marc Bolan loom heavy over proceedings.
With a band as arch as El Presidente they're either gonna soar or spectacularly fail. The fact that by the end of the tonight's set the laddish macho veneer of Kasabian fans was well and truly broken down by the soothing sounds of pop bodes well for the future. After this, any audience will be taken in their stride.
Alex McCann
Photos: Karen McBride www.karenmcbride.com
*****************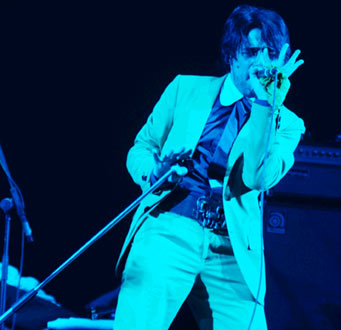 Click here to leave your El Presidente reviews / comments on the Message Board
(NB: The message board opens in a new window so please disable your pop-up blocker to view)
*****************