El Presidente / The Upper Room / Flying Matchstick Men
Manchester Academy 3 - 6.1.05
A few days after Smash Hits magazine announced its closure and signalled the death of pop, tonight took us back to a time where pop music in all it's glorious form ruled the airways and then journo and popstar in waiting Neil Tennant observed archly over the latest vinyl releases to arrive on his desk before spewing out ad infinitum prose on Oscar Wilde and the importance that he's played on pop since Little Richard and David Bowie. Tonight proved that pop in it's non manufactured form is much more edifying than the paltry offerings from indie bands and you only have to look at the difference between this line-up and the one dimensional NME line-up a few nights previous to realize there's more to life than Franz Ferdinand, The Libertines and a few off-cuts from Mike Skinner...or maybe not if you're the Arctic Monkeys
Flying Matchstick Men are the latest in the lineage of great Scottish bands which take in El Presidente and The Hussy's to name just two. Imagine if the Human League were taken to Glasgow, shown around crackdens by Irvine Welsh while having the same politically incorrect humour as the YY28s. As we walk in the venue a gaggle of teenage girls wait at the front bemused by this raggle taggle bunch that look like the cast of Chewing The Fat trespassing on a CBBC set, "It's like having my own fanclub, except you're all here for El Presidente" he announces before launching into the uber-pop anthem "Duvet".
When they announce their new single "All Your Secrets" as a song "about dirty paedo's who sh*g kids till they bleed" the kids stop laughing, the adults snigger quietly like that time when a kid rang up Sarah Greene on live TV and asked Five Star why they were so shit. It's everything pop should be - anarchic, fun and as drug induced as the Magic Roundabout - and with tunes like "If You Want" and "Ghost Stories Plaza" they have the tunes to back it all up. So remember Red Matchstick, Yellow Matchstick, Blue Matchstick, Green Matchstick, oh and the gay one that sh*gs kids....and don't forget take drugs and forget everything that Zammo said.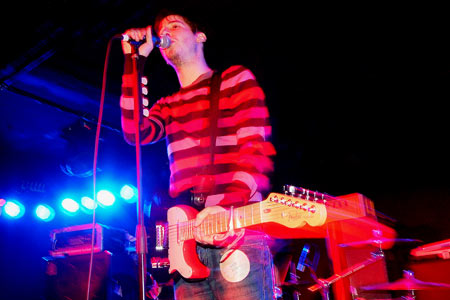 When The Upper Room arrive on stage it seems they've had a fall out with Danny Baker, because the pristine Daz White attire we've become accustomed to over the past few months have been replaced with Top Shop casuals by their stylists. Looking like posh totty who would be as much accustomed to playing Rugger with Prince William as rehearsing in some grotty rehearsal room, the band have built up a steady swelling of fans through previous tours with El Pres and Rooster and as we speak you can't avoid video for "All Over This Town" on the Box.
A quick glance on google reveals The Upper Room listed as various christian groups for salvation, but this Upper Room offers a different kind of salvation, a musical salvation where Morrissey is god and Preston from the Ordinary Boys has been written out of the 2nd edition as a lame impostor. "Kill Kill Kill" directly steal from The Smiths "Girlfriend In A Coma", "Her Alibi" could have easily have been off any of Mozzer's solo albums while "Your Body" adds a touch of New Order style disco to the proceedings Within a few short months The Upper Room could just be band on everyone's lips and provide the missing link between Morrissey, The Editors and the upper aeons of the pop charts.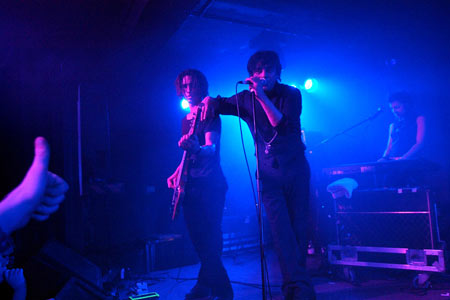 Designer Magazine first saw El Presidente last April on the MTV Spanking Brand New show in Manchester and the greatest tragedy is that while the indie bands such as The Kooks and Editors have gone onto huge success, El Pres have been struggling to gain momentum, but this national tour is proof that the good will out. Back home in their native Scotland the band are on constant rotation on XFM, the tabloids frothing over them like the Arctic Monkeys never happened and they're considered as much a part of Scotland's musical legacy as Orange Juice, The Proclaimers and Franz Ferdinand.
If it wasn't enough that last year they opened up for Kasabian, and to be frank p*ssed on them from a great height, they've decided to raise the bar and compete with their own personal heroes. What's immediately apparent from the moment guitar god Johnny McGlynn walks on stage, ringing out walls and walls of feedback as he tears through riff after riff imitating Jimi Hendrix, is how much the band have improved as an all encompassing rock band. Sure, the album is a fine document of some of the best songs ever written in the past 20 years, but as a live band they outstretch the realms of pop, rock, funk and soul and place it into a fusion which never once seems contrived, forced or in any way other than natural.
Dante, the lead ringer and songwriter, looks like a lothario that should be solving crimes on an unmade Italian version of Cracker, Thomas McNeice on bass, has an exotic silent alluring appeal about him and the ample charms of Laura and Dawn ensure that El Presidente are the sexiest band around.
It's not just the singles that shine tonight. "Honey" with it's cold electronic aura is beefed up to an industrial rock song with haunting strings. It's probably the most anti-pop moment since Marilyn Manson took on a cover of "Tainted Love". "I Didn't Really" sounds like the Rainbow theme tune put through a doowop blender, while "Old Times" is the Polyphonic Spree with no need for a choir as the audience more than make up for.
Saving the best for last they leave the stage with a run through their singles to date including "Without You", which Dante hated and never wanted to record until he saw the reaction the fans gave it, the glam rock stomp of "100mph" and "Rocket" and the brand new single "Turn This Thing Around", which will be covered time and time again in years to come. That they can stand up to cover versions of Prince's "Raspberry Beret" and the set closer, Pulp's "Common People" is testament to the genius of El Presidente.
All El Presidente need to do now is release a live DVD so they can convince the rest of the world what a storming live band they are and then comeback with a second album that yet again stands tall against the competition.
Words: Alex McCann
Photos: Karen McBride www.karenmcbride.com
*****************
Click here to leave your El Presidente comments on the Message Board
(NB: The message board opens in a new window so please disable your pop-up blocker to view)
*****************

THE UPPER ROOM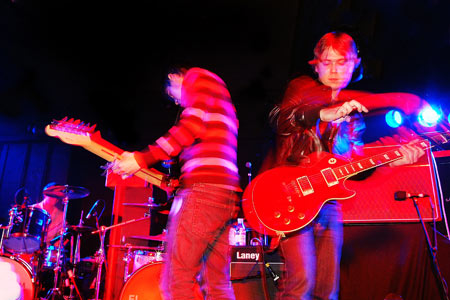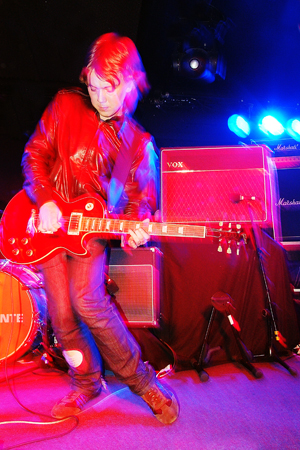 EL PRESIDENTE