Embrace - Manchester MEN Arena - 16.12.05
After one of the most spectacular comebacks of recent years, Embrace may have just pissed it all away with one of the most shockingly average performances the MEN Arena has ever seen.
From the outset it was clear this was going to be a very different show than the one we witnessed at the Apollo twelve months ago. Rather than bound onstage with the confidence of a band at the top of their game, they shuffle on like lost boys and attempt to pull of an atmospheric trippy lightshow that leaves most of the band in total darkness for the first half of the set. It's the sort of thing you can get away with when you're Mew playing an intimate gig at Academy 3, but when you're an unpretentious band of the people playing a cavernous venue it's a heinous mistake which falls flat on it's face.
Still the songs are as strong as ever with "All You Good Good People", "Wonder", "Someday" and Looking As You Are" spanning their four albums to date. Pleasing those older fans who were around 1st time round they play a rare outing of "Fireworks" and strip it down to the basics of piano and vocals, but for many here tonight it's the Chris Martin penned "Gravity" they've been waiting for.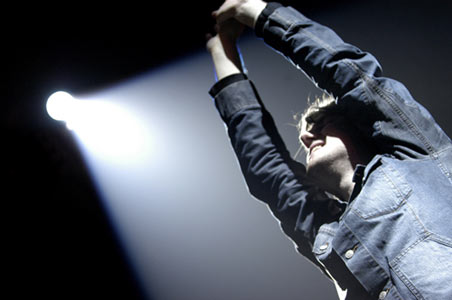 A new song "Wake Up" is aired as the first offering from the bands as yet untitled fifth album that marks a different direction for the band. Moving away from the songwriting partnership of the brothers McNamara it sees the whole band take an equal share in writing for the first time and with a move away from the tradition Embrace ballad this song sits neatly between the sensitivity of the Smiths with the groove of the Stone Roses. It's one of the highlights of tonight's set, but it doesn't reach the heights of the new tracks they played at last years Manchester gig.
Ending on the classic "The Good Will Out" they end on a high, but you sense that for many that's not enough. If they continue to put on shows like this then greatest comeback could soon descend into their greatest fall from grace.
Words: Alex McCann
Photos: Shirlaine Forrest www.shirlainephotos.co.uk
*****************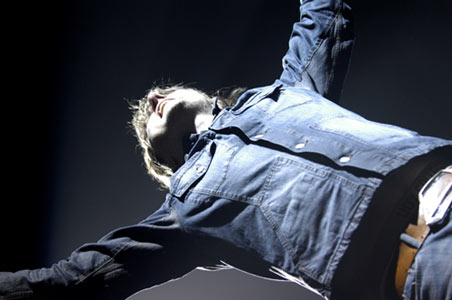 Click here to leave your Embrace comments on the Message Board
(NB: The message board opens in a new window so please disable your pop-up blocker to view)
*****************