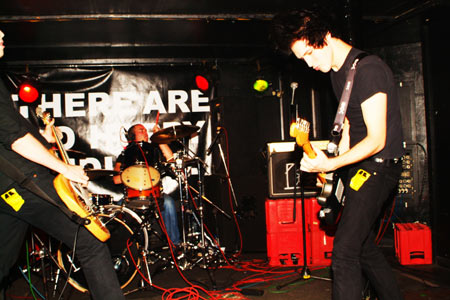 ENGERICA / AZURE GLOW / LINCHPIN / INFLIGHT
Manchester Roadhouse - Oct 30th 2005

Between them they'd played to nearly 3000 people in Manchester with Engerica supporting Sum 41 at a sold out Academy 1 show and Linchpin opening up to over 500 fans at Fightstar earlier in the year, but tonight they both played one of Designer Magazine's intimate gigs at the Manchester Roadhouse to an adoring crowd.
First up though we're Manchester based band Inflight who stepped into the breach a few hours before doors after Dear Superstar made a shock exit due to acute tonsillitis. Formerly known as Stolen, the band are spread across Burnley, Rochdale and Manchester. Opening with "Believe" the set was a mixture of classic Stolen tunes like "Kill Them" and new songs such as "Cross My Heart" and "Finding My Home", the band take the blueprint of Biffy Clyro and Reuben and write soaring rock songs. Inflight might only be just, ahem, taking off but on the basis of this gig they could quite easily cruise into being one of Manchester's best rock bands.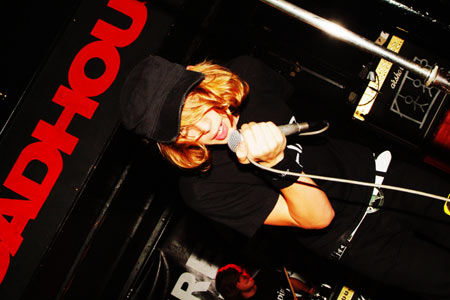 The last time Linchpin played Manchester we declared them "Britain's Best New Rock Band" and everything about tonight's show looks set to prove us right for backing them early on. Whether it's an intimate gig at the Manchester Roadhouse, or the sell out Fightstar gig they played earlier in the year, Linchpin approach each gig with intent and confidence of veterans doing their 10th worldwide stadium tour. Opening with "Jesus Had Long Hair" and segueing straight into "Crazy Girl" the band cross the same barriers as Lostprophets, instant pop hooks but at the same time could play on the same bill as a screamo band and still blow them off stage. "Apple Of My Eye" is one for the girls and an obvious future single in the vein of Simple Plan's "Addicted". In the past few months Linchpin have had their debut EP produced by the Madden Twins (Good Charlotte), Dave Grohl's declared them to be "Awesome" and a few scenester kids with Toni & Guys haircuts have got the hump because Linchpin right better songs than them. The hard work starts now with 12 months of solid gigging ahead, but trust us when we say this time next year you will not be able to escape this band!!!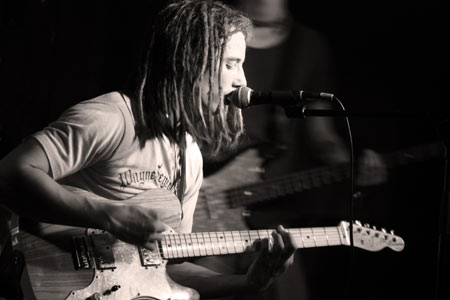 Azure Glow played their first gig at Designer Magazine's 6th Birthday Party in June and they've chosen to come aboard again to launch their debut EP. Ever the perfectionists, Azure Glow are looking at this EP as the first stage of an ever-evolving band, which in a few months time will possibly grow to include synths and an additional guitarist to create that massive wall of sound that they've been aiming for over the years. Formerly under the name Kid Conspiracy they built up a large following playing what became the emo-overload of Manchester's rock fraternity, a change of name and musical direction gave birth to Azure Glow. Often compared to Incubus, guitarist James uses more guitar effects than Muse, Mogwai and the Mars Volta combined but rather than go off in some prog-ambience wankfest there's still a desire to write soaring rock songs which carry JP's vocals over them. At their most commercial the EP tracks "Nothing We Can Do" and "Hours Go Faster" are prime examples of this, but "You'll Hear Me" and the instrumental track played tonight show that this band are going to push the barriers a lot more in the future.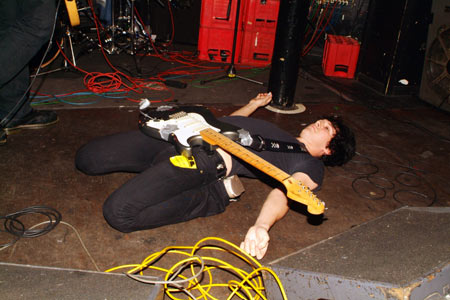 In their own words Engerica are a band for "People Who Hate People", but each gig they playing they're winning fans over so there must be a lot of hateful people out there that are attracted to their ironic nihilism. Sneering his way through the set Dave Gardner comes across as a Frankenstein's monster of Rotten and Vicious with the visceral scream of Cobain. Shouting of arsehole's, god dam suicide's and their demise they rampage through a set of songs that make Nirvana's back catalogue sound like S Club Juniors while spitting out lyrics that could be Jack Dee going across Cobain's suicide note with a red biro. Everything about Engerica is drenched in black humour and new single "Roadkill" is the epitome of this. Once in a while you find a band that don't fit in with the party line and they break through by doing their own thing - Engerica are going to take a while to break through because they don't fit into the fashionista school of rock, but each and every fan they pick up along the way will become a fan for life.
A great package of four great bands doing their own thing and f**king the fashionista's. If these bands are the future of rock, then we're in safe hands!!!
Words: Alex McCann
Photos: Karen McBride - www.karenmcbride.com

*****************
Click here to leave your comments on the Message Board
(NB: The message board opens in a new window so please disable your pop-up blocker to view)
*****************

** CLICK HERE FOR A FULL PHOTOGALLERY OF ALL FOUR BANDS **