Fear of Music - Manchester Bierkeller - 20.6.05
Every now and then, at the bottom of a series of gig listings will appear the same band. Typical gig goer mentality can presume that lowest ranking = shite band. In reality, this can allow a band to hone their material, practice their stagecraft, and get away with making mistakes till they eliminate them. So next time you see "Fear of Music" on a bill, don't worry about how low down they may be, because it's completely unrepresentative of their talent.
Spiky, loud and vibrant, this Manchester based quartet vibrates with energy and initiative, and in the case of guitarist Mike Ward, also pogo at the same time. So the smallish crowd here tonight are all are treated to a blistering performance by a band that promise much.
Promoting their 6 track EP to be released in July, vocalist Joe Rose is at times a taut, wiry, figure, caressing the mic stand whilst stretching his vocal chords to for that falsetto note. At other times he's kneeling, trying to wring as much out of his guitar as he can
So it's another successfully delivered performance. Just keep an eye out for them on the next bill
Ged Camera
*****************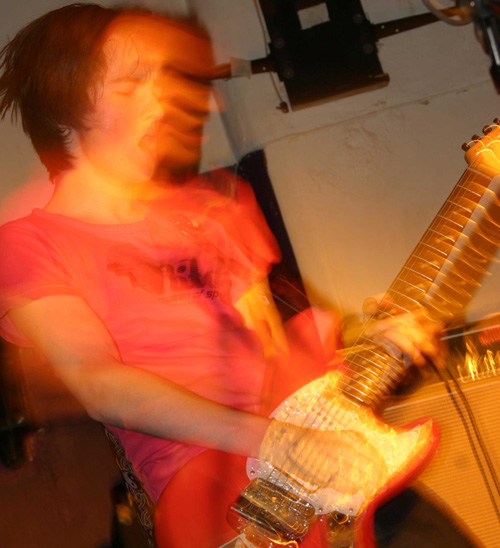 Click here to leave your Fear Of Music comments on the Message Board
(NB: The message board opens in a new window so please disable your pop-up blocker to view)
*****************