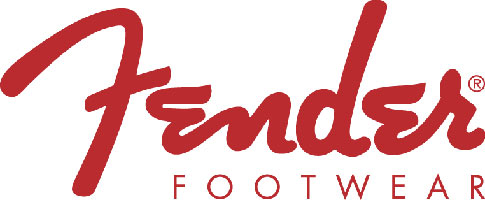 Launched at this year's In The City music conference Fender Footwear bridged the link between fashion and music in a way that seemed like an logical step. With high street stores latching onto classic rock images such as AC/DC, Kiss and The Sex Pistols it's about time that a company such Fender, one with a rich musical history through the ages with the guitarists guitars of choice, launched itself as a brand of footwear in the market place.
Within days of the UK launch Mani, Andy Rourke, Vini Rilley, Bez and Phoenix Nights star Paddy McGuinness had visited the head quarters that's situated near Boddingtons Brewery in Manchester to place their personal signatures on limited edition pairs of the trainers. Since then bands such as Hard-Fi, The Doves, The Magic Numbers, and many of the new breed of guitar bands have been seen wearing the Fender Footwear brand.
With a wide range of shoes to appeal to all tastes the most popular range in the UK is the Vulcanise range, which are not dissimilar to the Converse style pumps, and the European range which are loud gaudy colours you'd expect from one of John Squire's Jackson Pollock pastiche's. Elsewhere the American range which have been on sale for a year and half are more boot based with a rustic western feel.
The final word must be left to one of Fenders many consumers
"These aren't just musicians shows, but shoes for the fashion conscious music love who wants to make a statement and still look great" Gareth Jordan - Canterbury, Kent

***************
For the full range of Fender Footwear and lists of Stockists
www.f-sharp.co.uk
***************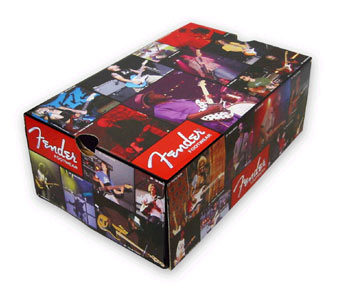 COMPETITION

Fender have given Designer Magazine a pair of their trainers to giveway to one of our readers
To be in with a chance of winning answer the following competition
Q: Name one of the people mentioned above who signed the limited edition Fender Trainers?
Send your answer along with Name, Address, Email, Daytime Telephone number to alexmccann@ntlworld.com - don't forget to include your shoe size and brand you want from www.f-sharp.co.uk

NOTE: By entering this competition you agree to be added to the Designer Magazine Email Mailing List. Your details will not be passed onto any third parties.

Usual competition rules apply (one entry per household etc) and please note this compeition is only open to UK Entrants
The closing date for this competition is midday on Monday Jan 30th 2006