Franz Ferdinand / Editors / The Rakes - MEN Arena Manchester - 26.11.05
Given that members of Franz Ferdinand had appeared in lo-fi indie bands such as The Karelia, The Yummy Fur and Pro-Forma, before signing to indie label Domino Records, that they are now playing a sold out show the MEN Arena in Manchester is a triumph for all concerned. The fact they've done so on the strength of the music alone, rather than a Heat Magazine sponsored drugs fest and supermodel girlfriend, means that this victory is oh so much sweeter.
Opening up The Rakes prove that a neat line in wiry thin guitar riffs, lyrics about "22 Grand Jobs" and Wetherspoons and the under-rated handclaps can a career maketh. The last time Designer Magazine saw the Rakes they were playing alongside none other than Neighbours Dr Karl Kennedy. Outgrowing those early Joy Division comparisons they've grown into a band for the people, rather than a cult concern, speaking out to those people who find themselves leaving uni at 22, getting a well paid job and pissing it up the wall at the weekend.
Editors are a band who can't help but bring the Joy Division comparisons out, but rather than dark unlistenable melancholy they deliver a danceable take on what Interpol delivered a couple of years back. In the cavernous space of the Arena there was danger of the Editors getting lost, and while visually there's little to keep you captivated, the epic guitar and haunting vocals of Tom Smith bring to mind later Depeche Mode. Naturally it's the early single "Munich" which gets the crowd moving, while "Fall" offers some nourishment for the soul.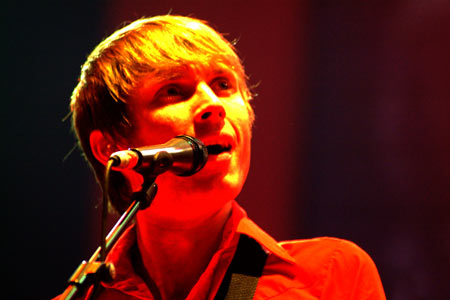 Despite their early art school and leftfield roots, Franz Ferdinand are now a bonafide pop group with more hits than you can shake your tik-taks at. With a stage set up that could have come out of Ready Steady Go and drapes down the back of the stage from a 60s B Movie, Franz Ferdinand are still as arch as ever portraying themselves as purveyors of Pop Art and Warholian vision. Even the scarf's on sale at the merch stand are more Paddington Bear and Dennis the Menace than they are aimed at Deansgate Fashion Police.

With only 2 albums behind them it still managed to sound like a Greatest Hits set. "Take Me Out" was unleashed early on to make way for the My Sharona-isms of "Do You Wanna?" while the sexual ambiguity of "Michael" is a counterbalance for the Franz ballad "Walk Away". "Darts Of Pleasure" is delivered with all members of Franz Ferdinand bashing away on the kit creating not one, but a zillion drum rolls and wiping the floor with Doves percussionathon at the end of "There Goes The Fear"

Franz Ferdinand are one of Britain's best pop bands and it would be foolish to think of them as anything else. Unlike the Libertines, who can be blamed for a plethora of pointless bands to emerge from London, Franz have rescued Scotland from a history of jingly jangly bands who had little but Teenage Fanclub and Orange Juice to look up to. It will certainly be interesting watching whether the band deliver another perfect pop album or drop the template and head back to their art school route's on album number three

Words: Alex McCann
Photos: Karen McBride www.karenmcbride.com

*****************


Click here to leave your Franz Ferdinand comments on the Message Board
(NB: The message board opens in a new window so please disable your pop-up blocker to view)
*****************