Get Cape, Wear Cape, Fly – Academy 2, Manchester – 4.4.08
Openers Irish-rockers Fighting With Wire bring a surprising sound to tonight's gig. Their hard (but melodic) rock sound is fresh to most ears tonight and people seem to be enjoying it, although the venue is barely half-full and as tonight's gig is a sell out, they are either outside at the bar or leaving arriving till late. With hard hitting and jagged guitar sounds their style is not too dissimilar of an early Biffy Clyro and perhaps would be more appreciated as support to a band of the same genre. Nevertheless, tonight's crowd is far too polite to show any sign of dislike.
Next up is up and coming electro pop rock band, I Was A Cub Scout. As the venue begins to fill up with interest the 2-piece crack out a barrage of epic sounding songs from their recently released album 'I Want You To Know There is Always Hope'. It would be too easy to liken the band to other American bands of a similar genre, such as Death Cab For Cutie but the band stands up entirely on their own, maintaining high energy and showcasing incredible technical ability, definitely ones to watch for the future.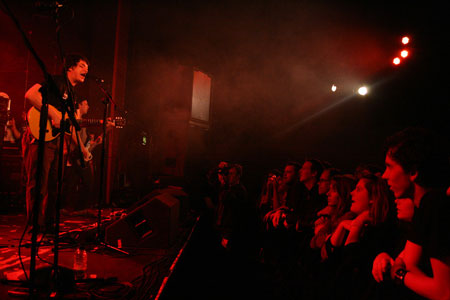 Headliners Get Cape, Wear Cape Fly are definitely the main attraction to tonight's show. It is nice to see a crowd who are genuinely out to watch live music and not just out to get drunk, not surprising considering a crowd of mainly mature 20-somethings. Get Cape, Wear Cape, Fly may have fallen under the radar for many but their repeated exposure on Radio 1 has ensured them a strong fan base, one that they have gained on their own steam rather than riding the wave of a music scene like many bands seem to do nowadays.

The band hit the stage with Part 2 of 'Chronicles of a Bohemian Teenager', the name of their first album, an acoustic driven masterpiece that gets the crowd going from the inset. Get Cape, Wear Cape, Fly have so much to offer live, on record it is easy to miss the subtleties of everything that goes into their music but live everything is there in front of your eyes with an upbeat energy that you can not only hear, but see in all the members of the band and the crowd fixed on front man and songwriter Sam Duckworth.

The set continues with single I-Spy with the audience joining in for a quick chant, so loud it sounds as though every person in the room is singing along. Between songs front man Sam explains how he had a rather uncomfortable time DJing at local club 5th Av last week, explaining if you ever DJ there, you better play Happy Mondays or you'll get beaten up. The band then leave Sam on his own for tracks Moving Forward and Once More With Feeling, a showcase of how the songs are originally written by the man himself. As the set comes to a close, the rest of the band rejoin Sam for latest release Find The Time and first major release, War of the Worlds, that prove obvious crowd pleasers.

After leaving the stage for a short time, Sam returns for 2 more tracks on his own before being joined by the band again for the first part of 'Chronicles of a Bohemian Teenager', coming full circle from the beginning of the set. Tonight's performance is an impressive and catchy high-energy collection of brilliantly written songs, if only everyone could see them live I'm sure they could have a much larger fan base than they already have.

Words/Pictures: Mark Forrer

********************************
Click here to leave your thoughts on Get Cape Wear Cape on our message board
********************************