Girls Aloud - Manchester Apollo - 18.5.05
"It's 2005, there shouldn't be a pop band on-stage in these times. This year's all about urban music and boys with guitars" Chris Eccleston enquires to Billie Piper as they walk out of the Tardis onto planet pop. The days of camp pop from V and Phixx are long gone and in their place the Noise Next Door are trying to fit in with the locals by leaving the red hair dye at home, elsewhere Kute and Cookie are providing a lesson in how not to make it in pop. It's a mixed up world in pop, but with Misteeq splitting earlier this year and Sugababes lost in a moment when Mutya got preggers, the title of best girl group in pop belongs to Girls Aloud.
It's hard not to look at Girls Aloud career and think they've had an unbelievable amount of good fortune thrown their way. Take five average girls that you could find staggering out of Brannigans or Jumpin Jacks on a Saturday night whose vocals are strictly average, add in the best songwriters in the business and pit them against the worst boy band in history (One True Voice) and it would be hard for them not to work. It's pop alchemy in action and as tonight's show highlights, they've veered between critically acclaimed electro pop and at times ill advised cover versions. After two albums and several stop-starts the "What Will The Neighbours Say" tour is unbelievably the first tour the girls have done to date.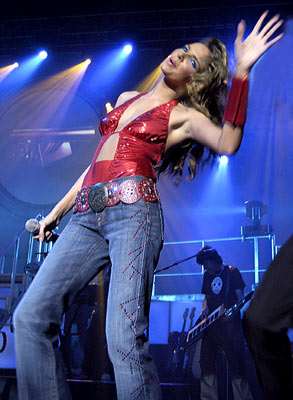 Starting as only they could with "The Show" with it's pulsing electro bleeps they pull out all the stops with catwalk moves and poses to rival Kate and Naomi. For those that have been waiting since "Sound Of The Underground" the wait has been well worth it. With tabloid reports suggesting that Louis Walsh has been beating the Weight Watchers shtick into them there's less Girl Aloud for our money (Nadine looks so skinny she's rivalling the Olsen Twins and we suggest each and everyone of our readers sends your last Rolo to Polydor Records before she does a Karen Carpenter) and Nicola proves that if your ginger and you know it, get the hair dye out. Getting the school girl outfits out for "No Good Advice" they surpass Britney for pure lolita-tastic teasing and still look all woman rather than little girls lost.
Proving their not just one trick ponies they ditch their dancers (who we nicknamed Boyz Aloud) for a series of ballads including the cover of "I'll Stand By You". On record it was schmaltz and ill advised, now it epitomizes ironic cool and compared to the cheese-fest that is Hit Me Baby One More Time this wins each and every time. Dressed in ball gowns they actually achieve something we've never seen before and that's ditching the footballers wives look. The covers come thick and fast after this with "Jump" and "Girls On Film" as staple parts of their sets and a bizarre cover of Wheatus' "Teenage Dirtbag".
With the trash-country of "Love Machine" and the storming "Sound Of The Underground" Girls Aloud may have just provided the pop show of the year.
Words: Alex McCann
Photos: Shirlaine Forrest www.shirlainephotos.co.uk

*****************
Click here to leave your Girls Aloud comments on the Message Board
(NB: The message board opens in a new window so please disable your pop-up blocker to view)
*****************
GIRLS ALOUD: PHOTO GALLERY 1
Designer Magazine's marks the first official Manchester Girls Aloud gig with not one, but 2 photo gallery's. With 28 full size photo's on display we start the first set here with the review and you can access the 2nd set of photo's by clicking here. This set captures the spirit of the show complete with the Boyz Aloud dancers whereas the second set is an eye-popping close up set for the teenage boys and the dads.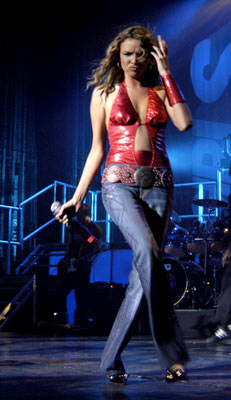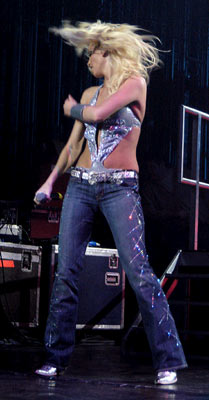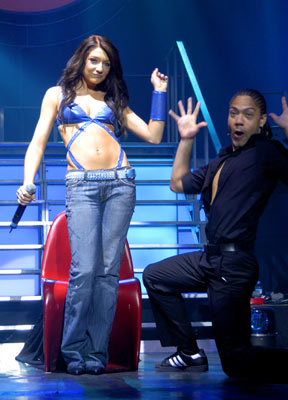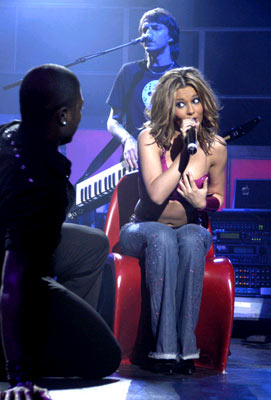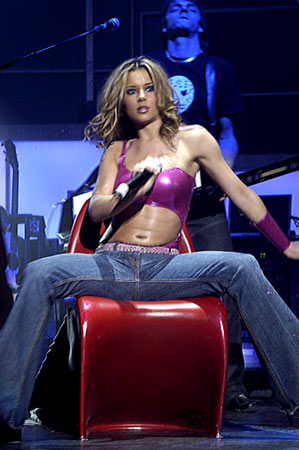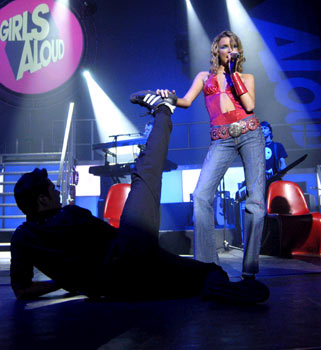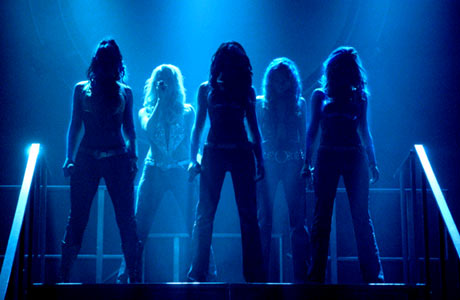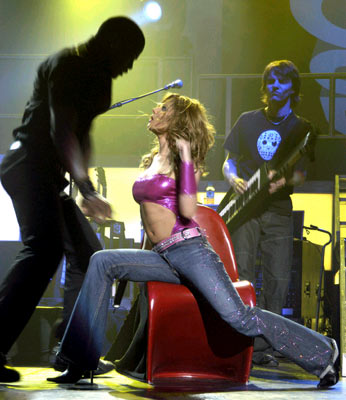 *** Click here for the 2nd close up and personal shots of Girls Aloud ***
*****************
Click here to leave your Girls Aloud comments on the Message Board
(NB: The message board opens in a new window so please disable your pop-up blocker to view)
*****************