Give It A Name 2006 - Manchester MEN Arena - 29.4.06
F**k me, show me the way to Emorillo!!! For one weekend only in Manchester Urbis must be bereft of emo haircuts, low slung jeans and bottles of white lightning as they head indoors for a weekend of rock courtesy of Give It A Name.
Gym Class Heroes kick off as the first real highlight of the first day. Another signing to Pete Wentz Fuelled By Ramen label, they have the commerciallity of Crazy Town, the trippiness of Cypress Hill and the politics of The Clash and Rage. Set to revive the rap-rock genre as something we can believe in rather than something that's hidden away in the back of your closet in a "shit did anyone ever like Limp Bizkit" kinda way. Snippets of their mentors Fall Out Boy may have got the biggest reaction of their set, but their own material such as "Papercuts" and "Oh No" should set them up for a massive year ahead at least stateside if not in the UK. Lets just hope they tour with Skindred for a ragga-rock masterclass in how it really should be done.
Designer Magazine first encountered Silverstein about three years ago when Funeral For A Friend turned a load of Brits into this thing we now know as emo. Back then they were known as the soft boys, the band that layered their records with strings and stayed clear of the hardcore screamo shizzle. Nowadays they're serious contenders and with a live sound that bares little
resemblance to the polished recorded versions. The likes of "My Heroine" are simply great songs and post-Give It A Name expect them to return for a mammoth tour of the UK
There's not much to say about Bayside apart from the fact we kicked them out of our seats after a much needed trip to the bar. On any other bill they'd stand out as a great punk band, but tonight with the bar already raised so high its simply too much of the same old same old.
Last time Aiden played the Uk with Bullet For My Valentine they came and went without anyone really noticing. This time they ran through the Arena like a hurricane destroying everything in their path. The tags of a mini-My Chemical Romance seem to be ringing true with their horrorcore shtick and frontman Will Francis addiction to eyeliner outweighs that of Dohertys to crack. More importantly though, the songs are in place as the arena goes into a moshing frenzy with security looking on from the sidelines concerned as hundreds of bodies throw themselves over the barriers. By the time Aiden have left the stage they're conquering heroes and the underdogs of the day turned into victors with the security aged 10 years and collapsing in a heap in a corner.
After Aiden there's the sinking feeling that We Are Scientists really shouldn't be here. They just shouldn't be. Some how they've managed to whore their skinny indie asses on here and while they kinda work on the single "Nobody Move, Nobody Get Hurt", there's the nagging feeling that they shouldn't really be here throughout.
What to expect of the new project from a former member of Blink 182? Surely not Angels and Airwaves who not only live up to his former bands reputation, but surpass them with ease. Granted I was never a Blink fan so it's easy to say, but Blink reference points are all there, the love of melody and the way around turning the most simple idea into something a little more complex, but with delay pedals firing off all over the place it gives everything a spacial atmospheric. There's a sense of pomposity, a grandiose stadium rock soundtrack of intent with Placebo, Depeche Mode and U2 being obvious starting points. "Down", a track from his back catalogue, is revealed first as a sensitive ballad before launching into a Killers slashing disco floor filler. It's really about the future with "The Adventure" building up and crashing down time and time again. It's a genius moment which half the crowd know from the adverts throughout the day if they haven't heard it already on Myspace. "Valkyrie Missile" is the flipside with an almost church organ ambience slowly building up to a early New Order mournful disco song. With De Longe it's all about the future now, there's really no need to look back at Blink as anything but a rehearsal.
In a recent interview Lostprophets frontman Ian Watkins suggested the only bands that care about credibility are the ones that are shit. When you come out fighting like that you've either just recorded the best album of your life's or are on the defensive awaiting a critical mauling. Thank f**k for the prophets its the former on the basis of tonight as they further take leaps away from the rock scene and just become a great band full stop, one that can headline a festival like tonight, but equally share a stage with Sugababes or Girls Aloud and still come out on top. Like fellow Welsh boys Stereophonics they've got a new drummer in the interim in the shape of Elan (isn't the Phonics drummer the same name as well) and the sound has definitely shifted to something more pop and of the zeitgeist.
"Transmission" sounds like the Hives after a few E's, "Town Called Hypocrisy" is Eton Rifles rewritten as electronic-rock tune to compete with Head Automatic or Panic and new single "Rooftops" is a classic metal ballad with a chorus of "standing on the rooftops...everybody sing your hearts out", which of course everyone does. It bodes well for the new album and should see them connecting with a new younger audience than previous, which of course will bring out the accusations of sell outs they've had since day one.
Tonight's headlining slot also give us chance to relive some of those old classics such as "Shinobi Vs Dragon Ninja", "Fake Sound Of Progress" through to "Last Summer", "Start Something" and "Last Train Home". There was a time when Lostprophets were a great rock band let down by disappointing live shows, now they're a great alternative pop band with a collection of singles that are starting to a form a greatest hits collection. The Prophets definitely came out as victorious tonight, it's great to have them back
Alex McCann
Live Photos: Andy Stubbs www.shoot-first.com
*****************
Click here to leave your Give It A Name comments on the Message Board
(NB: The message board opens in a new window so please disable your pop-up blocker to view)
*****************
LOSTPROPHETS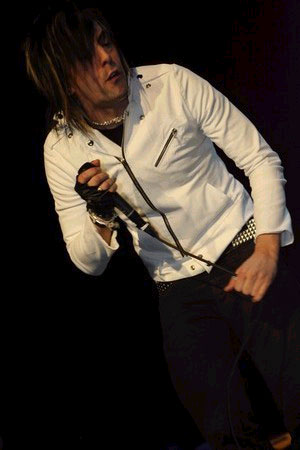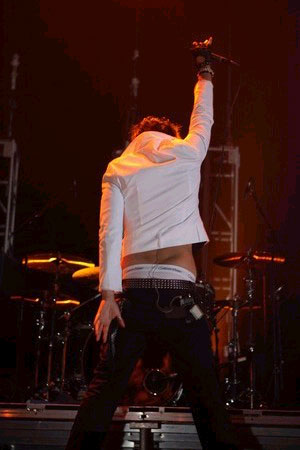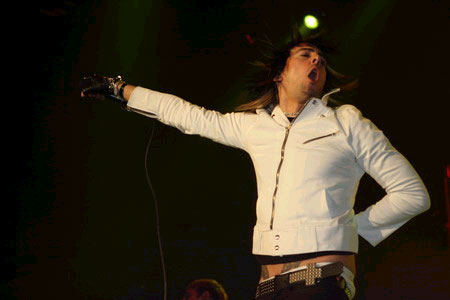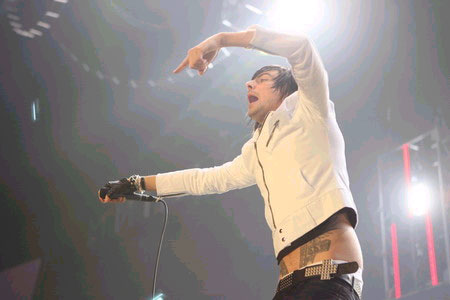 TAKING BACK SUNDAY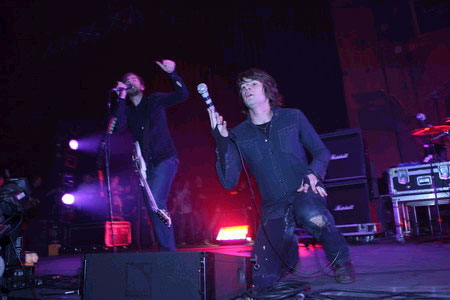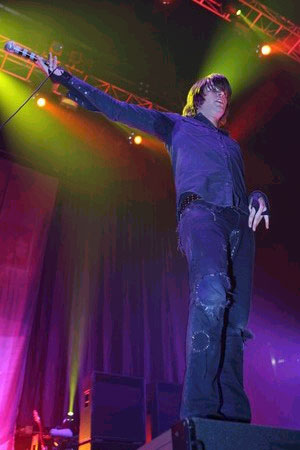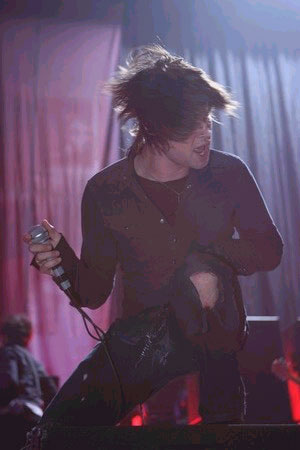 WE ARE SCIENTISTS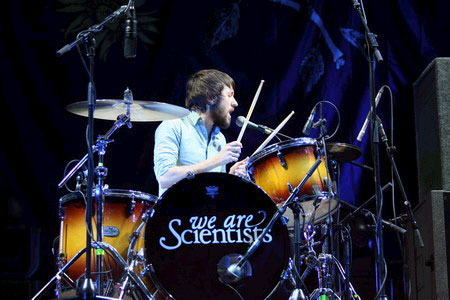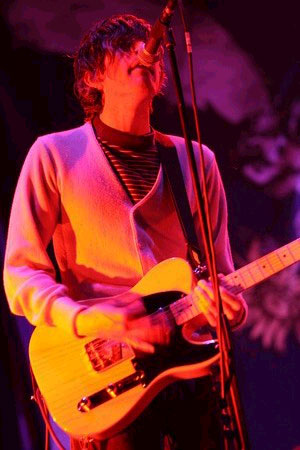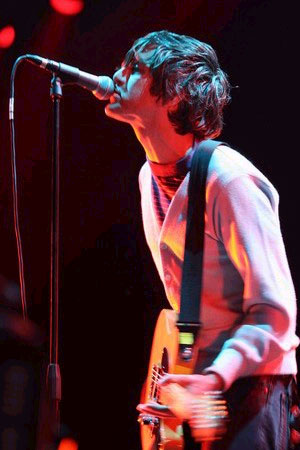 HUNDRED REASONS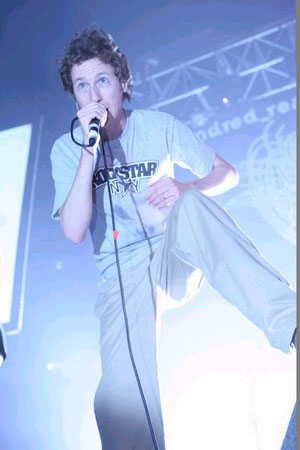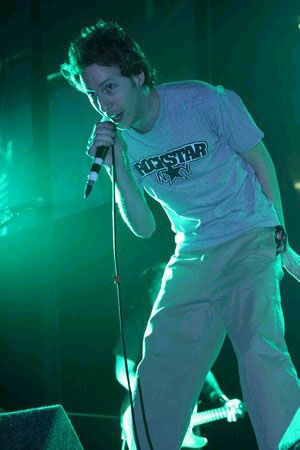 *****************
Click here to leave your Give It A Name comments on the Message Board
(NB: The message board opens in a new window so please disable your pop-up blocker to view)
*****************