Give It A Name 2006 - Manchester MEN Arena - 30.4.06
The second day of Give It A Name and everyone's a bit tired and emotional, the drinks are getting a little harder to down and well frankly the totty has either disappeared or forgotten to put to put on their make up. Emorillo has disappeared or at least gone under cover
The intricacies of The Bled don't go amiss in the cavernous surroundings of the MEN. The first band of the day to really liven things up. Imagine Mogwai jamming with The Mars Volta, but messing up the post-rock landscape by writing f**king amazing tunes. Afro's, semi-naked drummers and the moment of madness where James Munoz crowd surfs till midway down the arena. It all makes for a great opening.
Give It A Name's first lady Hayley Williams breaks the man on man love-in of the music industry with a punk-pop fest that goes down as one of the standout moments of the whole festival despite being squashed on to the tiny second stage. Already in the UK for a week for the GIAN introduces tour Paramore really should have been a main stage attraction much further up the bill. Each song hits like a sugarush, never afraid to go for the obvious hook to steal your heart and a one line steal from Panic! At The Disco only adds to the occasion. While a few will knock them for being girlie pop, it will mean f**k all when their selling out venues this size in their own right. "Whoa" is a moment of pop bliss as are pretty much every song in their cannon. If you buy one new album of the back of Give It A Name make sure it's Paramore's debut!!!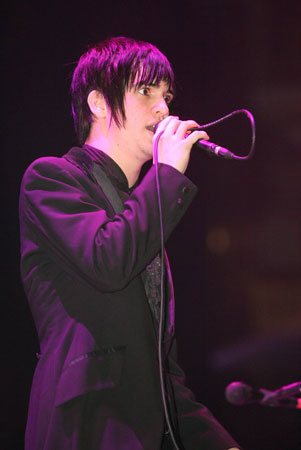 Panic! At The Disco's rise to prominence has been spectacular and despite selling out their own headline tour in less than an hour the late afternoon slot is a beguiling choice. Heartthrobs Ryan Ross and Brendon Urie walk out to pandemonium, the sort that Manchester will next witness at Take That a week later. As a band they understand there's a close line between the theatrics of pop and the energy of rock music and it's combined to startling affect. Both dressed like victorian dandies, Urie in a top hat, they launch into "Only Difference Between Martyrdom and Suicide Is Press Coverage" with the aplomb of veterans. "I Write Sins Not Tragedies" and "But Its Better If You Do" follow and even the lack of "Time To Dance" or "Camisado" can't take away from the fact that on their debut album Panic! ATD are just about the most perfect band this generation has. The whole phenomena could be about to get a whole lot more interesting if the rumours abound that a secret svengali figure (not Pete Wentz) from the UK behind the whole band breaking through turn out to be true.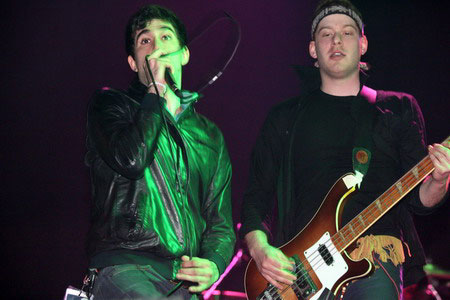 Playing after the band they supported less than a week ago Men Women & Children hit the stage after Panic. One of the first bands on the second stage to be playing to a full capacity audience ex-glassjaw member Todd Weinstock certainly has a lot to prove but by taking an about turn on his previous output he seems to found a new audience. Apart from "Dance In My Blood" the band leave out some of their poppier moments concentrating on the minimalist rhythms of "Lightning Strikes Twice In New York" and "Photosynthesis (We're Losing O2)" and the totally insane "Monkee Men". Its gayer than George Michael cruising toilets in Elton's tutu while listening to The Pet Shop Boys on his Ipod, but this unique blend of gay disco rock is infectious and impossible to ignore.
We can essentially pass by Thrice as one of those bands who used to write compelling tunes, but wanked it all away by trying to do a Radiohead with prog rock workouts. Its rock music for middle aged emos (which means about 23 cos they're all gonna kill themselves by 27 right?) and it just passes us by. Much better are Billy Talent. An ear shattering into provides a shock for anyone witnessing the band for the first time live. On record they're the sort of band who could quite easily provide the soundtrack to the OC. Tonight they're a spitting snarling beast with rockabilly hair and crunchy meaty as f*ck riffs. "The Ex" about a very bad vagina as all the best songs are, is spat out with the statement "I'll never forgive that b*tch". Note, this song was written like 3 or 4 years back and he's still bitter about the split so its a wise decision to avoid being the next Mrs Talent. "Try Honesty" featuring 3 vocal styles in one is the classic Billy Talent song with the vocals switching schizophrenic like between Lydon snarls and soothing americana.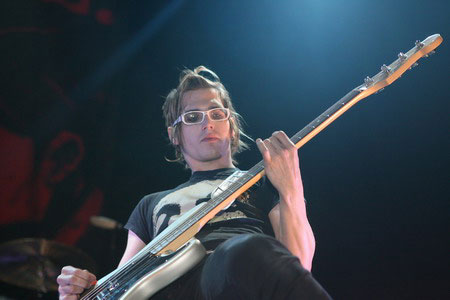 Just in case you needed a reminder - My Chemical Romance were the religion you all followed before you converted to Panic! At The Disco, and they're back in the UK to bring the converts back home. The last time they played Manchester at the sell out Apollo shows the band Gerard was dressed up in some bullet proof preachers garb preaching at the pulpit before playing one new song which sounded like the Backstreet Boys and worrying the hell out of us in case their new album sounded like a Nick Carter solo effort. Thank f**k then that they leave the aforementioned song out of the equation tonight and remind us of the great rock band we saw at those early UK shows where emo choirs of a couple of hundred people sung along to each and every word or in other words before they came known as the "I'm not ok" band.
Witnessing them live now and listening back to the records it's hard to imagine why anyone would accuse them of commercial sellouts. They may have a knack for a strong melody, but these are rough around the edges punk songs live with the intricacies being bashed out of the guitar as they thrash around the stage. Way looks totally wired and back to his endearing babyfaced chubbiness. "Ghost Of You" sees the arena in a wash of lighters and mobile phones towering above any of the rock ballads of the weekend while "Helena" and "You Know What They Do To Guys Like Us In Prison" remind us why we first fell in love with the band in the first place.
At the start of Give It A Name we were asking you to show us the way to emorillo. By the end of the Give It A Name we were simply saying show us the way, Gerard Way that is. It wasn't just ok, it was a festival that probably will stand out this year as a better line-up than download. Bring on Give It A Name 2007!!!
Alex McCann
Live Photos: Andy Stubbs www.shoot-first.com
*****************
Click here to leave your Give It A Name comments on the Message Board
(NB: The message board opens in a new window so please disable your pop-up blocker to view)
*****************
MY CHEMICAL ROMANCE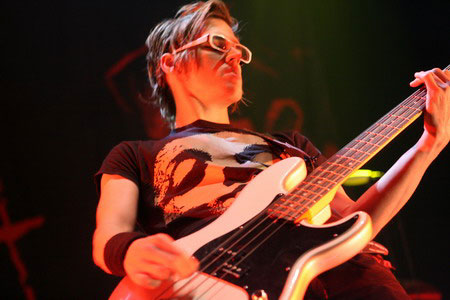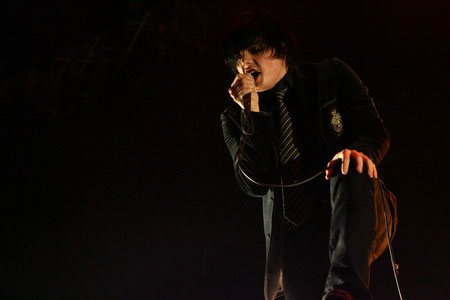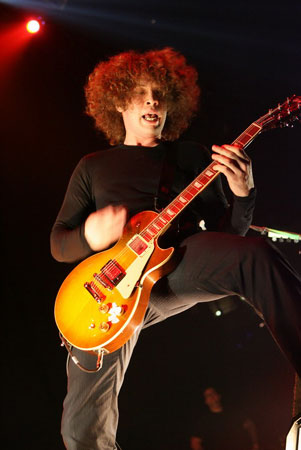 PANIC! AT THE DISCO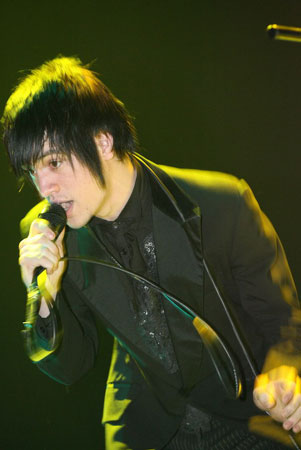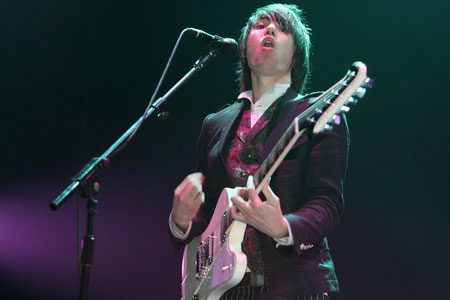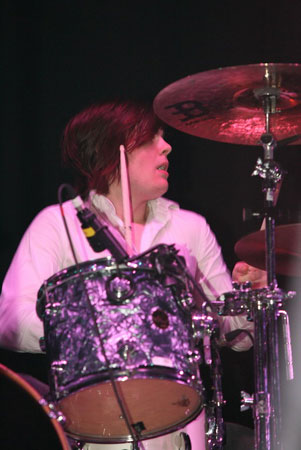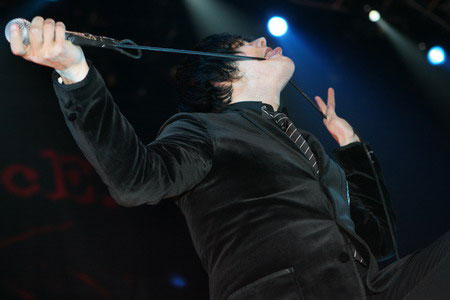 MEN WOMEN & CHILDREN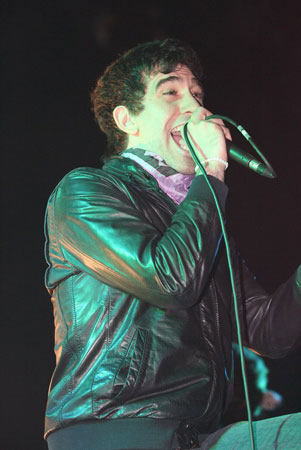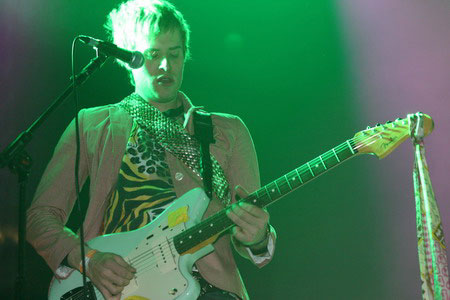 ATREYU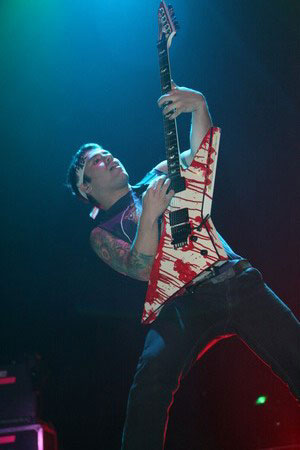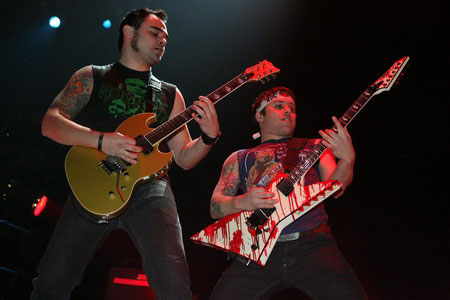 *****************
Click here to leave your Give It A Name comments on the Message Board
(NB: The message board opens in a new window so please disable your pop-up blocker to view)
*****************